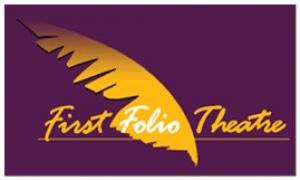 However, we do know that Shakespeare left behind a chilling epitaph, a few words he requested to be inscribed on his tomb. In the 1600s, it was common for bodies to be exhumed for research purposes, or to make room for more burials, and the Bard did not want that to happen to his remains. On his grave is written:
"Good friend for Jesus sake forbeare, 
To dig the dust enclosed here.
Blessed be the man that spares these stones,
And cursed be he that moves my bones."
Shakespeare's grave with his epitaph (far left) at Holy Trinity Church at Stratford-Upon-Avon.
It seemed as if his warning had some influence. Even when the grave received repairs in 2008, workers said the stones were not actually moved and the bones certainly were not disturbed. **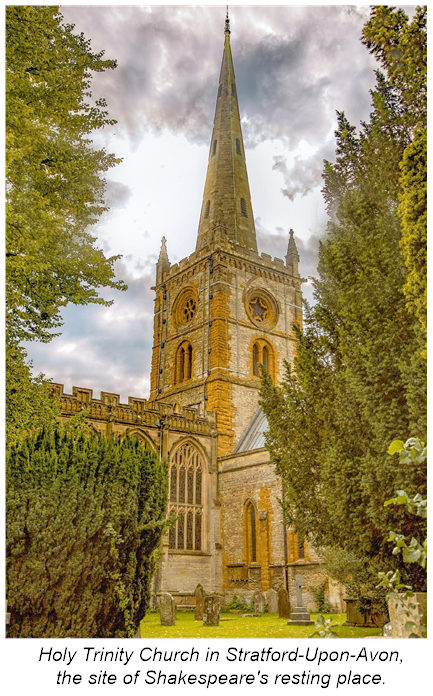 However, this curse may have not been enough to ward off grave robbers forever. In 2016, researchers were allowed to scan the gravesite with ground-penetrating radar. Under the church floor where the Bard's skull was expected to be, they found signs of interference, indicating that someone at some point in history had actually removed Shakespeare's skull from his grave.***
Do you believe Shakespeare's grave might be cursed? What other famous landmarks do you believe might be cursed?
*Information from No Sweat Shakespeare, 2016.
**Information from Mental Floss, 2018.
***Information from Scientific American, 2016.
Our 2020-2021 season is sponsored by Alan and Susan Becker
First Folio's programs are sponsored in part by grants from the Illinois Arts Council (a State agency) and the Gaylord & Dorothy Donnelley Foundation. 
First Folio Theatre is supported by a grant from the National Endowment for the Arts.   
All performances take place on the grounds of the Mayslake Peabody Estate, which is owned and operated by the Forest Preserve District of DuPage County. Indoor shows are presented in Mayslake Hall, a 30-room Tudor Revival style mansion originally built by coal baron Francis S. Peabody. Completed in 1922, the mansion is on the National Registry of Historic Places.
First Folio Theatre is fully accessible with reserved ADA seating available and assisted listening devices available for all indoor performances. To request ADA seating, please contact the Box Office at 630-986-8067.