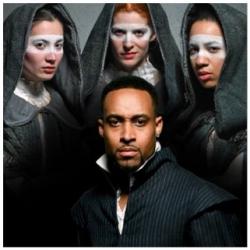 Each year, Chicago Shakespeare Theatre brings thousands of students into the Courtyard Theatre for their Short Shakespeare! productions.  In years past, I've seen abridged versions of "Romeo and Juliet", "The Taming of the Shrew" and last year's magical "A Midsummer's Night Dream", to mention a few. 
Instead of using the standard cellphone/texting/photography recorded announcement, a costumed cast member came onstage to give the audience tips about understanding Shakespeare's language and how the actors' body language helps in listening and understanding.  After the show, the actors stayed on stage to answer questions from the audience, followed by conversations and photo ops in the lobby.
The Weyard Sisers (Caroline Chu, Emma Ladji and Cailin Taylor) are chanting and dancing to very loud, discordant, modern music.  They are all wearing huge cloaks with hoods covering their heads, but glimpses can be seen of white hair and aged, green faces. 
A battle is ongoing clearly going on, as men wielding swords clash.  After declaring victory, Macbeth (Amir Abdullah) and Banquo (Eric Parks), are wearily making their way back when they spot the Weyard Sisters, who have whipped off the white-haired wig-masks, revealing beautiful young women, dancing around a cauldron.  Spotting Macbeth, they predict that Macbeth will be Thane of Cawdor and someday King, and that Banquo will father kings. 
At home, Macbeth repeats their eerie prophecies to Lady Macbeth (Tiffany Scott).   At a banquet celebrating the victory, King Duncan (Jon Beal), bestows the title Thane of Cawdor on Macbeth, then names his son, Malcolm (Ninos Baba) as his heir. 
Since Thane of Cawdor is just one part of the witches' prediction, Lady Macbeth sees no reason to sit back and wait for the rest to just happen, urging her husband to take action against Duncan, which he does.  After the king's body is found, Malcolm flees and Macbeth crowns himself king, but when Banquo's ghost appears to him at his coronation banquet, he totally freaks out. 
The Weird Sisters freak everyone out with their famous chant, "Double, double, toil and trouble".  Meanwhile, Lady Macbeth is going mad – hence her famous speech about that spot on her hands.  Further murder and skullduggery is sure to follow! 
Since this production is designed for students, Costume Designer Mieka van der Ploeg has created costumes which identify who belongs with whom.  For instance, Macbeth had a navy blue top with yellow striping while Lady M. had a yellow gown with navy blue striping.  Macduff (Yao Dogbe) and Lady Macduff (Leslie Ann Sheppard) wore similar matching/contrasting colors.  Although he Weyard Sisters started out wearing dark cloaks, they soon shed them along with the wig-masks, revealing white tunics. 
"Short Shakespeare! Macbeth" runs through April 12th in the Courtyard Theatre at Chicago Shakespeare Theatre on Navy Pier, Chicago. 
Patrons receive a 40% discount on parking in the Navy Pier Garages, so be sure and get your ticket validated in the CST lobby. 
Running time is 75 minutes, followed by a Q & A with the entire cast. 
Public performances are on Saturdays at 11:00 am.  Accessible performances: 
Open-captioning – Saturday, March 9th at 11:00 am 
ASL Duo-interpretation – Saturday, March 9th at 11:00 am
Audio-description – Saturday, March 16th at 11:00 am
Tickets range from $22 (18 and under) to $34 (Adults)
FYI (312) 595-5600 or www.chicagoshakes.com