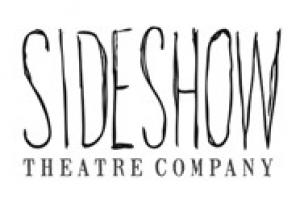 Sideshow Theatre Company has announced they will be offering a nine-month artistic residency to Chicago-based playwright Preston Choi. Through the residency, Sideshow will provide Choi with artistic and dramaturgical support as he develops his full-length play Drive-In to the End of the World. The residency will culminate in March 2022 with a reading of Choi's final script. This residency strengthens the existing artistic partnership between Sideshow Theatre and Choi, who had previously been selected to participate in Sideshow's new-play development program, "The Freshness Initiative."
Artistic Director Regina Victor expressed their excitement for Sideshow's continued partnership with Choi, "Preston originally joined us in collaboration for The Freshness, but as many of us have experienced, quarantine and working remotely have drastically altered the process. We have instead decided to innovate and devise a residency that would once again center this talented playwright, whom we are fortunate to host. This was a thrilling opportunity to take a step back from the capitalist mindset and center ourselves in practices of process over product and the limitless potential world-building of Black Radical Imagination."
Award-winning director Marti Lyons will serve as Choi's primary mentor through the residency. Together, Marti Lyons and Regina Victor will collaborate with Choi and offer feedback and insight on each incoming draft. Additionally, Choi will participate in regular script consultations with Sideshow Ensemble members and friends of the company for a diversity of perspectives on the piece.
Sideshow is also pleased to present the final two installments of its digital House Party Series featuring Fabuloso! by Makasha Copeland streaming Friday, August 20, 2021 at 7 pm CST and The Whisperer's Apprentice by Walt McGough streaming Friday, September 17, 2021 at 7 pm CST. Both events will be streamed on Sideshow's Twitch channel at www.twitch.tv/sideshowtheatre. Tickets are pay-what-you-can (suggested donation of $10) and can be purchased online at www.sideshowtheatre.org.
The creative team of Fabuloso! includes Micah Figueroa (Director), Jeremy Pesigan (Dramaturg), Adelina Feldman-Schultz (Casting director) and Estrellita Edwell (Stage Manager). 
Armed with all-purpose cleaner and the resilience of that cockroach from Wall-E, three maids and a middle-schooler are tasked with removing the stains from Oak Hill Resort. When their boss is found dead in the master suite, this cleaning crew must launch their own investigation. Who killed whomst, and who gives a sh*t?
The creative team of The Whisperer's Apprentice includes Sydney Charles (Director), Catherine Miller (Casting Director) and Estrellita Edwell (Stage Manager).  
In a world where storytelling is magic, an ancient kingdom is collapsing. Two young siblings go searching for the one woman who could help stave off chaos, but she is hiding in the forest, haunted by regrets. Will the tale that shapes the world finally break, once and for all? The Whisperer's Apprentice is a magical, theatrical exploration of who wields power in the stories we tell, and what it costs them to maintain it.
As a companion event to this reading, playwright Walt McGough will lead a group of hale and hearty Sideshow artists through a weekly, and completely ridiculous campaign of Dungeons & Dragons Live Stream, produced by Bo Frazier. Capturing a different (and dice-rolling) kind of magic, this three-session campaign will immerse audiences in an exciting, serialized new form of collaborative storytelling, and highlight just how much is possible when some of the best artists in the city work together to save the world. The campaign will start the week following The Whisperer's Apprentice; dates to be announced soon. For additional information, visit www.sideshowtheatre.org.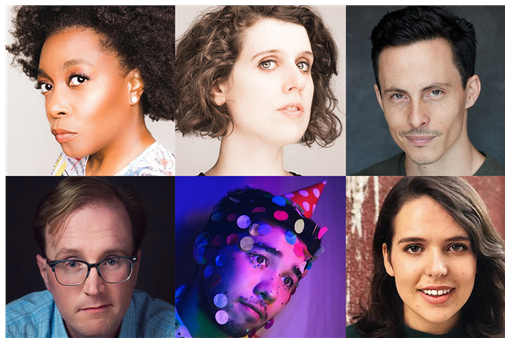 (top, l to r) Sydney Charles, Marti Lyons and Micah Figueroa (bottom, l to r) Walt McGough, Preston Choi and Makasha Copeland.
Artist Biographies
Preston Choi (Playwright, Drive-In to the End of the World) is a Chicago based playwright whose work focuses on Asian-American history, mixed race experience and social science fiction. His plays include A Great Migration or The Migratory Patterns of the North American Monarch Butterfly and Fatherless Sons (2017 Agnes Nixon Award; 2018 Playwrights Realm Scratchpad Series finalist), This Is Not A True Story (CAATA ConFest 2018; 2019 Bay Area Playwright's Festival finalist), Happy Birthday Mars Rover (The Passage Theatre; 2018 G45 Lightbulb Reading Series), You Will Get Used To It (2019 Playwrights Realm Scratchpad Series finalist) and 100 Mysteries of [REDACTED] Community College (Clubbed Thumb 2020 Biennial Commission Finalist). His plays have been developed with Silk Road Rising, A Squared, Theatre Mu, Artists at Play, CAATA, The Passage Theatre, G45 Productions, The Forum, AATAB, Chicago Scratch, Victory Gardens College Night, Our Perspective, Wave Productions and Vertigo Productions. He graduated from Northwestern University in 2018 with a BS in Theatre which feels appropriate.
Makasha Copeland (Playwright, Fabuloso!) is a playwright, actor, comedian and your babysitter during those formative years. Their plays Extreme Home Makeover and Fabuloso! have been developed and produced with San Diego REP, Vertigo Productions, the Agnes Nixon Festival and Teatro Espejo (upcoming). They are a 2021 Ars Nova CAMP resident artist, a comedy residency where they are co-writing a televisual play with Chase Doggett and Gabrielle Silva. They are also a member of sketch comedy group Resting Witch Face at iO and Second City. They graduated from Northwestern University with a degree in Theatre and Latinx Studies, where they performed, wrote and improvised with The Titanic Players, Griffin's Tale, Mee-Ow and Out Da Box.
Walt McGough (Playwright, The Whisperer's Apprentice) is a Boston-based playwright, and a founding ensemble member of Sideshow. He is the founder and lead dungeon master for First Time at the Table, a company that runs online sessions of Dungeons & Dragons for new players. As a writer, Walt has held fellowships with both the Huntington and New Repertory Theatre Companies, and was a finalist for the 2016 Dramatists Guild Lanford Wilson Award. His plays include Non-Player Character, Chalk, The Farm, Priscilla Dreams the Answer, The Haberdasher and Dante Dies!! (and Then Thing Get Weird). He has worked around the country with companies such as The Lark, San Francisco Playhouse, the Huntington, Red Theatre Company, New Rep, the Kennedy Center, NNPN, Boston Playwrights Theatre, Fresh Ink, Sideshow, Orfeo Group, Nu Sass Productions, Chicago Dramatists and Argos. In 2015, his play Advice for Astronauts was selected as the winner of the Milken Playwriting Prize. He previously served on the artistic staffs at SpeakEasy Stage Company and Chicago Dramatists. Walt holds a BA from the University of Virginia, and an MFA in playwriting from Boston University. More information at www.waltmcgough.com and www.firsttimeatthetable.com.
Micah Figueroa (Director, Fabuloso!) is Chicago based actor, director, choreographer and teaching artist. As a Director, he was Assistant Director for Act(s) of God at Lookingglass Theatre, and has been a Fight and Intimacy Director at Steep, Haven,and First Floor Theatre, as well as Dallas Theatre Center, and Shakespeare Dallas. As an actor, Micah can be seen in DREAM with Chicago Shakespeare Theatre in the Park in August 2021. He was most recently in The Very Hungry Caterpillar with Chicago Children's Theatre, 20,000 Leagues Under the Seas,and Moby Dick at Lookingglass Theatre, Tall Girl and the Lightning Parade at Walkabout Theatre. Regionally, Micah has worked with the Alliance Theatre, South Coast Rep Theatre, Arena Stage, Denver Center for the Performing Arts, Shakespeare Dallas, Theatre Three, Kitchen Dog Theatre and the Dallas Theatre Center. Micah holds a degree in Theatre Studies (Directing and Playwriting) from Southern Methodist University.
Sydney Charles (Director,The Whisperer's Apprentice) is very grateful to go on this adventure with Sideshow Theatre. As an actor, she was most recently seen at Goodman Theatre in the acclaimed live-streamed show I Hate it Here. Other Chicago credits include Duchess! Duchess! Duchess! and Wally World (Steppenwolf Theatre); Theatre for One: Here We Are and Guess Who's Coming to Dinner (Court Theatre); Lottery Day and Father Comes Home From the Wars Parts 1, 2 & 3 (Goodman Theatre); Color Purple (Drury Lane); Nina Simone: Four Women (Northlight Theatre); Flyin' West (American Blues Theater); The Wiz (Kokandy Productions); and Dessa Rose (Bailiwick Chicago). Regional credits include I Hate it Here (Studio Theatre). Television credits include South Side, The Chi, Shameless, The T and The Haven. Her other work includes assistant director and dramaturg for Bug (Steppenwolf Theatre), associate director for His Shadow (16th Street Theater); and associate director for The Shipment (Red Tape Theatre). She is the recipient of 3Arts "Make a Wave" award, a Black Theater Alliance Award, Chicago Reader's "Best Stage Performer" runner-up, a four-time Jeff Award nominee and has been featured twice as part of NewCity's "50 Players of the Year." Sydney serves on the Central Region Board for the Actors Equity Association. Proud member of AEA and SAG-AFTRA. Represented by Stewart Talent. 
Adelina Feldman-Schultz (Casting Director, Fabuloso!) is thrilled to be working with Sideshow Theatre for the first time. She is a casting director, actor and human resources professional, as well as producer of the annual Chicago Theatre Access Auditions (www.ctaauditions.com). Adelina is a proud company member of Firebrand Theatre and is represented by Shirley Hamilton Talent. Thanks, Regina!
Jeremy Pesigan (Dramaturg, Fabuloso!, he/they) is an artist from the Midwest. Their previous directing credits include we are in the endtimes now by Marley Smith and staged readings of Extreme Home Makeover and Fabuloso! by Makasha Copeland. They are currently the New Work Fellow at Woolly Mammoth Theatre Company in D.C. They graduated from Northwestern University with a BS in Theater and Asian American studies, where they also received a Nikki Levy Queer Performance Grant from the Performance Studies Department.
Catherine Miller (Casting Director, The Whisperer's Apprentice, they/them) is Resident Casting Director for Jackalope Theatre and First Floor Theater. They have also cast productions for Haven Chicago, Raven Theatre, American Musical Theatre Project, Sideshow Theatre, Griffin Theatre and Red Tape Theatre. Additionally, Catherine has done gender consulting work for Paramount Theatre, Actors Theatre of Louisville and Victory Gardens and has been a guest speaker/teacher at The Theatre School at DePaul, Steppenwolf, Director's Lab Chicago, The Forge, Oklahoma City University and Beloit University. Catherine was recently featured in American Theatre Magazine's "Role Call" and named one of NewCity Magazine's 2020 + 2019 "Players: The Fifty People Who Really Perform for Chicago." They were also previously on the Windy City Times' "30 Under 30" list. Catherine has a BFA in Dramaturgy/Criticism from The Theatre School at DePaul and is a proud company member at Jackalope Theatre and First Floor Theater.
About Sideshow Theatre Company:
Sideshow Theatre Company: Theatre for the Curious. It is the mission of Sideshow Theatre Company to mine the collective unconscious of the world we live in with limitless curiosity, drawing inspiration from the familiar stories, memories and images we all share to spark new conversation and bring our audiences together as adventurers in a communal experience of exploration.
Over its 13-year history, Sideshow is proud to have distinguished itself as a vital member of the Chicago theatre community. Sideshow was awarded the 2016 Broadway In Chicago Emerging Theatre Award by the League of Chicago Theatres. Sideshow is a multiple Jeff Award-winning theatre and has been listed on the "Best of" lists in 2012, 2013, 2014 and 2018 by the Chicago Tribune, Chicago Reader, Time Out Chicago and the Chicago Sun-Times. 
Sideshow is also the producer of Chicago League of Lady Arm Wrestlers (CLLAW), a wildly popular fundraiser held in benefit of Sideshow Theatre Company and other local community organizations. CLLAW has been featured in local and national press, including The Washington Post, Reuters and the Chicago Sun-Times and on WGN Morning News, ABC 7's Windy City Live and CBS 2. 
For additional information on Sideshow Theatre Company, visit sideshowtheatre.org.