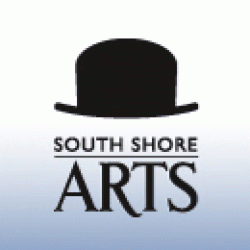 Click https://www.southshoreartsonline.org/highschool to view all 17 schools that submitted artwork this year.   Over $17,000 has been awarded.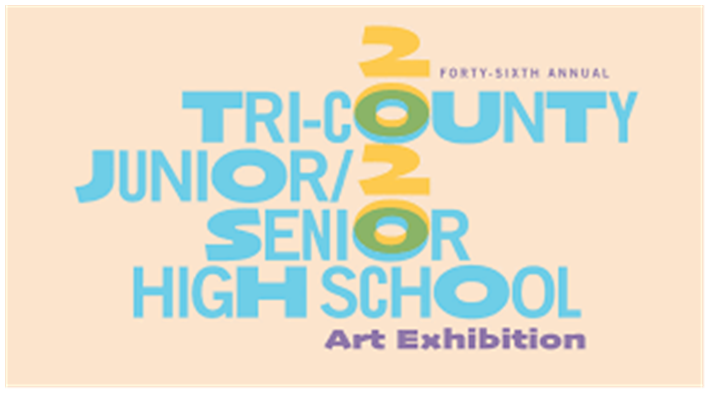 The exhibit features original artwork created by students in grades six through twelve from public, private and parochial Junior and Senior High Schools in Lake, Porter and LaPorte counties in Indiana and south suburban Cook County in Illinois.  
Indiana University Northwest, the lead sponsor of the Tri-County Junior/Senior High School Show, shares a commitment to education and appreciates South Shore Arts for continuing the tradition of supporting students and educators.  
Award Winners: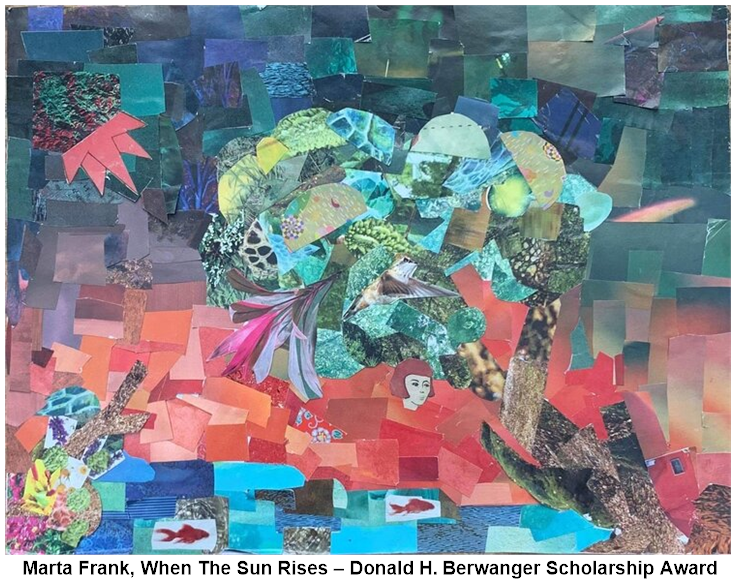 Donald H. Berwanger Scholarship Award, $2,000
Marta Frank, Hammond Academy for the Performing Arts
Lori Spuehler/Lymperios D. Trikolas III Memorial Award, $500
Anna Gsell, 12, Poser, Pencil, Homewood-Flossmoor 
Indiana University Northwest Fine Art Awards, $500
Leslie Arreguin, 12, The Tour, Scratchboard, Thornton Fractional North
Indiana University Northwest Fine Art Awards, $500
Drew Engles, 12, Porg, Digital, Chesterton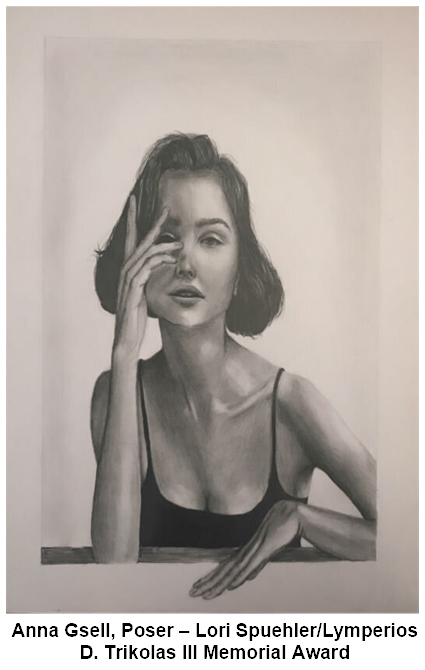 Kyra Lucas, 11, Chains Broken, Photograph, Homewood-Flossmoor 
Dolnald H. Berwanger Award of Excellence, $250
Katya Halstead, 12, Belittled, Color Pencil, Crown Point
Diversified Arts Visionaries Award, $250
Honey Nilson, 12, Fighting On!, Pastel, Lake Central
Anne Louise Beckman Award, $100
Karlie Lemmons, 12, In A Field, Acrylic relief, Morgan Township
South Shore Arts Regional Award for Young Artists, $100
Emma Szenstesy, 10, Portrait, Charcoal, Lake Central
Josephine Livovich, 10, Resilience, Oil, Chesterton
Bryanne Cushway, 12, Organized Chaos, Digital photo collage, Michigan City
 Michael & Barbara Golden Memorial Golden Award, $25
Emily Rastovski, 11, El Terreno del Mar, Mixed media relief, Morgan Township
Eric Rubio, 12, Hummingbird, Mixed media, Morton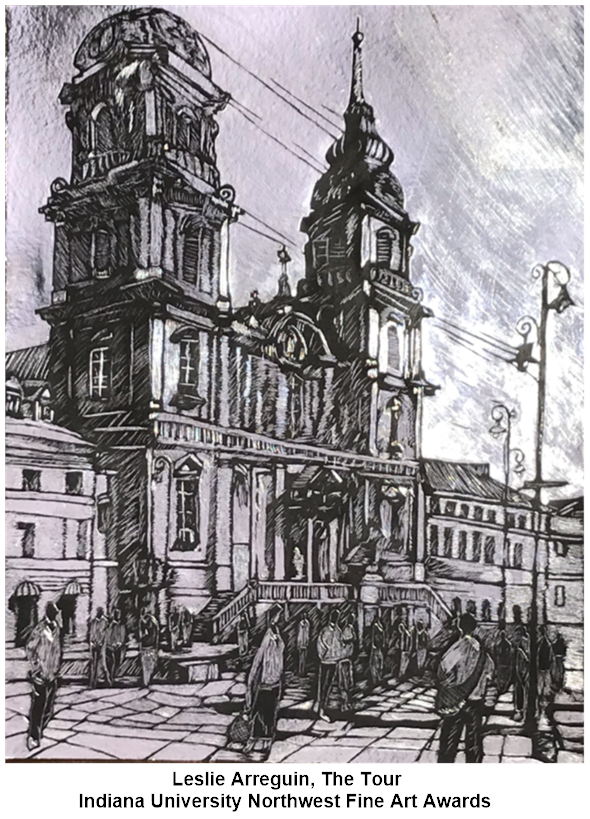 Awards of distinction, $50
Corrine Moran, 12, A Yellow Past, Mixed media, Crown Point 
Makenna Schnick, 11, Division, Mixed media, Morgan Township
Maddison Buttler, 12, Burrow, Glazed stoneware, Munster
Kimora Gonder, 12, Portrait, Acrylic Paint, Thornton Fractional North
Taylor Dafnis, 10, Leaving My Shadow Behind, Mixed Media, Bishop Noll
Santo Jann, 12, Doodle #1, Marker, Crown Point
Rodriguez Trinity, 12, Imagination Determines Everything, Digital Art, Homewood-Flossmoor 
Best in Media, $50
Mixed media: Margaret Baver, 12, Walk, Homewood-Flossmoor 
Ceramic: Ava Lukascek, 11, Watermelon Alien, Munster
Pencil/Graphite:  Niko Depresperis, Self Portrait, Hanover
Colored Pencil: Ariel Killion, 12, My Mother, Andrean
Pen/Ink: Logan Chen, 9, Mountain Pass, Lake Central
Oil Painting: Elizabeth Bransky, 12, Seven, Homewood-Flossmoor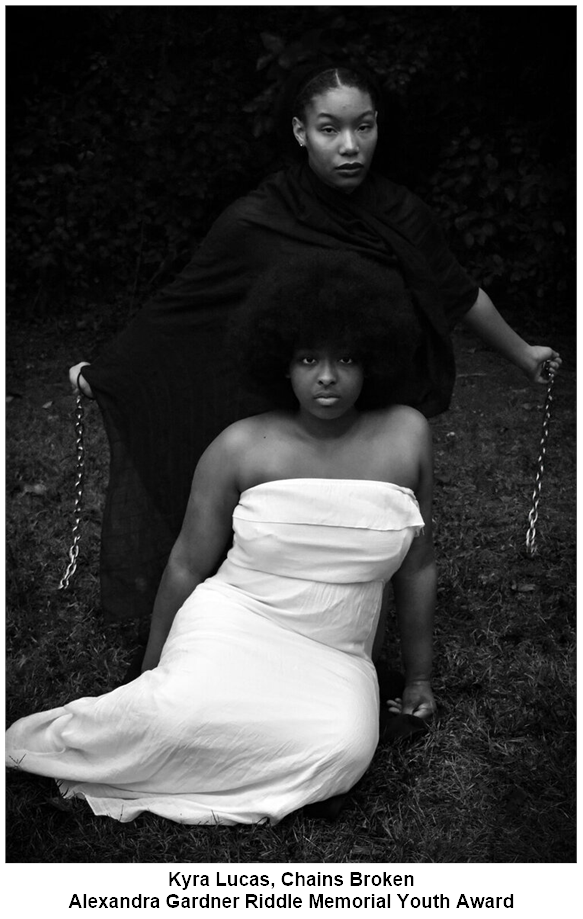 Acrylic/Tempera: Catherine Menge, 12, Untitled, Bishop Noll
Pastel: Justin Quijano, 11, Blue Room, Thornton Fractional North
Digital: Caleb Snoddy, NFL Posters, Homewood-Flossmoor 
Charcoal: River Contreras, 10, Forget Me Not, Lake Central
Sculpture (Clay/Stone): Julia Foster, 11, The Pizza Truck, Morgan Township
Sculpture (Fiber/wood/metal): Anne Talbot, 12, Lion, Crown Point
Scratchboard: Alexander Cuerrero, 12, Golden City, Thornton Fractional North
Honorable Mention, $25
Makayla Dobe, Flower Yarn Painting, Yarn, Hanover Central
Emily Sannito, 11, Color marker, Lake Central
Lilly Belle Nuest, 11, Under The Moon, Charcoal, South Shore Arts
Mary Klein, 11, Filling Up, Graphite, Andrean
Micaela Lacovetti, 12, Street Photo, Photography, Chesterton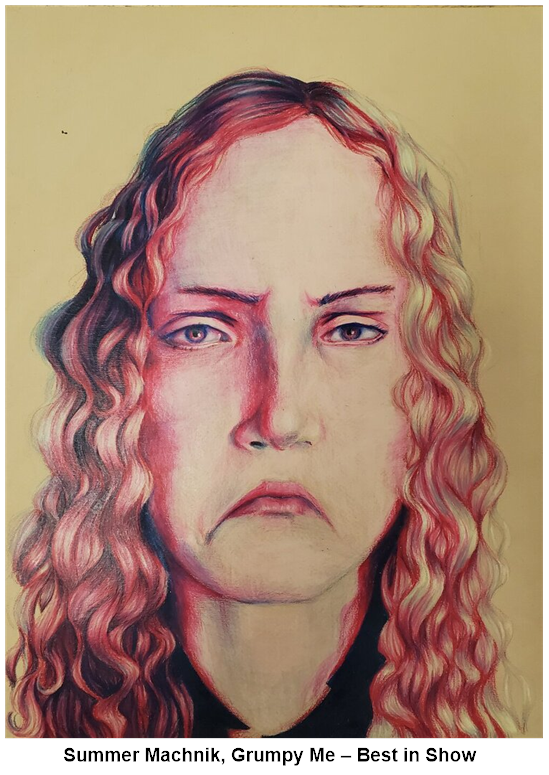 Best in Show, $50
Summer Machnik, Grumpy Me, Color pencil, Chesterton
Patricia & Durward Schuetz Scholarship Awards, $50
Eleanor Adams, 8, Lauren Daigle, Graphite & charcoal, Wilbur Wright
Paul Weinberg Memorial Award, $50
Regan Krachinski, 8, Town, Marker, Chesterton
Awards of distinction, $25
Jonah Kilarski, Photography, Taft
Destiny Cook, 8, Fear, Clary, Chesterton
Isaiah Brundige, 7, Breaking Rays, Spray Paint, Wilbur Wright 
Annabelle Spicer, 8, Mountain Sunrise, Paint, Wilbur Wright
Joe Belton, 8, Van Gogh's Café, Acrylic, Wheeler
First in media, $20
Mixed media: Olivia Mansueto, Taft
Paint: Ayla Johnston, Car Ride, Chesterton
Ceramic: Chloe Fremoun, 8, Face Jug, Wheeler
Sculpture: Grace Wolters, 8, IT, Chesterton
Pencil/ Graphite: Riona Funderburg, Self Portrait, Chesterton
Color Pencil:  Regan Krachinsk, John Henry, Chesterton
Photography: Brianna Hulen, 8, In Class Candid, Wheeler
Computer Graphics: Caitlin Freeman, Taft
Marker: Ali Sierazy, My Mind, Chesterton
Arts Matter! - Become a South Shore Arts Monthly Sustainer!
Regional Arts Calendar - Find Out What's Happening! 
South Shore Arts is designated as a 501(c)3 nonprofit organization. All contributions are tax deductible to the fullest extent of the law.
South Shore Arts programs are provided with support from the Indiana Arts Commission, a state agency, and the National Endowment for the Arts.
© South Shore Arts and its licensors. All rights reserved.