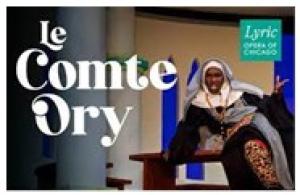 ****HIGHLY RECOMMENDED****  The string of consecutive premieres continues at Lyric Opera of Chicago during the month of November. Fresh on the heels of their epic five-act version of Verdi's "Don Carlos" sung in French (currently running in rotating rep through November 25) comes the delectably delightful "Le Comte Ory." Composed by Rossini in 1828, "Le Comte Ory" is the Italian master's penultimate opera and, surprisingly, has never been performed by Lyric Opera until now. This sparkling new production is the perfect way to usher in the joyous holiday season.  4 SPOTLIGHTS
Within a highly fortified castle located in the French countryside, Countess Adele (soprano Kathryn Lewek) has stubbornly sheltered herself while her brother and all of the men from her village are away on a crusade. She denies entry to any male visitors and swears that she will remain sequestered until all of the soldiers, including her brave brother and the numerous husbands of the ladies in her court, return home safely. Into this idyllic world enters the devilish trickster Count Ory (tenor Lawrence Brownlee) who will stop at nothing to woo the Countess and win her hand. However, Ory's own page, Isolier (mezzo-soprano Kayleigh Decker) is also in love with Adele and has come up with a devious plan to gain entry into the castle and ultimately lay claim to the Countess for himself. Needless to say, hijinks ensue in this laugh-out-loud-funny comedy which is complemented beautifully by Rossini's irresistibly bubbly score.
Anchoring all of the mayhem is Brownlee, who is a Lyric favorite for very good reason. Not only can he effortlessly scale the demanding heights of Rossini's score and the rapid-fire delivery required of its libretto, but Brownlee proves once again that he is also a very fine comedic actor. One can't help but smile as he relishes in his disguises, first as a lonely religious hermit in Act I and then as, of all things, a nun in Act II! Listen closely and you will hear just how gifted this tenor is as he alters his voice to sound as aged as an elderly man or as feminine as an innocent novitiate. Lyric is extremely fortunate to have him in the title role, one which he has performed in various opera houses worldwide, as he brings an infectiously exuberant energy -- both physically as well as vocally -- to this roguish Count.
Lewek proves just why she is one of the most thrilling coloratura sopranos working today in the role of Adele. She is simply hilarious as the childish Countess, pouting and throwing juvenile temper tantrums throughout Act I and then setting the devious trap to catch Ory in Act II. Lewek's signature role is The Queen of the Night in "The Magic Flute" so you know that she is more than capable of hitting the stratospheric high notes, which is truly an astonishing feat for any human being to accomplish.
Decker is also very good as Isolier. Normally trouser roles can be problematic but Decker brings a fresh approach to this role, infusing it with just enough youthful swagger and natural androgyny to make her performance seem particularly believable. She also uses her height to great advantage as she is taller than her two costars and at one point during a trio she makes Isolier appear to be superior to his senior nobleman.
Baritone Ian Rucker sang the role of Raimbaud, who is Ory's close friend. Rucker was a last-minute addition for the opening matinee. Joshua Hopkins was scheduled to sing this role, but was unable to due to an undisclosed illness at curtain. Rucker was polished and strong in the role, going on with short notice. He was especially memorable in the Act II aria in which Raimbaud extols the rewards of having raided the castle's wine cellar and shared the spirits with his fellow guests.
Much of the credit for how splendid this production belongs to Bartlett Sher, the original director. Mainly known for his work on Broadway musicals, Sher brings an exacting eye for detail to this opera. Just watch how brilliantly, in Act I while Count Ory attempts to seduce Adele, the gestures as he moves his hands up and down her body coincide with the fluctuation of high to low notes being played by the orchestra. Also, he gives his principals wide range to create highly farcical characterizations but never allows it to go too far. Plus, some of the more exaggerated movement is matched by vocal reactions as opposed to physical ones. It all makes for a thoroughly enjoyable -- and ingenious -- romp.
All of the design elements are spot-on. Costume Designer Catherine Zuber (also a veteran of Broadway musicals) has created lovely costumes in vividly bright colors for Act I which give way to more muted and monochromatic tones, all white, black and grey hues for the second act. Michael Yeargan's set is clever with many inventive touches and Brian MacDevitt's lighting design is gorgeous, especially in the eight candle-lit chandeliers which are suspended above the wooden makeshift stage at the beginning of Act II.
Guiding it all along, swimmingly, is conductor and Lyric's Music Director Enrique Mazzola. Well-known as an expert of bel canto opera, Mazzola brings his mastery to Rossini's expressive score. Mazzola has had quite a busy fall, having conducted three full operas at Lyric as well as a special concert event featuring Renee Fleming. He deserves a much needed rest during the month of December.
After a period of 194 years, this "Le Comte Ory" proves that it was definitely worth the wait.
_________________________________________________________________________
"Le Comte Ory" continues through November 26, 2022 with the following performances:
November 18 at 7:00 PM
November 22 at 7:00 PM
November 26 at 7:30 PM
Running time is approximately 2 hours and 40 minutes with one intermission