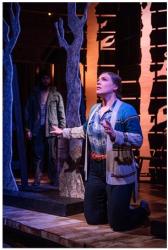 "The Spitfire Grill" opens as a young woman in a prison cell sings the plaintive ballad, "A Ring Around the Moon".  While she was in prison, Percy Talbot (Jacquelyne Jones) found a picture in a magazine captioned "Autumn colors along Copper Creek near Gilead, Wisconsin" and dreamed about it.  When she's being released, she takes the bus to Gilead, hoping to start a new life.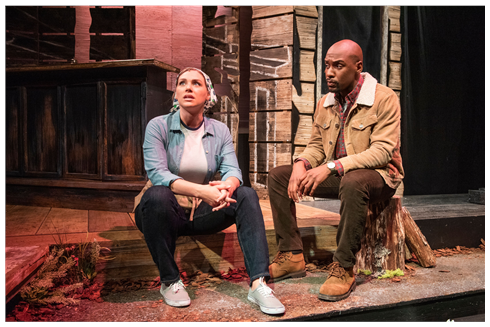 Sheriff Joe Sutter (Donterrio Johnson), who will supervise her probation, introduces her to Hannah Ferguson (Catherine Smitko), the sharp-tongued owner of Gilead's only restaurant, the Spitfire Grill.  Hannah agrees to give her a room and a job. 
Town Postmistress and perennial busybody, Effy Krayneck (Gabrielle Lott-Rogers) is very suspicious of Percy and tells everyone in town about her, singing "Something's Cooking at the Spitfire Grill".  Percy, who is suspicious and prickly herself, wonders if coming to Gilead was a mistake with "Coffee Cups and Gossip". 
When Hannah takes a fall, it's up to Percy to keep the Grill open for her - and put out a nightly loaf of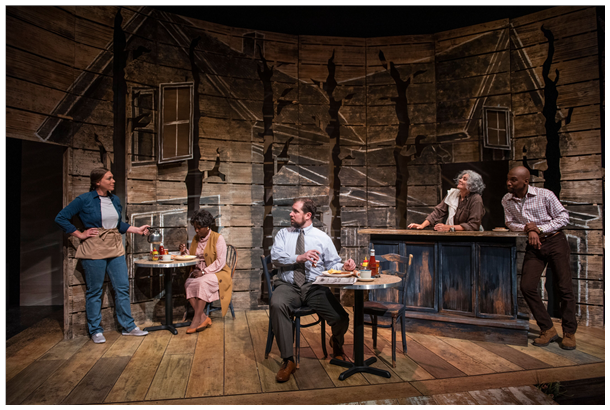 bread for the mysterious Visitor (Ian Paul Custer).  Although Hannah's nephew and self-appointed guardian, Caleb Thorpe (Karl Hamilton), thinks the Grill should be sold, he agrees to let his brow-beaten wife, Shelby (Dara Cameron) help out until Hannah is back on her feet.  As Percy and Shelby become friends, Shelby shares the story of the day her childhood hero went off to war, singing "When Hope Goes".    
When she learns the Grill has been for sale for ten years, Percy suggests that Hannah run a contest - $100 and an essay will get you a chance to own the Grill.  As they write the caption for the contest ad, Percy and Shelby describe their vision of Gilead in "The Colors of Paradise."   
Some of my personal favorite songs - "A Ring around the Moon," "Forest for the Trees," "Shoot the Moon", "Wild Bird" and "Out of the Frying Pan."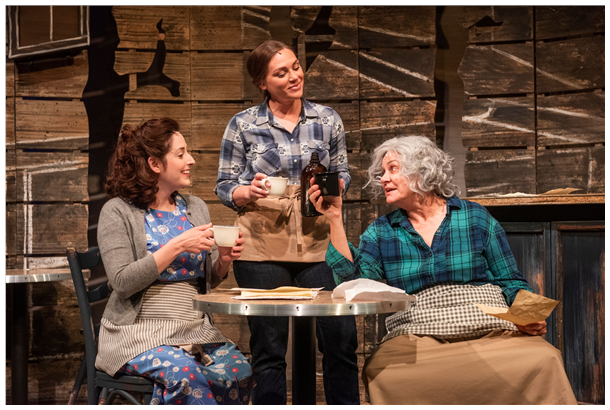 "The Spitfire Grill," which premiered Off-Broadway in 2001, is loosely based on a 1996 film written and directed by Lee David Zlotoff.  The musical was written by James Valcq and Fred Alley.  The American Blues production is directed by Tammy Mader with music directed by Malcolm Ruhl. 
American Blues Theater's production of "The Spitfire Grill" runs through August 17th at Stage 773, 1225 W. Belmont, Chicago.  Valet parking is available.  Running time is about 2 hours with an intermission.  Performances are Thursday and Friday at 7:30 pm; Saturday at 3:00 and 7:30 pm; and Sunday 2:30 pm; with an extra performance on August 14th at 2:30 pm.  There will not be a 7:30 performance on August 17th.  Tickets range from $19-$39.  FYI (773) 654-3103 or www.americanbluestheater.com.