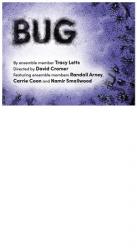 Steppenwolf Theatre Company announces the addition of ensemble member Randall Arney in the role of 'Dr. Sweet' to the cast of Bug by Pulitzer Prize and Tony Award-winning ensemble member Tracy Letts, directed by Tony Award winner David Cromer (January 23 – March 8, 2020). Completing the cast of this acclaimed cult classic are Chicago favorites Jennifer Engstrom (R.C.) and Steve Key (Jerry Goss) along with previously announced ensemble members Carrie Coon (Agnes White) and Namir Smallwood (Peter Evans).

In a seedy Oklahoma motel room, a lonely waitress begins an unexpected love affair with a young drifter.  And then they see the first bugs...Tracy Letts's mind-bending cult classic — a luridly funny tale of love, paranoia, and government conspiracy — roars back to Chicago for its Steppenwolf debut.
Single tickets ($20 - $122) to Bug go on sale this Friday, November 15 at 11am through Audience Services at 312-335-1650 or steppenwolf.org. The production runs January 23, 2020 (opening night Monday, February 3 at 6pm; press performance Wednesday, February 5 at 7:30pm) and runs through March 8, 2020 in the Downstairs Theatre (1650 N. Halsted St). For early ticket access and discounts, Classic and Flex Memberships are available at 312-335-1650 or steppenwolf.org/memberships.
On stage now is the world premiere of Lindiwe by ensemble member Eric Simonson featuring music written and performance by Ladysmith Black Mambazo and co-directed by Simonson and Jonathan Berry (now through January 5, 2020). Up next is the Chicago premiere of the ferociously funny Dance Nation by Clare Barron, directed and choreographed by Lee Sunday Evans starring ensemble members Audrey Francis, Tim Hopper, Caroline Neff and Karen Rodriguez (playing December 12, 2019 – February 2, 2020 in the Upstairs Theatre).
Bug Cast bios
Randall Arney (Dr. Sweet) has been a member of the Steppenwolf ensemble since 1984 and was the Artistic Director from 1987 to 1995. His Steppenwolf directing credits include the recent True West, Slowgirl and The Seafarer, among others. Arney's acting credits with Steppenwolf include Born Yesterday, Ghost in the Machine, The Homecoming, Frank's Wild Years, You Can't Take It with You, Fool for Love, True West, Balm in Gilead, The Seafarer and Coyote Ugly. Broadway transfers under his leadership as Steppenwolf Artistic Director included The Rise and Fall of Little Voice, The Song of Jacob Zulu (six Tony Award nominations) and The Grapes of Wrath (1990 Tony Award, Best Play). Arney recently served as the artistic director of the Geffen Playhouse in Los Angeles (1999 to 2017). He has an M.F.A. degree in Acting from Illinois State University.
Carrie Coon (Agnes White) last appeared on Steppenwolf's stage in the world premiere of Mary Page Marlowe by Pulitzer Prize-winning ensemble member Tracy Letts. Other Steppenwolf credits include Tracy Letts's adaptation of Three Sisters, The March and Edward Albee's Who's Afraid of Virginia Woolf? as "Honey," a role that led to a Tony nomination and a Theatre World Award. She won a Critics' Choice Television Award for her performance in HBO's The Leftovers and a TCA Award for Individual Achievement in Drama for her performances in HBO's The Leftovers and FX's Fargo. For her performance in Amy Herzog's world premiere Mary Jane, she garnered a 2018 Lucille Lortel Award, an Obie Award, and a Drama Desk Award nomination. Current projects include The Nest with Jude Law and Ghostbusters (Summer 2020).
Namir Smallwood (Peter Evans) joined the Steppenwolf ensemble in March 2017, where he has been seen in True West, Aziza Barnes' BLKS, Steppenwolf for Young Adults' Monster, Christina Anderson's Man In Love and The Hot L Baltimore. Other Chicago credits include The Lost Boys of Sudan (Victory Gardens Theater); the world premiere of Philip Dawkins' Charm (Northlight Theatre); The Grapes of Wrath (Gift Theatre) and East Texas Hot Links (Writers' Theatre). Regional credits include Marin Theatre Company, Pillsbury House Theatre, Ten Thousand Things and Guthrie Theater. New York credits include Lincoln Center Theater's productions of Pipeline by Dominique Morisseau and Pass Over by Antoinette Nwandu. Television credits include Chicago Fire and Betrayal.
Jennifer Engstrom (R.C.) is currently on stage at Steppenwolf in Lindiwe (through January 5, 2020). Additional Chicago credits include One Flew Over The Cuckoo's Nest, The North Plan, Hir (u/s) (Steppenwolf); Small Mouth Sounds, Simpatico, The Mutilated, Fatboy, 3C (A Red Orchid); Sweet Bird of Youth (Goodman); A Streetcar Named Desire, Death of a Streetcar Named Virginia Woolf (Writer's); Sky Girls (Northlight); and Hot L Baltimore (Mary-Arrchie). Regional credits include Simpatico (McCarter Theatre); Angels in America (Kansas City Rep); and A Streetcar Named Desire (Williamstown Theatre Fest). In New York, she curated and performed in Excuse My Dust, a Dorothy Parker Portfolio. Film and TV credits include SLICE, Swing Shift and Chicago Fire. 
Steve Key (Jerry Goss) was in the National Tour of Steppenwolf's August: Osage County, and in previous Steppenwolf productions of One Arm, The Libertine, As I Lay Dying. His Broadway credits include SWEAT and Off BroadwayThe Effect (Barrow Street Theatre) and Blue Surge (The Public Theatre). Additional Chicago credits include Feathers & Teeth, Vigils, Zoo Story and Blue Surge (Goodman); Grace, Better Late (Northlight Theatre); Rest, Circle Mirror Transformation (Victory Gardens); Brothers Karamazov (Lookingglass); The Unseen (A Red Orchid), among others. TV credits include Boss, Chicago Fire, Elementary, Chicago Code, Mob Doctor and on film, Public Enemies, 1,000 Acres, Blackmail.
Playwright and Director Bios
Tracy Letts is a multifaceted award-winning actor and playwright. He is the author of The Minutes (Pulitzer finalist), Linda Vista, Mary Page Marlowe, The Scavenger's Daughter, Superior Donuts, August: Osage County (Pulitzer Prize, Tony Award for Best Play), Man from Nebraska (Pulitzer finalist), Bug, and Killer Joe.  He also wrote the screenplays for the films The Woman in the Window, August: Osage County, Bug, and Killer Joe.  He won the 2013 Tony Award for Best Leading Actor in a Play for his performance as George in the Tony Award-winning revival of Edward Albee's Who's Afraid of Virginia Woolf?, which premiered at Chicago's Steppenwolf Theatre. He joined the Steppenwolf ensemble in 2002, where he has appeared in American Buffalo, Betrayal, The Pillowman, The Pain and the Itch, The Dresser, Homebody/Kabul, The Dazzle, Glengarry Glen Ross, Three Days of Rain, many others. Other productions include The Realistic Joneses (Broadway) and Orson's Shadow (Barrow Street Theatre, NY). Film appearances include Little Women, Ford v Ferrari, The Post, Lady Bird, The Lovers, Indignation, Christine, The Big Short, Imperium, Wiener-Dog, Guinevere.  Steppenwolf production of his Letts's play Linda Vista recently completed a successful run at Broadway's Hayes Theater and was a New York Times Critic's Pick. Steppenwolf's production of Letts's play The Minutes begins performances on Broadway at the Cort Theatre on February 25, 2020 with Letts in the cast. 
David Cromer is a director and actor originally from Chicago, currently based in New York. As a director, his New York credits include The Sound Inside, which is currently running on Broadway; The Band's Visit (2018 Tony Award for Best Direction of a Musical, Ethel Barrymore Theatre); the Broadway revivals of Brighton Beach Memoirs and The House of Blue Leaves; The Treasurer (Playwrights Horizons); Man from Nebraska (Second Stage Theatre); The Effect, Orson's Shadow and Tribes (Barrow Street Theatre); Women or Nothing (Atlantic Theater Company); Really Really (MCC Theater); When the Rain Stops Falling and Nikolai and the Others (Lincoln Center Theater); and Adding Machine (Minetta Lane Theatre). Other directing credits include Next to Normal (Writers Theatre); Come Back, Little Sheba (Huntington Theatre Company); The Sound Inside (Williamstown Theatre Festival); and Our Town in London, Chicago, Los Angeles, Boston and Kansas City. As an actor, he recently appeared on Broadway as Howard Fine in the 2018 production of The Waverly Gallery. Prior to that, he appeared on Broadway as Karl Lindner in the 2014 revival of A Raisin in the Sun, and Off-Broadway as the Stage Manager in Our Town, which he also directed, at the Barrow Street Theatre. He appeared in the HBO series "The Newsroom," the Showtime series "Billions," and in the motion picture The Meyerowitz Stories (New and Selected). Cromer has received a Tony Award, Drama Desk Award, three Obie Awards, three Lucille Lortel Awards, a Joe A. Callaway Award, four Jeff Awards, and in 2010 was made a MacArthur Foundation Fellow.
The Bug creative team includes Takeshi Kata (Scenic Design); Sarah Laux (Costume Design); Heather Gilbert (Lighting Design); Josh Schmidt (Sound Design); Christine D. Freeburg (Production Stage Manager); Jaclynn Joslin (Assistant Stage Manager); Heather Sparling (Assistant Lighting Designer); JC Clementz (Casting Director); and Hallie Gordon (Artistic Producer).
For full cast & creative team bios, visit bit.ly/BUGSTC.
Memberships
Classic Memberships starting as low as $100 guarantee seats, offer early access to special events, invitations to behind-the-scenes events and special discounts at the theatre and in the neighborhood. Five and six play membership packages are now available; discounted packages for students and teachers and accessible packages are also offered.
Flexible Membership options include the Black Card which starts as low as $180. With a Black Card, you receive six tickets to use whenever and however you want for an entire year. Use all six tickets before that year is up? Reload your card to keep those experiences coming. Under 30? Join Steppenwolf RED for just $100 and enjoy the same six flexible tickets (that's less than $17 a credit and almost 80% off single ticket prices). Black and RED cardholders receive exclusive discounts, special perks and insider access. For more information, visit Audience Services at 1650 N Halsted St, call 312-335-1650 or steppenwolf.org/memberships.
Visitor Information
Steppenwolf is located at 1650 N Halsted St near all forms of public transportation, bike racks and Divvy bike stands. The parking facility ($15 or $17, cash or card) is located just south of our theater at 1624 N Halsted. Valet parking service ($15 cash) is available directly in front of the main entrance starting at 5pm on weeknights, 1pm on weekends and at 12noon before Wednesday matinees. Limited street and lot parking are also available. For last minute questions and concerns, patrons can call the Steppenwolf Parking Hotline at 312.335.1774.
Accessibility
Committed to making the Steppenwolf experience accessible to everyone, performances featuring American Sign Language Interpretation, Open Captioning and Audio Description are offered during the run of each play. Assistive listening devices and large-print programs are available for every performance and the Downstairs and 1700 Theatres are each equipped with an induction hearing loop. All theaters feature wheelchair accessible seating and restrooms, and Front Bar features a push-button entrance, all-gender restrooms and accessible counter and table spaces.
Sponsor Information
United Airlines is the Official and Exclusive Airline of Steppenwolf.
Front Bar: Coffee and Drinks
Connected to the main lobby is Steppenwolf's own Front Bar: Coffee and Drinks, offering an inviting space to grab a drink, have a bite, or meet up with friends and collaborators, day or night. Open Tuesdays – Sundays, Front Bar serves locally roasted coffee and espresso by Passion House Coffee Roasters and features food by The Goddess and Grocer. The menu focuses on fresh, accessible fare, featuring grab-and-go salads and sandwiches for lunch and adding shareable small plates and desserts for evening and post show service. front-bar.com
Year of Chicago Theatre
Steppenwolf Theatre Company is proud to be part of the 2019 Year of Chicago Theatre, presented by the City of Chicago and the League of Chicago Theatres. To truly fall in love with Chicago, you must go to our theatres. This is where the city bares its fearless soul. Home to a community of creators, risk-takers, and big hearts, Chicago theatre is a hotbed for exciting new work and hundreds of world premieres every year. From Broadway musicals to storefront plays and improv, there's always a seat waiting for you at one of our 200+ theatres. Book your next show today at ChicagoPlays.com.
Steppenwolf Theatre Company is the nation's premier ensemble theater. Formed by a collective of actors in 1976, the ensemble members represent a remarkable cross-section of actors, directors and playwrights. Thrilling and powerful productions from Balm in Gilead and August: Osage County to MS. BLAKK FOR PRESIDENT—and accolades that include the National Medal of Arts and 12 Tony Awards—have made the theater legendary. Steppenwolf produces hundreds of performances and events annually in its three spaces: the 515-seat Downstairs Theatre, the 299-seat Upstairs Theatre and the 80-seat 1700 Theatre. Artistic programming includes a seven-play season; a two-play Steppenwolf for Young Adults season; Visiting Company engagements; and LookOut, a multi-genre performances series. Education initiatives include the nationally recognized work of Steppenwolf for Young Adults, which engages 15,000 participants annually from Chicago's diverse communities; the esteemed School at Steppenwolf; and Professional Leadership Programs for arts administration training. While firmly grounded in the Chicago community, nearly 40 original Steppenwolf productions have enjoyed success both nationally and internationally, including Broadway, Off-Broadway, London, Sydney, Galway and Dublin. Anna D. Shapiro is the Artistic Director and David Schmitz is the Executive Director. Eric Lefkofsky is Chair of Steppenwolf's Board of Trustees.
Steppenwolf's Mission: Steppenwolf strives to create thrilling, courageous and provocative art in a thoughtful and inclusive environment. We succeed when we disrupt your routine with experiences that spark curiosity, empathy and joy. We invite you to join our ensemble as we navigate, together, our complex world.
For additional information, visit steppenwolf.org, facebook.com/steppenwolftheatre, twitter.com/steppenwolfthtr and instagram.com/steppenwolfthtr.