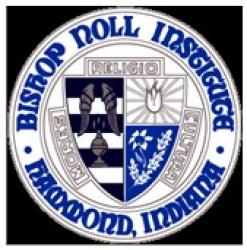 During the grand opening event, administrators, faculty, staff and friends of Bishop Noll explored the new spaces where current and future Warriors will study science, technology, engineering and math with art and religion components.
"Many months of planning have gone into this and we are thrilled to get to this point," Bishop Noll President Paul Mullaney '77 said at the ribbon cutting. He explained that the vision for the STREAM Lab started when Bishop Noll Principal Lorenza Jara Pastrick '01 visited STEM labs throughout Indiana.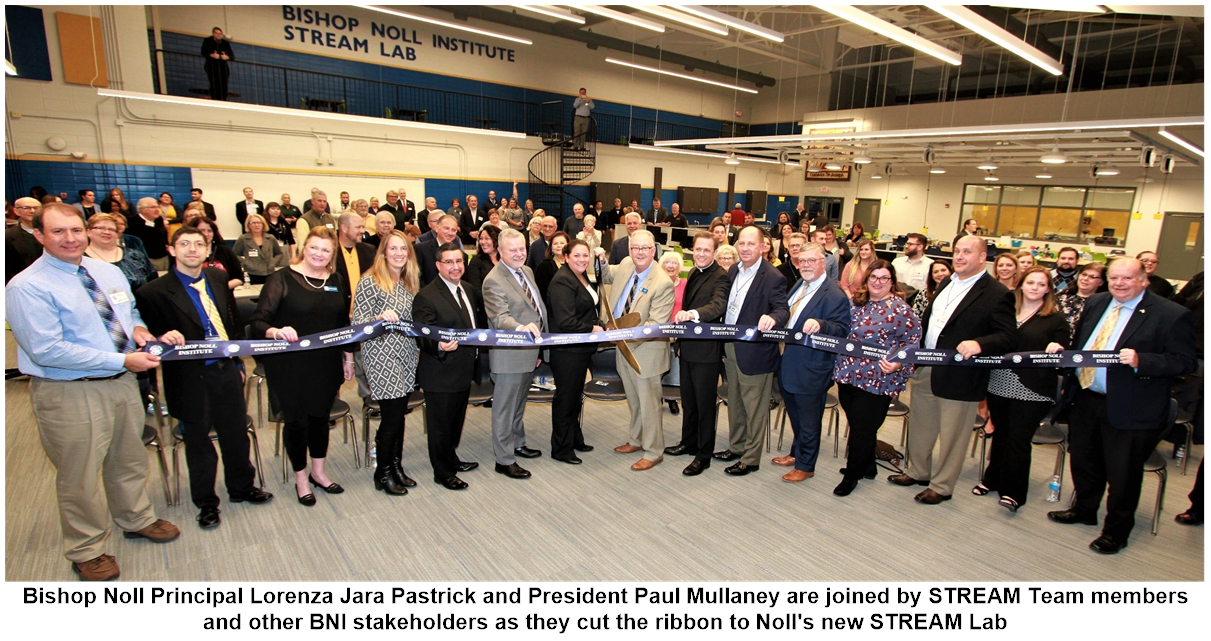 "She is a visionary," Mullaney said. "She knew we had this space, which was used but really underutilized. The wheels started turning. We are grateful for her to bring forth the vision … Our STEM program existed, following the Project Lead the Way curriculum, but this was the thing that was going to propel us forward."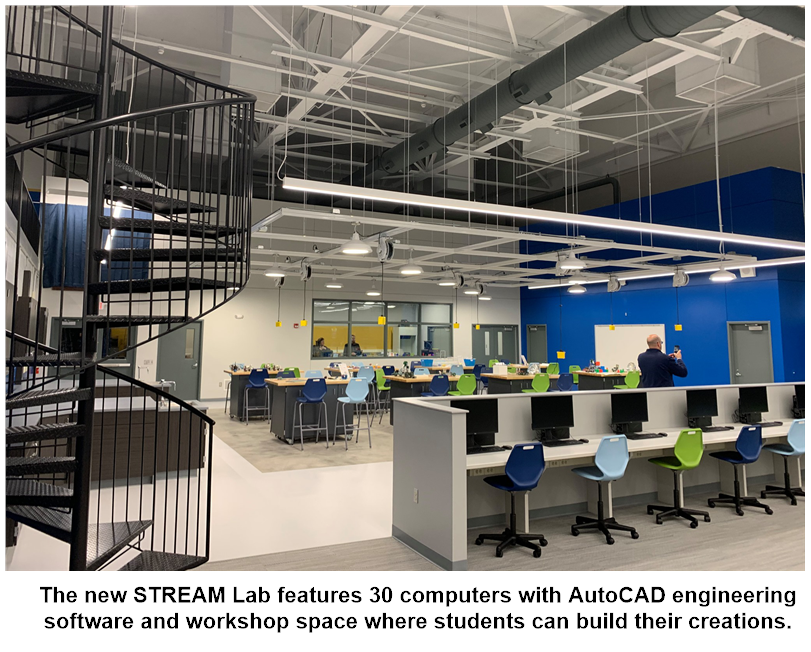 New spaces now available to students include a learning studio and design lab, with flexible seating allowing them to work collaboratively; a makerspace for more hands-on work and creating prototypes based on original designs; and a prototype studio to build models and use larger equipment to build final products for display. In addition, they have access to multiple 3D printers and 30 computers with AutoCAD engineering software.
"Today we cut the ribbon to a beautiful facility and a great upgrade to Bishop Noll," said Pastrick, who joined Mullaney in thanking the many donors who made the renovation possible. "As I think about the ribbon cutting, I can't help but realize a vision come true for the students of BNI ... it has paved the way for students to receive greater educational opportunities."
The innovative STREAM Lab was constructed in the former Whelan Activity Center, a multipurpose space created when the school pool was filled in in 2010. The pool had been closed since 1995 due to structural problems.
Artwork of St. Joseph the Worker, patron saint
Guide Us, St. Joseph by Christopher Klocek '77
After Bishop Noll's faculty STREAM Team recommended that St. Joseph the Worker should become the patron saint of BNI's new STREAM Lab, Noll alumnus Christopher Klocek '77 was commissioned to create a sculptured tribute to St. Joseph that would be displayed prominently in the renovated facility.
Klocek is an aficionado of the centuries-old art form of intarsia, which is a medium featuring wood inlaying. The BNI sculpture of St. Joseph the Worker is by far the largest sculpture he has undertaken.
No paints or stains were used in Klocek's 7-by-7-foot sculpture. Colors, hues and shades emanate exclusively from the 20-plus species of wood from around the world used in the artwork. Framing the image of St. Joseph in Klocek's sculpture are representations of the six elements of the STREAM acronym – science, technology, religion, engineering, art and mathematics. STREAM is Bishop Noll's version of STEM, adding the school's curricular hallmarks of religion and the arts.
Ignite & Inspire campaign still underway
The Ignite & Inspire capital campaign was the primary funding source for the STREAM Lab.
"We thank our benefactors for believing in Bishop Noll Institute and our mission. Please know, however, that our work is not done. Though the STREAM Lab is complete, we have other campaign initiatives to complete. We have reached $2.3 million of our total $3.5 million goal. We ask for your continued prayers, help and support as we work to reach our goal," Mullaney said.
Here is a summary of the three campaign initiatives:
STREAM Lab
BNI will continue to be an educational beacon for the Region as it lights the way in the STEM arena, adding "R" for religion and "A" for the arts as the only fully integrated high school STREAM program in northern Indiana. At least one of every three jobs now requires STREAM skills, and student mastery of STREAM disciplines correlates to college success. So BNI is using Ignite & Inspire funds to renovate the former swimming pool and create the state's only state-of-the-art STREAM Lab to advance the program. Cost of the Lab is $1.45 million (with $1 million coming from the campaign).
Instructional Excellence
Our teachers ignite and inspire our students daily. BNI will invest in our faculty so as to keep the best possible teachers to help us deliver our core product. The campaign will raise $1 million to be placed in endowment and grown. Interest generated each year would be used to help our teachers better themselves which, in turn, helps our students learn. Funds would be used to provide tuition support for advanced degrees, licensure, special training and professional development.
Outdoor Facilities
At BNI, our outdoor facilities are aged and not competitive with the standards of schools today. So we will transform the outdoor "stadium" and add a regulation, eight-lane track. The plan includes upgrading the playing field and ultimately adding a new practice field, a softball field renovation and student and spectator amenities to enhance the experience for all involved. The Ignite & Inspire campaign will contribute $1.5 million to this initiative.
To invest in the campaign, please contact Mullaney at pmullaney@bishopnoll.org or (219) 932-9058, ext. 1519.
To read more about the STREAM Lab, click here to check out an article in The Times.