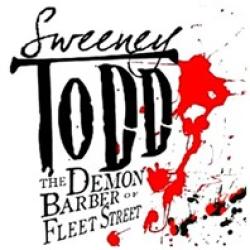 ★★★★★One of my favorite Sondheim musicals is "Sweeney Todd: The Demon Barber of Fleet Street" ( hereafter I will use "Sweeney Todd"). I have witnessed quite a number of productions, but never as a chamber piece. Kokandy Productions, since its onset, has been great at selecting material to convert from large stage to chamber. For those unaware of a Chamber Piece/or musical, it is an intimate production where more imagination on the part of the audience comes into the mix. The actors are close enough to touch and often, a character will sit at a musical instrument and become a part of the band. The audience is not sitting in what we call theater seats, but rather arm chairs and stools and other pieces of furniture one might find in "Grandma's living room".
Now, try to imagine "Sweeney Todd" presented in this fashion. It is not easy, but if anyone could pull it off, it is Kokandy. The theater is located in the lower level of The Chopin Theatre. When you go down the steep staircase to the lower level lobby, you go back a good 30 years in time. The lobby has a bar and lots of antique seating. The theater itself is even more so, and the stage for this production is a wooden turntable in the center of a square that has seating on all four sides and some huge pillars at each corner. You will see no set, just a chair and later a table. There are no props, or at least for 86% of the play. The costumes (Rachel Sypniewski) are nice, but the wigs for the most part are not fitting the play that Hugh Wheeler and Steven Sondheim imagined when they penned it.
Directed and choreographed by Derek Van Barham with musical direction by Nick Sula, I found the charm of the show to remain and a cast of players that understood the nature of the story, which by the way is about a man, who was a skilled barber that was sent away for a crime he did not commit. The reason for this was that a certain judge (Christopher Johnson) wanted the barber's wife and child. As it turns out, he has been raising the child, a daughter, Johanna ( played by Chamaya Moody) who he is about to take as his bride. I had a slight problem with the casting here as she is referred to as a blonde several times and to make the audience see this, she had a few strands of blond hair- in the world of wigs, why not make her a blond for 2 plus hours?
To go on with the story, this barber, who has now taken on a new name, Sweeney Todd ( played to perfection by Kevin Webb, except for his make-up) is back for revenge and to avenge his wife, who he believes died when he was sent away. He opens up a barber shop above the pie shop owned and operated by Mrs. Lovett( Caitlin Jackson is powerful and amazing). In fact, these two were perfect for their roles and had some of the minor stuff been better, this show could have easily been a Highly Recommended- just for their performances. There are no microphones used but these two along with the energetic Patrick O'Keefe as Tobias are strong enough to carry on any stage anywhere. The others should be miked ( my side of the theater is where the band was and this made it hard to hear even with my hearing aids on).
The barber had no barber chair or even razors to show, but during the finale, when Tobias did his final bit, he had a razor. Consistency? FYI- the story involved murder ( lots of them) and those done in are baked into meat pies, The production is long for a musical with act one being close to 90 minutes and Act two being1 hour and 5 minutes. There is a 15 minute intermission and while you can buy drinks, during the show you are asked to keep your masks on.
The ensemble is a major part of every musical and this group is high spirited and strong in character study. They deserve to be mentioned: Nathan Kabara, Daniel Rausch, Nikki Krzebiot, Stephanie Chiodras, Ethan Carlson, Joel Arreola and Brittney Brown as well as Ryan Stajmiger playing Anthony, Johanna's lover, Josiah Haugen and Isabel Cecillia Garcia. The songs that people are familiar with are : "Pretty Women", "Johanna", "Not While I'm Around", "The Worst Pies in London" and of course "The Prologue" and "The Epilogue",
"Sweeney Todd" will continue at The Chopin Theatre  located at 1543 West Division ( between Milwaukee Avenue and Ashland Avenue) thru  November 6th with performances as follows:
Wednesdays  7 p.m.  ( except Oct 5th)
Thursdays  7 p.m.
Fridays  7 p.m.
Saturdays  7 p.m.
Sundays  5 p.m.
Monday, October 24th will be Industry Night  7 p.m.
Tickets are $40/ $30 Seniors and students
a limited number of $15 tickets available for artists and students.
Visit www.bit.ly/SweeneyChicago for tickets