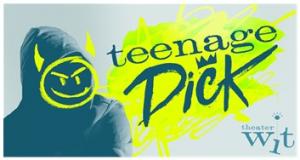 Now is the winter of discontent made glorious summer at Roseland High
Teenage Dick, Mike Lew's devastatingly funny, sharply written new play about perception, disability and the lengths we're willing to go to rise above our station in life, will receive its Chicago premiere at Theater Wit, March 6-April 19, 2020.
Theater's most famous disabled character comes to a Chicago stage like you've never seen him before—in the vicious, no-holds barred brutal politics of high school. Richard, picked on because of his cerebral palsy (and his semi-creepy tendency to monologue), is determined to become class president. But the road to power is never smooth, and Richard must decide: is it better to be loved or feared?
"Moving, exciting and profoundly eye-opening…I found the play exhilarating," wrote Jesse Green, New York Times, when Ma-Yi Theatre premiered this New York Times Critic's Pick in 2018 at New York's Public Theater. "A brilliant re-imagining," hailed Newsday. "Lew's sly commentary is sharp, balancing serious issues with nimble wit," added The Stage.
Brain Balcom will direct Theater Wit's Chicago premiere of Teenage Dick. The cast features MacGregor Arney as Richard, Liz Cloud as Elizabeth, Ty Fanning as Eddie, Courtney Rikki Green as Anne, Sarah Price as Clarissa and Tamara Rozofsky as Buck.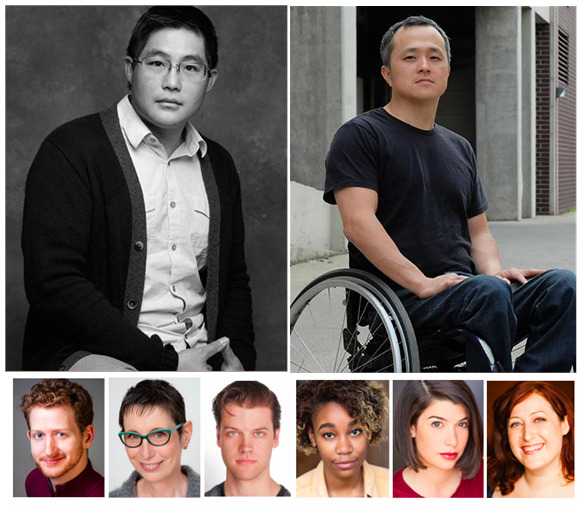 Teenage Dick playwright Mike Lew (left), Theater Wit's director Brain Balcom (right), and the Chicago cast for Teenage Dick
(bottom, from left): MacGregor Arney (Richard), Liz Cloud (Elizabeth), Ty Fanning (Eddie), Courtney Rikki Green (Anne), Sarah Price (Clarissa) and Tamara Rozofsky (Buck).
"Theater Wit is thrilled to have Brian Balcom at the helm of Teenage Dick, his first full professional production in Chicago," said Jeremy Wechlser, Artistic Director, Theater Wit.
"Brian is a young, disabled, Asian-American director who will bring a highly nuanced take to this new work by one of today's most important young Asian-American playwrights. Brian will collaborate with a cast of disabled and non-disabled theater artists to create a raw, hilarious, vitally important live theater experience that portrays disability issues in a radically new way."
Wit's production team for Teenage Dick (at press time) is Brittany Harlin (choreographer), Sotirios Livaditis (scenic designer), Izumi Inaba (costume designer), Michelle Benda (lighting designer), Jonathan Berg-Einhorn (props designer), Clare Cooney (casting director) and Sean McStravick (stage manager).
Previews are March 6-March 15. Press opening is Monday, March 16 at 7 p.m. Performances run through April 19: Thursday, Friday and Saturday at 8 p.m.; Sunday at 2:30 p.m.
For this production, Theater Wit is reserving 12 wheelchair accessible seats for each performance. Look for a full schedule of access services including ASL interpretation, open captioning, touch tours and sensory-relaxed performances.
Theater Wit is located at 1229 N. Belmont Ave., in the Belmont Theatre District in Chicago's Lakeview neighborhood. Tickets are $30-$42 and go on sale November 7, 2019. For tickets and information, visit TheaterWit.org or call (773) 975-8150. 
About Theater Wit
Theater Wit, Chicago's "smart art" theater, is a major hub of the Chicago neighborhood theater scene, where audiences enjoy a smorgasbord of excellent productions in three, 99-seat spaces, see a parade of talented artists and mingle with audiences from all over Chicago.
To purchase tickets, a Theater Wit Membership or to inquire about Flex Pass options, visit TheaterWit.org or call the Theater Wit box office, 773.975.8150.
Note: Theater Wit will launch its 15th season in 2019 with the Chicago premiere of Teenage Dick. Stay tuned for more exciting plans in celebration of the company's 15th anniversary.
Biographies
Mike Lew's (playwright) works include Tiger Style!, Collin, Bike America (Alliance, Atlanta; Ma-Yi, NYC; Juilliard and Lark workshops, NYC; Kennedy Center/NNPN workshop, DC; Playwrights Foundation workshop, SF); microcrisis (Ma-Yi, NYC; InterAct, Philly; Next Act, Milwaukee); Stockton (AracaWorks and EST workshops, NYC); and People's Park (Victory Gardens Ignition Festival). Shorts include Tenure (24 Hour Plays on Broadway), In Paris You will Find Many Baguettes but Only One True Love (Humana Fest, KY; InspiraTO Festival winner, Toronto), Roanoke (Humana) and Moustache Guys (Second Generation, NYC). He is a former resident writer for Blue Man Group and Bon Appetit. Several of his short plays are published by Playscripts. His awards include the Lanford Wilson Award (via the Dramatists Guild), Helen Merrill Award, NYFA Fellowship, Kendeda Graduate Playwriting Award, AracaWorks Graduate Playwriting Award, Heideman Award, Sam French Festival and Battle of the Bards. He is co-director of Ma-Yi Writers' Lab, the largest Asian-American playwrights' collective in the country. Other residencies are Ensemble Studio Theatre, Youngblood, Old Vic New Voices and TCG Young Leaders of Color.He is married to playwright Rehana Lew Mirza. Training: Juilliard (2013), Yale (2003). mikelew.com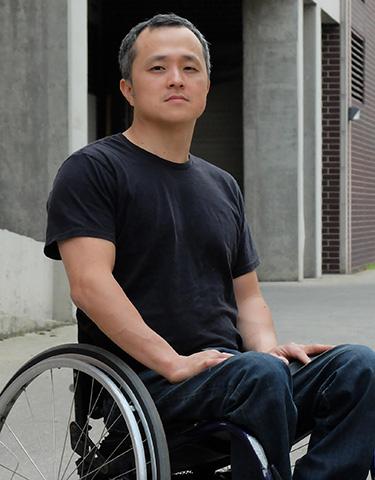 Brian Balcom (director), a disabled, Asian-American director, moved to Chicago to earn his MFA in directing at The Theatre School at DePaul University. Since graduating, he was a Multi-Cultural Fellow at Steppenwolf Theater, directed readings and short plays at Route 66, Broken Nose, The Gift, Silk Road, A-Squared, and La Jolla Rep, and currently works as the access coordinator at Victory Gardens Theater. He earned a BFA in directing from Carnegie-Mellon University, where he started a small theater company dedicated to commissioning work from Jerome and McKnight fellows from the Playwrights Center. He produced and directed seven new plays and his company was invited to present at the Southern and Guthrie Theatres. In Minneapolis, he also worked with Gremlin Theater, The Playwrights Center, Walking Shadow Company, Artistry, and Mu Performing Arts. He has upcoming productions with Mu Performing Arts and American Stage in Florida.    
MacGregor Arney (Richard) received his BA in theater performance from Western Michigan University and his MFA in acting from the University of California, San Diego. Since then he has acted all around the country, most recently at the Oregon Shakespeare Festival where he played Silvius in As You Like It and Lennox in Macbeth. He has also played Christopher in The Curious Incident of the Dog in the Night-Time and Fielder in Hooded, Or Being Black for Dummies at Mixed Blood in Minneapolis. In Denver, Arney played the Baker in Into the Woods with Phamaly Theatre Company at the Denver Center of Performing Arts, and in Washington DC, he played Jonas in Going to a Place Where You Already Are with Theater Alliance at the Anacostia Playhouse. Arney lives with his wife in Chattanooga, Tennessee where he develops independent films with his production company, Rag n' Tag Productions.
Liz Cloud (Elizabeth) received an After Dark Award and a Joseph Jefferson citation nomination for her performance of Charlotte Bronte in Bronte. She regularly can be see performing in full habit as Sister in the long running one-woman (or more correctly one-nun) comedy Late Nite Catechism (Royal George Theatre). Credits include the Fool in King Lear (Redtwist Theatre), The Laramie Project (AstonRep), Miss Prism in The Importance of Being Earnest (CenterStage), Letters Home (Griffin Theatre), Kathleen in Flanagan's Wake (The Noble Fool Theater), Mrs. McBride in Bible Bingo (Nuns4Fun Productions), the Shepherd in The Winter's Tale (Odds Bodkins) as well as the terse librarian in the independent film American Fable. She is a founding member of the improv comedy ensemble, The Free Associates. 
Ty Fanning (Eddie) has crediting including Lindiwe (Steppenwolf), Short Shakespeare! Macbeth, Romeo & Juliet and A Midsummer Night's Dream (Chicago Shakespeare), She Stoops to Conquer, Three Sisters, Book of Will, Macbeth, A Midsummer Night's Dream, Cyrano (American Players Theater), Utah Shakespeare Festival, Door Shakespeare Company, Notre Dame Shakespeare Festival and Montana Shakespeare in the Parks. Film credits include Secrets of a Psychopath, Home Run, Hollis, Dancing in the Chamber (Best Actor, Trail Dance Film Festival), Nora and Bob Dylan's web video Like a Rolling Stone. 
Courtney Rikki Green (Anne) trained as a youth at the Chicago Multicultural Dance Center, where she learned multiple styles of dance. In high school, her interests shifted to theater, though she still loves to dance. She recently graduated from Syracuse University with a BFA in Acting and is an original member of Chicago's Drunk Shakespeare Society. Her most recent role was Queen Anne in The Three Musketeers at Syracuse Stage (Syracuse Area Live Theatre Nomination - Best Supporting Actress in a Play). 
Sarah Price (Clarissa) is making her Theater Wit debut. Other Chicago credits include The Wolves (Goodman Theatre), X, Mai Dang Lao (Sideshow Theatre Co.), Harvey (Court Theatre), Earthquakes in London (Steep), You On The Moors Now (The Hypocrites), The Sweeter Option (Strawdog Theatre), Solstice (A Red Orchid Theatre), Northanger Abbey (Remy Bumppo Theatre) and Monstrous Regiment (Lifeline Theatre). Price is also a stand-up comedian, and was a featured comic at the Chicago Women's Funny Fest and 208 Comedy Festival in Boise, ID. She is a graduate of The Theatre School at DePaul University, the Improv Training Program at iO and Second City's Conservatory. 
Tamara Rozofsky (Buck) is a writer, teacher, performer and storyteller from Tallahassee, FL. She contributed to the "A Ramp is Not Enough: Religion and Disability Conference" at Graduate Theological Union in Berkeley, and has given workshops, corporate trainings and presentations for BMO Harris Bank, Hyatt Hotels, Southern Shakespeare Company, Camp Horizon for adults with physical disabilities, Columbia College, Notre Dame De Namur University, University of the Pacific and California State University. She is a graduate of the Second City's Sketch Writing and Conservatory programs and iO Theater's improv program. She was featured in The Bentwood Comedy Festival, Chicago Sketch Comedy Festival and Chicago Women's Funny Fest. She has written and appeared in the original sketch comedy revues Wigs & Bad Accents, or Identity Politics, 16 and Pagan and A Box Full of Kittens. She improvises at iO Theater with the team "Bad Bear." Since 2015 she has been involved with Tellin' Tales Theater and has contributed to several productions, including Six Stories Up in a Snowstorm and Divercity, Lifeline Theatre's Filet of Solo and Lyric Opera's Chicago Voices, Community Created Performances. 
Teenage Dick understudies are Jodi Gage (Elizabeth), Mikey Gray (Anne/Clarissa), Terri Lynne Hudson (Buck) and Matthew Schnitker (Richard).