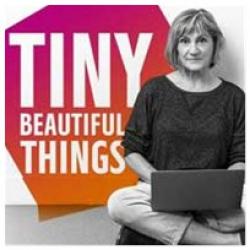 This 80 minute play with four actors, Ms Brooks portraying "Sugar" and the other cast members playing all of those who wrote to her online, is pure magic, from start to finish. This is a part of Strayed's life that came up almost as a joke. She took on the persona of the advice columnist "Sugar" at the request of an old friend, was someone who no one knew  until she decided to "come-out" and make it public. Thousands of people took her advice or wrote to her telling her
that she was full of crap, or better yet, adored her for the answers and insights that she shared with them, as if they were bosom buddies.
"Sugar" gave people what they needed; stories that propelled them to take another look at their lives and situations. How to forgive others, and themselves for past errors of judgements or choices that they made. We are reminded from the anecdotes and letters/answers that we all have stories and that by sharing our experience with others they can learn, and at the same time, perhaps each time we repeat the story, we learn a little bit as well.
Sharply directed by Vanessa Stallings on a set designed  by Courtney O'Neill this entire play takes place in a coffee shop somewhere in the United States ( I believe). At the opening  Ms Brooks is enjoying her cup of "Joe" and reading her email. She gets an email form
a former associate offering her the unpaid position of the "Sugar" column. She takes it on and for the next 80 minutes we learn of the letters received and her answers and stories.
The ensemble players that truly make her story real are played by August Forman, Eric Slater and Jessica Dean Turner. Forman and Turner are new to the stage at Victory Gardens, but based on what we see in this one, I am sure we will see more of in the future. The interplay between the writers and Ms. Brooks are amazingly staged so they never become boring and while some of the situations are sad, there are many light touches as well. If one listens closely one will find a great deal of emotion and reality in the letters, the situations and the answers. It takes a great deal of strength to share ones deepest problems or fears and those
that seek answers, openly and honestly can enjoy success in finding the answers they seek.
I must say that the playwright , Nia Vardalos ( who gave us "My Big Fat Greek Wedding") has created a masterpiece that should be seen by anyone who has had any family or social problems in their lives. I am pretty sure that is every one of us, so understand that I am telling you that if you can fit it into your schedule, you will want to give 80 minutes of your life to seeing this play. You won't be sorry ( and neither will your friends and family). There are some who might find these 80 minutes more helpful than a therapy session. I agree!
Th tech side of the production is flawless as well. Teresa ham's costumes are simple, but look closely at the colors and how they all sort of match. Rachel K. Levy ( lighting) and Jeffrey Levin ( sound and original music)  along with Rachel Watson's props complete a perfect picture.
"Tiny Beautiful Things" will continue at Victory Gardens Theater located at  2433N. Lincoln Avenue thru October 13th with performances as follows:
Tuesdays  7:30 p.m.
Wednesdays  7:30 p.m.
Thursdays  7:30 p.m.
Fridays  7:30 p.m.
Saturdays  3 p.m. and 7:30 p.m.
Sundays  3 p.m.
Tickets range from $31-$65 and can be purchased at the box office by calling 773-871-3000 or online at www.victorygardenstheater.org
Special performances:
word for word captioning 9/20, 9/21 at 3 p.m., and Wednesday 9/25 at 2 p.m.
ASL  Friday September 20th
Audio description/Touch Tour- 9/20 ( tour at 6 p.m.) and Sunday the 3th at 3 p.m. ( touch tour at 1:30 p.m.)
Discussions after each performance.