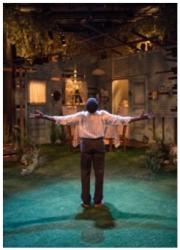 The play, written by Jireh Breon Holder is " Too Heavy For Your Pocket" is directed by Ron OJ Parson, who over the years has proven to be one of our best. His deep feeling and probably his own life experiences bring a special inner feeling to the characters and the story, Those of us, of a certain age, were aware of what was happening during this time in the early 1960's, but in this story, we get  "up close and personal" through the two families that are connected and their lives.
The action takes place in Nashville, Tennessee in the summer of 1961. The set (Jose Manuel Diaz-Soto) is a shack-like house lived in by Sally-Mae (a powerful performance by Jennifer Latimore) and her husband,Tony (deftly handled by Cage Sebastian Pierre). She is pregnant and they are very happy with their lives. (or so it seems). Their best friends, the Brandon's, who spend a great deal of time at their house, are the other characters in this story. Evelyn (Ayann Bria Bakari is divine, and wait until you hear her sing) and Bowzie (played to perfection by Jalen Gilbert) appear to be a true part of the family. Bowzie is about to go to college on a scholarship. They are all very happy with their lives and the future paths that lay before them.
When the opportunity to become a "freedom rider" arises, Bowzie is caught between a rock and a hard place. His opportunity to be the first of his family to get into a college and get a real education is a dream. On the other hand, desegregating the south would be a great legacy for his future children and generations to come. Bowzie chooses to be the Freedom Rider, and through this story we get glimpses into his experience as well as what those left behind during this ordeal. What we watch  in this story is what can happen when we reach a crossroad in our lives. In "Too Heavy For Your Pocket" we have characters who could be fine with things just as they were, but, see the need to go forward.What Bowzie goes through (and the way it is shown by both playwright and director) is powerful and during the intermission, you can read more in the lobby).
The technical aspects of the production are strong: the lighting (Maggie Fullilove-Nugent) and sound (Christopher Kriz, who also wrote the original music) make the moods of the scenes we witness feel very real, as if happening right now. Alexia Rutherford's costumes are very fitting of the period and the props ( Vivian Knouse) sheer perfection. Sam Hubbard handled the fight and intimacy choreography . The production time is 2 1/2 hours including an intermission.
FYI- there are talkback discussions on May 16th, May 22nd, May 30th, June 5th and June 23rd.
Pre-show discussions: June 9th and June 13th  one hour before curtain
Captioned performance  June 1  at 4 p.m.
Sunday Scholars  on June 2nd
The discussions are free -visit www.timelinetheatre.com
The production will continue thru June 29th with performances as follows:
Wednesdays  7:30 p.m.
Thursdays  7:30 p.m.
Fridays  8 p.m.
Saturdays  4 p.m. and 8 p.m.
Sundays  2 p.m.
added performance  Tuesday, June 25th at 7:30 p.m.
Tickets are $40-$54 open seating with discounts for students. To order call box office at 773-281-8463 ext 6, or visit www.timelinetheatre.com
The theater is located at 615 Wellington ( just west of Broadway), easy to get to by public transportation. There is discounted parking at Century Mall and at the Broadway Center. Bring tickets for validation. If you dine at The Bagel, you can park in their lot and they will allow you to stay . They must be given your plate number and you must really dine there.