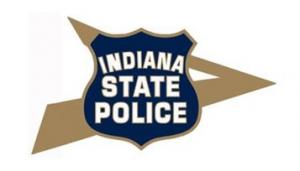 Trooper Griffin pursued the vehicle and observed the Jeep attempting to elude him at a high rate of speed.  The pursuit continued onto 61st Avenue and went west into Merrillville where officers from the Lake County Sheriff's Department, Merrillville and Hobart Police Departments assisted in the pursuit. 
As the suspect drove around a Merrillville police car in the area of 65th Ave, the suspect vehicle struck Trooper Griffin's police car and then continued towards Ellsworth Place.  The chase eventually went into a wooded area near Ellsworth Place where the driver drove his Jeep out of the woods, driving directly towards Trooper Griffin's police car a second time, ramming it almost head-on, rendering the car disabled from continuing in the pursuit. 
The pursuit continued to Broadway where the Jeep's right-side tires deflated.  The driver attempted to get away by driving on the flat tires at a reduced rate of speed.  The Jeep finally drove off the roadway at 57th Ave. where the suspect exited the Jeep and fled on foot in a northbound direction.  Officers then also gave chase on foot until the suspect willingly surrendered and was taken into custody without further incident. 
The suspect has been identified as John F. Ross III, 30, from Sauk Village, IL.  Recovered from the vehicle was a loaded .40 caliber Glock semi-automatic handgun with a 100 round drum magazine attached to it.  A large amount of United States Currency was also located.  Mr. Ross was later found to be a convicted serious violent felon for armed robbery.  Mr. Ross was transported to the Lake County Jail where he is preliminarily charged with the following:
Serious Violent Felon in Possession of a Handgun- Level 4 Felony
Resisting Law Enforcement Causing Bodily Injury- Level 5
All persons named in this release are presumed innocent until and unless proven guilty in court. All charges mentioned are merely accusations, actual charges will be determined by the Lake County Prosecutor's Office.
Trooper Griffin sustained minor injuries as a result of the second collision with the suspect vehicle and the Dodge Charger airbag being deployed.  He is expected to make a full recovery.