**** Recommend **** As I've come to expect, TimeLine Theatre's intense production of Trouble in Mind is both historical in content and timely in impact.  Since it was based on playwright Alice Childress's own experiences with racism and sexism in theater, it resonates as if it were true.  Powerful performances, particularly by Shariba Rivers as actress, Wiletta Mayer, and Tim Decker as Al Manners, a dictatorial director, bring depth to the story.  A back stage drama isn't glamorous but it is definitely worth seeing.  3 ½ Spotlights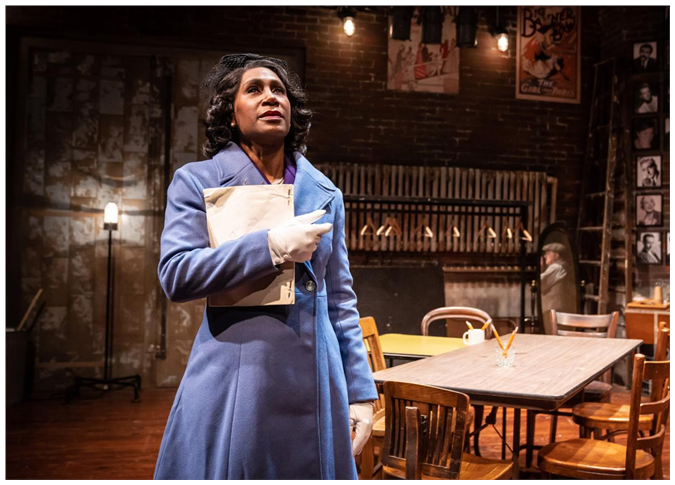 Trouble in Mind was first produced at the Greenwich Mews Theatre in 1955, drawing immediate Broadway interest.  Unfortunately, producers demanded changes to make the play more commercially viable, but Childress refused, so it never appeared on Broadway.  It finally got a successful Broadway run in 2021, when it was nominated for a Tony.
Banging on a door brings stage doorman, Bill O'Wray, running to turn on the lights and turn off the ghost lamp.  When he opens the door, Wiletta Meyer (Shariba Rivers) takes a minute, telling Bill that she always stops to 'smell' the unique scent of a theater when she comes in for the first time.  This time is particularly special since it's her first time in a Broadway theater.  Since he'd once seen her perform, Bill treats her like royalty. 
After she sits down to go over her script, the rest of the cast, all dressed in their best, straggles in one by one, ready to start rehearsals for a new play.  Sheldon Forrester (Kenneth D. Johnson), a sharp dresser, considers himself to be a man about town.  Millie Davis (Tarina J. Bradshaw) arrives wearing a full length fur coat.  A young actor, John Nevins (Vincent Jordan), is handsome and very glad to be there, so Millie tries to make a play for him.  Judy Sears (Jordan Ashley Grier), a young white girl, looks like a teen-ager from the suburbs, which turns out to be exactly what she is. 
When their director, Al Manners (Tim Decker), and his young assistant, Eddie Fenton (Adam Shalzi), sweeps into the theater, he doesn't waste any time starting the table read.  His directorial style is condescending, dictatorial and uncomfortably handsy, berating and belittling the actors to get the reaction he wants.     
Finally, Henry (Charles Stransky) joins the cast, and rehearsals continue.  The play, Chaos in Belleville, is about a lynching. Wiletta, who plays a mother, has questions about the script, but Al shuts her down time after time.  According to the script, she's supposed to hug her son and send him off to be lynched, then go back to her ironing.  The confrontation that follows is the most powerful moment of this performance.
Note: Guests are required to wear masks while inside the building.
Trouble in Mind runs through December 18th at TimeLine Theatre, 615 W. Wellington Avenue, Chicago.  Parking apps are your best bet for parking in this busy neighborhood.  Running time is two hours, 15 minutes, including an intermission. 
Performances are Wednesdays and Thursdays at 7:30 pm; Fridays at 8:00 pm; Saturdays at 4:00 and 8:00 pm; Sundays at 2:00 pm.  There will be no performances on Wednesday, November 23rd and Thursday, November 24th. There are two added matinees: Tuesday, November 22 at 2 p.m. and Friday, November 25 at 4 p.m.
Accessible performances:
Distanced Performances on Tuesday, November 22nd and Friday, December 2nd will have a capacity cap and seating chart so that patrons can sit with additional space allocated between parties.
Open-captioned Performances are Friday, December 9th and Saturday, December 10th at 4:00 pm;
Audio-described Performances are Friday, December 16th at 8:00 pm. 
Tickets range from $42-$57.  As a member of TCG's Blue Star Theatre Program, TimeLine offers $25 tickets to U.S. military personnel, veterans, first responders and their spouses and family.  FYI (773) 281-8463 x6 or www.timelinetheatre.com.