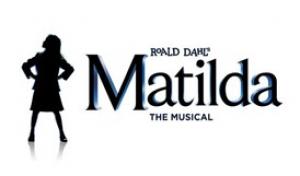 M​atilda the Musical is the classic Roald Dahl story of a bright  young child, her neglectful parents and angry principal, and  the teacher who loved her. ​With a book adapted by Dennis  Kelly and music and lyrics by Tim Minchin, Matilda includes  songs like "Naughty," "When I Grow Up," "Smell of Rebellion,"  and "Revolting Children." ​
This energetic, warm-hearted musical shows that sometimes you have to be a little bit naughty!     Directed by Colleen Peluso and Molly Vass     For additional information contact Colleen Peluso at ​cpeluso@valpo.k12.in.us​ or Molly Vass at  mvass@valpo.k12.in.us​.     
Over 2,000 elementary students are attending a short preview performance on Wednesday, November  20th at the high school. Students have also had the opportunity to check out the book of ​ Matilda​ as part  of VHS Drama Club's literacy outreach to elementary media centers. Preview showings are at 10:00AM,  11:30AM, and 1:00PM.