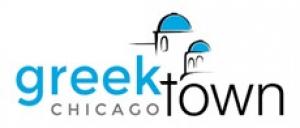 Greektown Chicago is proud to present its Fanciful Fish outdoor sculpture exhibit through April 2021, with 21 artworks lining Halsted Street from Monroe to Van Buren Streets. An additional sculpture, titled Goldie Gives Gratitude, was moved this week to nearby Rush University Medical Center to thank its healthcare heroes and staff for their tireless efforts during the pandemic.
Created by a diverse group of Chicago artists, the sculptures along Halsted Street celebrate Greek culture from mythological gods and seaside vistas to the Greek language. The project is sponsored by Greektown SSA #16, the neighborhood's business improvement district, in partnership with the Chicago Greektown Educational Foundation.

"Our Fanciful Fish public art exhibit is a safe outdoor activity people can enjoy as they stroll through Greektown," said Greektown SSA #16 Commissioner Eve Moran. "The inspiration for the fish sculptures came from Greek culture and geography, water conservation and the fish-forward Mediterranean diet. Fish specialties remain a staple menu item at many restaurants in the Greektown neighborhood. When people come out to Greektown for a walking tour of the sculptures, there are plenty of restaurants and cafes open to provide a carryout meal or warm beverage. It's a great winter activity for families and art lovers of all ages."
Families can download a Fanciful Fish coloring sheet HERE for children to design their own fish artworks.
Along with professional and emerging Chicago artists, the following Greek schools participated in the Fanciful Fish sculpture project: St. Demetrios SOLON Greek School of Chicago, Holy Wisdom Academy, Pythagoras Greek School of St. John the Baptist, Koraes Elementary School, Greek School Pythagoras of Elmhurst and St. George Greek Orthodox Church in Chicago.
Details and locations of the Fanciful Fish sculptures:
 Goldie Gives Gratitude by Rebecca Zaragoza & Eve Moran 
Location: Rush University Medical Center's Atrium building, 4th Floor, 1650 W. Harrison Avenue
Rebecca Zaragoza, a freelance artist and author, uses a variety of art forms and strings of words to color the world. Her fish pays tribute and gives thanks to the wide range of healthcare workers who saved lives during this perilous period. Eve Moran's side adds a Greek olive tree to express love and friendship to these real-life heroes. 
 Athena and Triton by James Mesple 
Location: In front of Artopolis Bakery, Cafe & Agora, 306 S. Halsted Street
James McNeil Mesple joyfully absorbed many of our world's diverse cultures early in his art career. He now brings classical myths to life, including this fish representing the Greek gods Athena and Triton. Mesple uses rich, vivid colors (grinding his own pigments for intensity and saturation) to achieve his contemporary vision. His art is in many public and private collections.
Poseidon Protects the Church by Juan Cano
Location: West side of Halsted Street near Van Buren Street. 
An established Chicago graffiti artist, Cano is known for his distinct "shattered glass style" as shown in the image of Poseidon. An interest in Greek mythology and the beauty of Santorini, Greece, further influenced his fish design. Last year, Cano participated in a program at The Cliff Dwellers celebrating Pilsen's original muralists.
Prometheus by Vasiliki Valkanas
Location: Near Arkadia on Halsted Street just south of Adams Street
Working in both traditional mediums and graphic design, Valkanas drew inspiration for this piece from Ancient Greek pottery and the story of Prometheus: the "eternal sufferer" who defied the gods to give fire to man. She believes the message in this myth – showing the value of knowledge and importance of doing the right thing despite all challenges – is as valuable today as in centuries past.
Where's the Beach by Panos Fiorentinos
Location: In front of Athena Restaurant, 212 S. Halsted Street
Covered in the names of Greek coastal cities, this fish would rather be swimming in the seas of Greece than sitting on dry land in Chicago. Artist Fiorentinos once built architectural models for San Francisco architects but more recently used his art photography for a book on Midwest Greek Orthodox Churches titled ECCLESIA. 
 ΑΓΑΠΗ (love) by Kiki Whitehead
Location: Southwest corner of Halsted Street and Adams Street
A noted children's book illustrator and a recognized leader in the Hellenic community, Whitehead's artistic roots sprouted early in childhood when she studied charcoal drawing and oil painting in art school. With the start of protests last year, she was inspired to promote love (ΑΓΑΠΗ in Greek) through her art piece "Love-Raki" – wordplay based on a popular Greek fish dish, lovraki. The circular symbols are Greek "mati" used to protect us from bad intentions brought on by jealousy and hate.
Fishy Faces' Recovery by Kathleen King 
Location: The side of 9 Muses Bar & Grill, 315 S. Halsted Street
A Chicago-based artist and educator, King serves on the board of the Skopelos Foundation for the Arts (located on the Greek Island of Skopelos). As the viewer circles around King's creation, both the expressions on the fish's face and the symbolic images on the fish's body, will change. Depending on the entry point, there is either a transition from illness to health or vice versa; for King, this expresses the idea that health management is a balancing act that can tip either way. 
Wish Fish by Victoria Martin
Location: In front of Starbucks, 116 S. Halsted Street
Martin holds a BA in art education and an MFA in performance from the School of the Art Institute of Chicago. Known for her large mystical murals based on religious texts, Martin's current practice is Synesthesia (live art during jazz music events). Using musically influenced colors, her magic wish fish welcomes wishes from all.
Swimming in the Blue Water of Alaska by Molly McGrath
Location: Near the National Hellenic Museum, 333 S. Halsted Street
McGrath is a versatile visual artist at Project Onward, a studio and gallery in the Bridgeport Art Center. She was inspired to paint Smokey after reading about the relationship between the Black bears and the salmon of Alaska. For more information visit projectonward.org.
Tiger Queen by Alexandra Damato
Location: Near Arkadia Tower on Halsted Street south of Adams Street
Damato discovered her love of art while traveling through Southeast Asia. She is inspired by the beauty of our natural world. Damato connects with her Greek heritage not only through art, but also by her cooking and gardening. She is also a certified yoga instructor and on the team of Urban Rivers.
Stratum's Doorway by Tyrue "Slang" Jones
Location: In front of Dugan's at 128 S. Halsted Street
"Slang single-handedly defines the Chicago Graffiti movement. For 30 years, he has been a non-stop force pushing the limits of his art and teaching the history of the culture that he helped to create." – Roger Gastman, co-author, The History of American Graffiti. For more information visit slangism.com. 
Of the Aegean by Patricia Owsiany
Location: Near Mr. Greek Gyros, 234 S. Halsted Street
Owsiany considers the many seas – the Aegean, the Ionian, the Mediterranean, and the Sea of Crete – that surround the Greek Islands. She uses color and texture to capture these sun-drenched waters, and the wonderful aquatic life that dwells within, as inspiration for her fantasy fish. Owsiany's work has been shown in galleries in Chicago, Evanston, and New York.
Aquatic Decoherence by Terry Poulos 
Location: In front of Meli Cafe & Juice Bar at 301 S. Halsted Street
Growing out of his strong interest in science, Poulos' fish draws awareness to the catastrophic effects of single-use plastics polluting the Earth's oceans, seas, lakes and river. His fish, in part, depicts a molecule of water (H2O) and a molecule of polyurethane, the active compound in water bottles. And Poulos further champions the marine conservation group Blue Ring.
Jonah and the Whale by Vicky Tesmer
Location: In front of Chicago Parthenon Hostel: 310 S. Halsted St.
A story from the Old Testament comes to vivid life in this creation. Tesmer's art has been exhibited locally, nationally and on an international scale in Cairo and Luxor, Egypt, and Bochum, Germany. Her work is an ongoing dialogue between society and the artist's inner world that travels through time/space and form/function.
The One That Got Away by Chuck Walker
Location: Northwest corner of Halsted Street and Adams Street
The compelling and diverse work of Walker has been widely exhibited and included in both private and public collections. In this artwork, flush with beautiful color, he ponders the question: Who dreams? The fisherman or the fish?
Finding Demo by Miss Alex White
Location: South end of Walgreens, 111 S. Halsted Street
Music and visual art work well together. White is a guitarist with the rock'n'roll duo White Mystery, and a visual artist who attended Gallery 37 and graduated from DePaul University.
Pythagorean Theorem by Eirini Sizopoulos
Presented by Greek School Pythagoras of Elmhurst 
Location: In front of Athena restaurant, 212 S. Halsted Street
A Cat's Dinner by Chris Hale and Tessa Hale 
Presented by Holy Wisdom Academy 
Location: Alongside Santorini restaurant at the corner of Halsted and Adams Streets
Fish is Delish by Alexandra Bakopoulos
Presented by St. Demetrios SOLON Greek School of Chicago 
Location: In front of Athenian Candle, 300 S. Halsted Street
Blue the Color of Sky and Sea by Dimitri Koutelidakis, Niko Harisiadis and Sophia Harisiadis
Presented by Pythagoras Greek School of St. John the Baptist 
Location: In front of Spectrum Bar & Grill, 233 S. Halsted Street
Greek God of the Sea by Jimmy Economou
Presented by Koraes Elementary School
Location: In front of 9 Muses Bar & Grill, 315 S. Halsted Street
Love recognizes no barriers (Maya Angelou) by Nikoleta Rentzelos
Presented by St. George Greek Orthodox Church in Chicago
Location: Alongside Greek Islands Restaurant at Halsted and Adams Streets
About Greektown Chicago
Greektown is a dining, nightlife and cultural district located on the Near West Side of Chicago. A popular destination for tourists and Chicago residents alike, Greektown offers the best sampling of Greek heritage outside of Athens—from authentic restaurants, cafes and shops to the National Hellenic Museum and annual Taste of Greektown festival. Greektown Special Service Area #16 is the business improvement district for the neighborhood, administered by sole service provider the West Central Association and guided by a volunteer commission of local business owners, property owners and residents. For more information, visit greektownchicago.org.