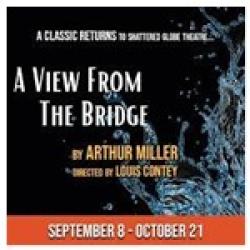 **** Recommended   Shattered Globe Theatre's gripping production of A View from the Bridge transcends the '50s setting.  Although A View from the Bridge is not one of my favorite plays, nuanced emotional performances from the talented cast kept my attention riveted to the stage.  In fact, I thought the casting was spot-on.  4 Spotlights
A View from the Bridge is set in Red Hook, a low income neighborhood in Brooklyn, adjacent to New York's docks.  Most Red Hook families were Italian, with close family ties to Italy.  Many helped family members enter the U.S. illegally.  As a community, they actively shunned those who would turn anyone in to Immigration. 
Eddie (Scott Aiello) is an Italian-American longshoreman who rules his home with an iron fist.  He's kind of a thug, seething with impotent rage and jealousy.  Aiello was perfect for the part of a pugnacious guy with attitude.  He had the belligerent accent down pat. 
Eddie lives with his wife, Beatrice (Eileen Niccolai), and Catherine (Isabelle Muthiah), her niece (her dead sister's child).  When Catherine gets her first job – at a plumber's office – Eddie loses his mind.  He doesn't want to acknowledge that she's almost 18 and an adult. 
A View from the Bridge is narrated by a lawyer named Alfieri (John Judd) – who serves as kind of a Greek chorus.  Since everyone in the neighborhood consults him when they have legal needs, he's usually aware of potential problems.  Eddie is one of those potential problems.  
One day, Beatrice's cousins, Marco (Mike Cherry) and Rodolpho (Harrison Weger) arrive from Italy.  Marco has a wife and three kids, one with tuberculosis, in Italy, so he needs to send money home.  Good-looking Rodolpho, an aspiring singer, is young, single, and fair-haired, which makes him attractive to Catherine but suspicious to Eddie. 
Eddie, whose feelings for Catherine have gone way beyond paternal, does everything he can to keep them apart.  When she won't listen to him, his anger builds and builds.   When the young couple announces that they're getting married, Eddie goes ballistic, and does the unforgiveable, setting tragedy in motion. 
Also appearing:  Chris Martin (Tony/Louis/Immigration Officer) and Adam Schulmerich (Mike/Immigration Officer). 
A View from the Bridge is directed by Loui Contey, with authentic looking '50s costumes by Jessica Gowens.  Shayna Patel's set, a mostly bare, multi-level platform furnished with minimal furniture encourages the viewer to imagine the apartment, the lawyer's office, even the neighborhood. 
As I mentioned above A View from the Bridge was written by Arthur Miller.  It was first staged as a one-act verse drama on Broadway in 1955.  After Miller revised and extended it to two acts, it premiered in London's West End in 1956. 
Note: Masks are optional but encouraged for most performances and will be mandatory at the performances on Thursday, October 5th at 8:00 pm and Sunday, October 15th at 3:00 pm.
The Shattered Globe Theatre production of A View from the Bridge runs through October 21st at Theater Wit, 1229 W. Belmont Ave., Chicago.  Park in Theater Wit's lot across the street for $10 (pay at box office).  Running time is 2 hours with an intermission.  Performances are Wednesdays through Saturdays at 8:00 pm, Sundays at 3:00 pm with an added 3 p.m. matinee on Saturday, October 21st.  Tickets range from $15-$52.  FYI (773) 975-8150 or www.sgtheatre.org.
Photos by Liz Lauren