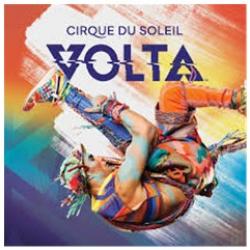 A young man auditioning tries to keep up.  He needs to find his passion – the thing he's better at than anyone else.  The show begins with Rope Skipping, but you'll never see Double Dutch like this anywhere else.  Rope Skipping segues into the Precision Walk, Roller Skating and Hand to Hand on the Unicycle.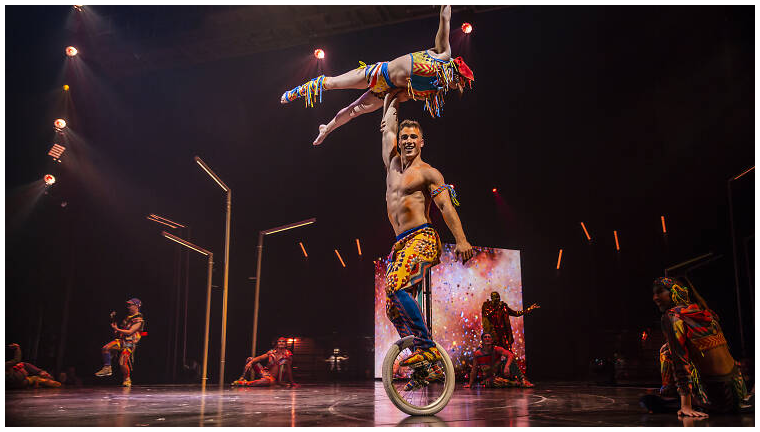 In Mr. Wow's Nightmare, the clown tries to do his laundry, but the washing machines are not exactly cooperative.  A small boy's infectious giggling had everyone around us laughing throughout this act.  The best acts:
Rise & Shine – athletes bounce and flip using the multi-level Trampowall
Daydreaming – featured an unusual duet, a Flatland BMX rider with a ballet dancer.  It was fascinating. 
Leaving the City – a performance on acrobatic ladders
Momentum – a BMX extravaganza involving multiple ramps and precision riding would fit right into the X games. 
Aerial acts included Guardian Angel in the City, a guy doing aerial tricks while hanging from a lamp; Intervention, a group performance on Swiss Rings and Bungee line; Cause You're Still Here, a group performance on Aerial Straps.  One performance, Mirage, in which a performer suspended by her hair did yoga moves, totally gave me the creeps   
Before the show, there are plenty of opportunities to shop in the concession tent.
"Volta" runs through July 6th in the gray & white tent in Soldier Field's South Lot, exit Lake Shore Drive at 18th Street.  Parking is $25-$35.  Running time is about 2 hours, 15 minutes, with an intermission.  Performance schedule can be found at www.cirquedusoleil.com/usa/chicago/volta/buy-tickets.  Tickets range from $49-$245.  FYI www.cirquedusoleil.com.