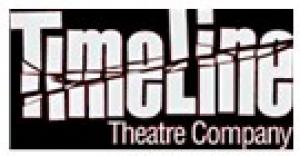 Four young black men, torn from the world without warning, discover themselves stuck in a nebulous waiting room in the afterlife. While balancing the reality of their past and the uncertainty of their future, their souls try to find peace in Kill Move Paradise by James Ijames, receiving its Chicago premiere February 12 – April 5, 2020 at TimeLine Theatre Company.

Inspired by the ever-growing list of slain unarmed black men and women, Kill Move Paradise is a portrait of those lost—not as statistics, but as heroes who deserve to be seen for the splendid beings they are.
TimeLine Company Member Wardell Julius Clark (he/him) makes his TimeLine mainstage directorial debut staging this New York Times Critic's Pick play. The cast features Kai A. Ealy (he/him) as Isa, TimeLine Company Member Charles Andrew Gardner (he/him) as Daz, Trent Davis (he/him) as Tiny, and Cage Sebastian Pierre (he/him) as Grif, with Donovan Session (he/him) as Tiny at select performances.
The production team is Ryan Emens (Scenic Designer, he/him), Jason Lynch (Lighting Designer, he/him), Izumi Inaba (Costume Designer, she/her), Jeffrey Levin (Sound Designer, he/him), Mealah Heidenreich (Properties Designer, she/her), Rachel Flesher (Intimacy and Violence Director). Jared Bellot (Dramaturg, he/him), Dina Spoerl (Lobby Display Designer, she/her), Miranda Anderson (Stage Manager, she/her), and Sophie Hoyt (Assistant Director, she/her).
Kill Move Paradise begins previews February 12. Press Night is Wednesday, February 19 at 7:30 p.m. Opening Night is February 20. Performances run through April 5, 2020 at TimeLine Theatre, 615 W. Wellington Ave., Chicago. For tickets and information, visit timelinetheatre.com or call the TimeLine Box Office at (773) 281-8463 x6.
ou." 
James Ijames (Playwright), a Philadelphia-based playwright and performer, received a 2017 Whiting Award and the 2019 Kesselring Prize for Kill Move Paradise. He is also a 2011 Independence Foundation Fellow, a 2015 Pew Fellow for Playwriting, the 2015 winner of the Terrance McNally New Play Award for WHITE, and the 2015 Kesselring Honorable Mention Prize winner for The Most Spectacularly Lamentable Trial of Miz Martha Washington. His plays have been produced by Flashpoint Theater Company, Orbiter 3, Theatre Horizon, Wilma Theatre (Philadelphia), The National Black Theatre (NYC), Ally Theatre (Washington, D.C.), Definition Theatre (Chicago), Shotgun Players (Berkeley, CA) and have received development with PlayPenn New Play Conference, The Lark, Playwright's Horizon, Clubbed Thumb, Villanova Theater, The Gulfshore Playhouse, Wilma Theater, Azuka Theatre, The National Black Theatre and Victory Gardens. Ijames has appeared regionally in productions at The Arden Theatre Company, The Philadelphia Theatre Company, InterAct Theatre Company, The Wilma Theatre, Baltimore Center Stage, Mauckingbird Theatre Company, and People's Light and Theatre. He is the 2011 F. Otto Haas Award for an Emerging Artist recipient, and has also won two Barrymores for Outstanding Supporting Actor in a Play for Superior Donuts and Angels in America and one Barrymore for Outstanding Direction of a Play for The Brothers Size with Simpatico Theatre Company. Ijames is a founding member of Orbiter 3, Philadelphia's first playwright producing collective. He received a BA degree in Drama from Morehouse College in Atlanta, and an MFA degree in Acting from Temple University in Philadelphia, Penn. James is Assistant Professor of Theatre at Villanova University and resides in South Philadelphia.
"I have always been a student of history," says Wardell Julius Clark (Director), "and looking back at events in our past to understand who and how we are in the world is very important. There is no better place to explore those themes and ideas than at TimeLine."
Clark made his company debut in 2013, appearing in TimeLine's sold-out production of A Raisin in the Sun, and became a TimeLine Company Member in 2018. His Chicago directing credits include Hoodoo Love (Raven Theatre); His Shadow (16th Street); Dutch Masters (Jackalope); The Watsons Go to Birmingham-1963 (Chicago Children's Theatre); The Shipment (Red Tape); Insurrection: Holding History (Stage Left); and Surely Goodness and Mercy (Redtwist). He was associate director for Guess Who's Coming to Dinner and assistant director for Gem of the Ocean and Satchmo at the Waldorf (Court). Chicago acting credits include Flyin' West (American Blues); Suddenly Last Summer (Raven); Silent Sky (First Folio); Apartment 3A (Windy City Playhouse); Invisible Man (Court); The Whipping Man (Northlight); We are Proud to Present… and The Gospel According to James (Victory Gardens); The Beats (16th Street Theater); Ghosts of Atwood (MPAACT), for which he received the Black Theater Alliance Denzel Washington Award for Most Promising Actor; and Topdog/Underdog (American Theater Company/Congo Square Theater). His TV and film credits include Shameless and Chicago Fire. Originally from Fairfield, Alabama, Clark earned his BFA degree in Acting from The Theatre School at DePaul University. He also serves as a Teaching Artist in TimeLine's Living History Education Program.
Kai A. Ealy (Isa) returns to TimeLine after a memorable debut last season as Soldier and Paul in Hansol Jung's Cardboard Piano. Other credits include Oedipus Rex and The Adventures of Augie March (Court), Mary Stuart (Chicago Shakespeare), Franklinland (Jackalope), Two Mile Hollow (First Floor), 30th Annual Young Playwrights Festival (Pegasus) and Migration (eta Creative Arts). TV credits include Chicago Fire (NBC). He studied acting in Alabama before moving to Chicago to pursue his career. 
Charles Andrew Gardner (Daz) is a TimeLine Company Member who has appeared at TimeLine in Dominique Morisseau's Paradise Blue (BTAA nomination—Best Supporting Actor) and the world premiere of John Conroy's My Kind of Town (BTAA nomination—Best Actor), for which the Chicago Tribune named him one of 2012's "Hot New Faces to Watch." Other Chicago theater credits include His Shadow (16th Street); Objects in the Mirror, Stop. Reset. (u/s), and Buzzer (u/s) (Goodman); How Long Will I Cry (Steppenwolf); Macbeth and Othello (The Suitcase Shakespeare Company); The Great Fire (u/s) (Lookingglass); and Spectacle Lunatique (Redmoon). TV credits include The Chi (Showtime), Chicago PD (NBC), as well as multiple national commercials. In addition to his work on stage and in front of the camera, Gardner is President of the SAG-AFTRA Chicago Local, a Teaching Artist in TimeLine's Living History Education Program, Vice President of Creative Cypher and Associate Board Member of the Gene Siskel Film Center. He is a native Chicagoan and a graduate of Northern Illinois University with a BFA degree in Acting.
Trent Davis (Tiny) makes his TimeLine debut in Kill Move Paradise. He was a standout performer in Frankenstein and A Wrinkle in Time (Lifeline Theatre), and appeared as Lil' Demetrius in the feature film Chi-Raq, directed by Spike Lee. Other Chicago credits include Caroline, or Change (Columbia College) and An Inspector Calls (Chicago Shakespeare).
Cage Sebastian Pierre (Grif) made his TimeLine debut last season as Tony in Jiréh Breon Holder's Too Heavy for Your Pocket. Other credits include Romeo and Juliet, Q Brothers Christmas Carol, Short Shakespeare! Romeo and Juliet, Macbeth, Short Shakespeare! Macbeth and A Midsummer Night's Dream (Chicago Shakespeare); A Moon for the Misbegotten (Writers); and Eurydice, Comedy of  Errors, King Lear, Pericles, Midsummer… and Cyrano de Bergerac (American Players Theatre). TV credits include Empire. Pierre holds a BFA degree from the University of Minnesota/Guthrie Theatre Actor Training Program. 
Donovan Session (Tiny, at select performances) is making his TimeLine debut. Chicago credits include The Leftovers (Something Marvelous), Non-Player Character (Red Theatre Chicago), Queer Eye: Musical Parody (Playground Theater), Everybody (Brown Paper Box); and Six Degrees of Separation and Surely Goodness (Redtwist). Session holds a BFA degree with an acting emphasis from the University of Oklahoma and is a Redtwist Theatre company member.
KILL MOVE PARADISE PERFORMANCE SCHEDULE/EVENTS
Previews of Kill Move Paradise are Wednesday, February 12 through Friday, February 14 at 8 p.m.; Saturday, February 15 at 4 p.m.; Sunday, February 16 at 2 p.m.; and Tuesday, February 18 at 7:30 p.m.
Press Night is Wednesday, February 19 at 7:30 p.m.
Opening Night is Thursday, February 20 at 7:30 p.m. Regular performances continue through April 5: Wednesdays and Thursdays at 7:30 p.m.; Fridays at 8 p.m.; Saturdays at 4 p.m. and 8 p.m.; and Sundays at 2 p.m. Exceptions: No 4 p.m. performance Saturday, February 22. Show time Wednesday, February 26 is 8:30 p.m. Added matinee Wednesday, March 11 at 2 p.m. No show Friday, March 13.
DISCUSSIONS AND SPECIAL EVENTS
MyLine Preview Pizza Party: Thursday, February 13, 6:45 p.m. MyLine Members ages 18 to 35 gather in TimeLine's rehearsal room for pizza, drinks and a special pre-show discussion with TimeLine artistic staff, followed by the 8 p.m. show. Visit timelinetheatre.com/myline to learn sign up for $15 tickets to MyLine performances and $10 tickets for pre-show Pizza Parties.
Post-Show Discussions: A brief, informal post-show discussion hosted by a TimeLine Company Member and featuring the dramaturg and members of the production team on Sunday, February 23, Thursday, February 27; Sunday, March 1; Wednesday, March 4; Wednesday, March 25; and Thursday, April 2.
Pre-Show Discussions: Starting one hour before these performances, a 25-minute introductory conversation hosted by a TimeLine Company Member and the dramaturg on Sunday, March 8 and Wednesday, March 18.
Company Member Discussion: A post-show discussion with the collaborative team of artists who choose TimeLine's programming and guide the company's mission on Sunday, March 22.
Sunday Scholars Panel Discussion: A one-hour post-show discussion featuring experts on the themes and issues of the play on Sunday, March 29.
For further details about all planned discussions and events, visit timelinetheatre.com.
ACCESSIBILITY EVENTS
Captioned Performances: An open-captioned performance with a text display of words and sounds heard during performances on Saturday, March 7 at 4 p.m. and Thursday, March 26.
Audio-Described Performance and Touch Tour: On Friday, March 20, the performance will feature a live narrator giving verbal descriptions of actions, costumes, scenery, and other visual elements via a handheld device. A "touch tour" of the set and props and an artistic discussion will precede the show.
BUYING TICKETS
Single tickets to Kill Move Paradise are now on sale. Preview tickets are $25. Single tickets to regular performances are $42 (Wednesday through Friday), $49 (Saturday evenings) and $57 (Saturday and Sunday matinees). Student discount is 35% off regular price with valid ID. TimeLine is also a member of TCG's Blue Star Theatre Program and is offering $25 tickets to U.S. military personnel, veterans, first responders, and their spouses and family.
Discounted rates for groups of 10 or more are available. Ticket buyers age 18-35 may join TimeLine's free MyLine program to obtain access to discounted tickets, special events and more. Visit timelinetheatre.com/discounts for more about Blue Star, MyLine and other available discounts.
To purchase a FlexPass, single tickets or for more information, visit timelinetheatre.com or call the Box Office at (773) 281-8463 x6.
LOCATION/TRANSPORTATION/PARKING
Kill Move Paradise will take place at TimeLine Theatre, 615 W. Wellington Ave., in Chicago's Lakeview neighborhood, near the corner of Wellington and Broadway, inside the Wellington Avenue United Church of Christ building.
TimeLine is served by multiple CTA trains and buses. TimeLine offers discounted parking at the Laz parking garage at Broadway Center ($8 with validation; 2846 N. Broadway, at Surf) or the Century Mall ($9 with validation; 2836 N. Clark), with other paid parking options nearby, plus limited free and metered street parking.
ACCESSIBILITY
TimeLine Theatre is accessible to people with disabilities. Two wheelchair lifts provide access from street level to the theatre space and to lower-level restrooms. Audience members using wheelchairs or who need to avoid stairs, and others with special seating or accessibility needs should contact the TimeLine Box Office in advance to confirm arrangements. Also, see ACCESSIBILITY EVENTS above.
ALSO AT TIMELINE THEATRE DURING THE 2019-20 SEASON
In addition to Kill Move Paradise, TimeLine Theatre's 2019-20 season still includes:
The Chicago premiere of Rutherford and Son by Githa Sowerby, directed by TimeLine Company Member Mechelle Moe, a rarely produced family drama written in 1912 that brings an ahead-of-its-time depiction of class, gender, and generational warfare, now playing through January 12, 2020.
The world premiere of Relentless by TimeLine Company Member Tyla Abercrumbie, directed by TimeLine Company Member Ron OJ Parson, a new play developed through TimeLine's Playwrights Collective that presents a complicated tale of family, legacy, and progress, May 6 – June 27, 2020.
For more information and to purchase tickets, call (773) 281-8463 x6 or visit timelinetheatre.com.
TIMELINE THEATRE'S NEW HOME
In December 2018, TimeLine Theatre announced that it had purchased property in Uptown—encompassing a five-story, 45,500-square-foot warehouse building plus a vacant lot near the corner of Broadway and Argyle—to be the site of its new home. Preliminary plans feature two intimate and flexible black box theatres seating up to 250 and 150 audience members, respectively. TimeLine's new home also provides an expanded area for the immersive lobby experiences that are a TimeLine hallmark, new opportunities for education and engagement, room to allow audience members to arrive early and stay late for theatergoing experiences that extend far beyond the stage, and more.
In July, TimeLine announced the selection of HGA as architect, furthering its new home project, which is expected to take approximately three years to complete. In the meantime, TimeLine continues to maintain its operations and present the majority of its productions at its current home in Lakeview East.
ABOUT TIMELINE THEATRE COMPANY
TimeLine Theatre Company, recipient of the prestigious 2016 MacArthur Award for Creative and Effective Institutions, was founded in April 1997 with a mission to present stories inspired by history that connect with today's social and political issues. Now entering its 23rd season, TimeLine has presented 79 productions, including 10 world premieres and 35 Chicago premieres, and launched the Living History Education Program, which brings the company's mission to life for students in Chicago Public Schools. Recipient of the Alford-Axelson Award for Nonprofit Managerial Excellence and the Richard Goodman Strategic Planning Award from the Association for Strategic Planning, TimeLine has received 54 Jeff Awards, including an award for Outstanding Production 11 times.
TimeLine is led by Artistic Director PJ Powers, Managing Director Elizabeth K. Auman and Board President Eileen LaCario. Company members are Tyla Abercrumbie, Will Allan, Nick Bowling, Janet Ulrich Brooks, Wardell Julius Clark, Behzad Dabu, Charles Andrew Gardner, Lara Goetsch, Juliet Hart, Anish Jethmalani, Mildred Marie Langford, Mechelle Moe, David Parkes, Ron OJ Parson, PJ Powers, Maren Robinson, and Benjamin Thiem.
Major corporate, government and foundation supporters of TimeLine Theatre include Paul M. Angell Family Foundation, The Elizabeth F. Cheney Foundation, The Crown Family, Joseph and Bessie Feinberg Foundation, Forum Fund, Lloyd A. Fry Foundation, Irving Harris Foundation, Illinois Arts Council Agency, Laughing Acres Family Foundation, A.L. and Jennie L. Luria Foundation, MacArthur Fund for Arts and Culture at Prince, the National Endowment for the Arts, The Pauls Foundation, Polk Bros. Foundation, and The Shubert Foundation.
For more information, visit timelinetheatre.com on Facebook, Twitter, and Instagram (@TimeLineTheatre).
ABOUT KILL MOVE PARADISE
With Kill Move Paradise, award-winning playwright James Ijames takes the Elysium of Greek antiquity and flips the script. Set in a netherworld prepared for its newly deceased inhabitants, Isa, Daz, Grif and Tiny confront themselves, each other, and the audience as they try to make sense of the world they have been untimely ripped from and the purgatory they find themselves in. In the end, Kill Move Paradise is a powerful and provocative spin on recent events that illustrates the possibilities of collective transformation and radical acts of joy.
Ijames has described Kill Move Paradise as "an expressionistic buzz saw through the contemporary myth that 'all lives matter.'" It has been seen at National Black Theatre in Harlem, The Wilma Theatre in Philadelphia, and Know Theatre of Cincinnati, among others. The New York Times wrote that Kill Move Paradise "radiates an urgent and hypnotic theatrical energy." Philadelphia Magazine called it "a deeply touching evening of theater" and wrote that "Ijames' writing is vividly, singularly his own [and] has something profound and important to tell us. You shall be moved." The Cincinnati Inquirer advised audiences to "lean back and allow the impact of it all to wash over you."