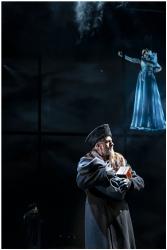 The story is set in two kingdoms. Sicilia and Bavaria.  In sophisticated Sicilia, there is a wall of glass (or a reasonable facsimile), a large, shaggy white rug on the floor in front of it, and a couple of pillows at one end.  In a later scene, the rug is replaced by a red, throne-y looking chair.  The costumes are also sophisticated, featuring gorgeous dresses and elegant suits.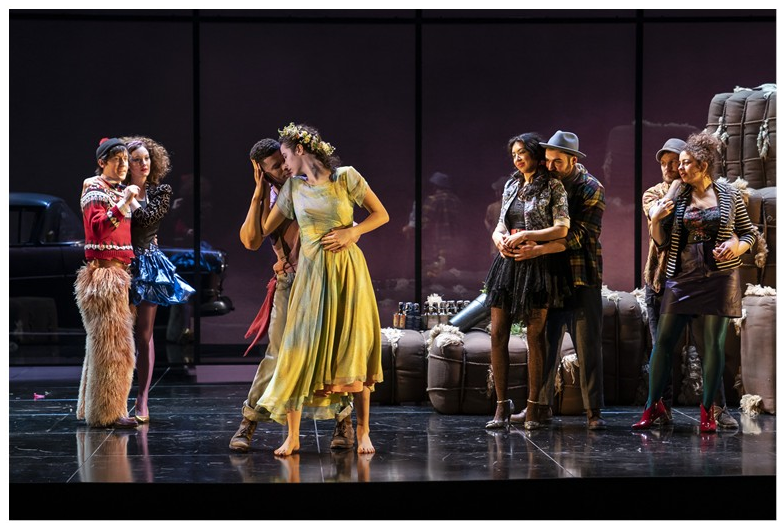 In bucolic Bavaria, the action takes place outdoors at a sheep-shearing festival, with red petals falling on sheep-shearing shepherds and shearing scissors clacking above a giant paper-maché sheep and the odd hay bale.  The costumes are not as sophisticated and more dated.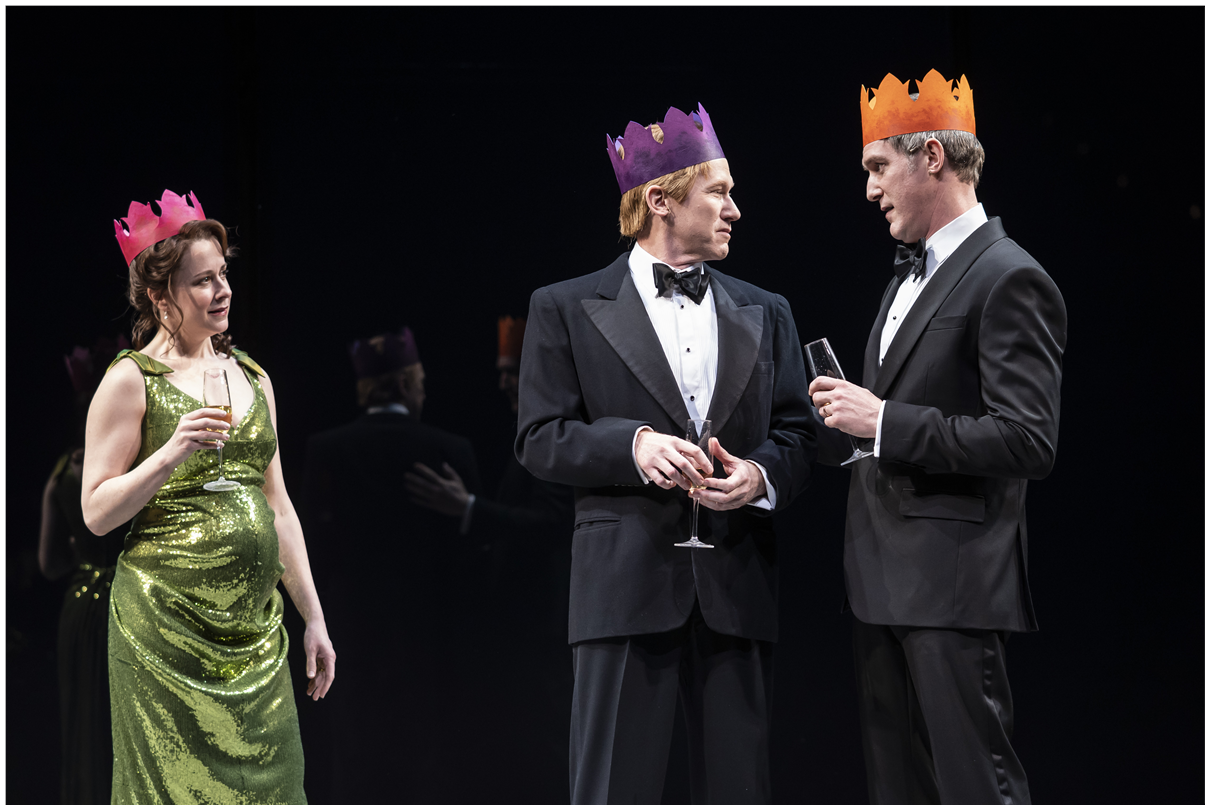 So, we have a king, Leontes (Dan Donohue) of Sicilia, who has it all – a beautiful wife, Hermione (Kate Fry),  a fine son, Mamillius (Charlie Herman) and a baby on the way.  His very best friend, the king of Bohemia, Polixenes (Nathan Hosner), is visiting, and must have been his guest for way too long (I doubt Shakespeare ever heard that adage about guests and fish).   When Polixenes said it was time to go home, Leontes – and Hermione – begged him to stay. 
As soon as Polixenes agreed to stay, Leontes is hit with an attack of unreasoning jealousy – and Donohue does the smoldering and brooding thing very well!   Leaping to the conclusion that Hermione has been doing the nasty with Polixenes, Leontes was positive the baby Hermione is carrying wasn't his.  He's not too sure about Mamillius' parentage either. 
Since he's so sure of Polixenes' guilt, Leontes secretly instructed one of his advisors, Camillo (Henry Godinez), to kill Polixenes that very night.  Camillo couldn't believe the accusations Leontes was making were true so he told Polixenes about his instructions.  Polixenes immediately sailed for Bavaria, taking Camillo with him.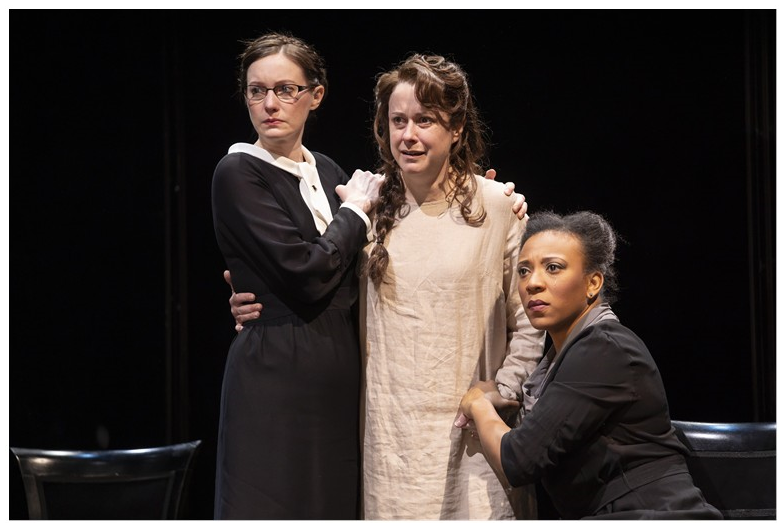 Back at court, Leontes had Hermione arrested and jailed.  In his mind, she's been tried and convicted, but he agreed to ask the Oracle for a ruling.  The Oracle found Hermione innocent and prophesied that Leontes would rule without an heir until he fixed things.  Infuriated, he tore up the Oracle's letter.  Condemned, Hermione went into labor.  
Hermione gave birth to a girl, which Paulina (Christiana Clark), a lady of the court, brought the baby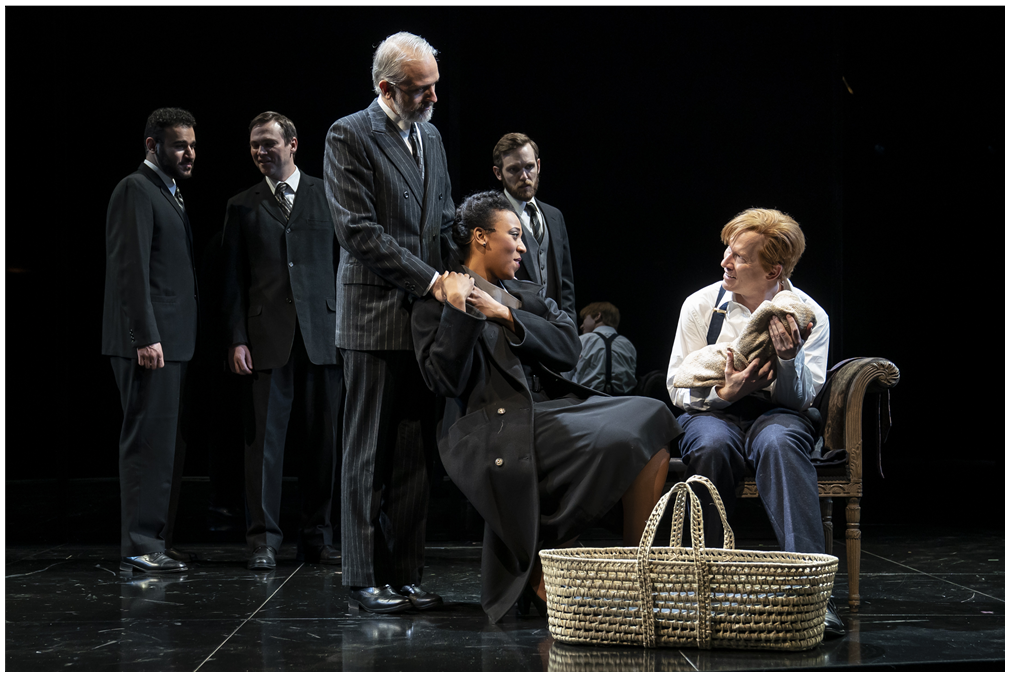 to Leontes, thinking that would snap him out of this funk.   Her plan went awry when the king commanded her husband, Antigonus (Gregory Linington) to kill the baby.  Just after he left, Leontes learned that his son, Mamillius, has died. 
Antigonus didn't want to harm the baby, but he swore an oath, so he left her in the wilderness.  When a hungry bear got close to the baby, Antigonus drew its attention away and died.  Old Shepherd (Tim Monsion) and his son, Clown (Will Allan) find the baby and take her home.  That's Act I. the tragic half of "The Winter's Tale".       
In Bavaria, King Polixenes found out that Prince Florizel (Xavier Bleuel) has fallen in love with Old Shepherd's beautiful daughter, Perdita (Chloe Baldwin).  Learning that Florizel was going to the sheep-shearing festival to propose to that girl, the king and Camillo (who wants to go home) went undercover to stop him.  No more about that, except to say there's a happy ending!  
Autolycus (Philip Earl Johnson), a peddler, pickpocket and petty thief, hijacks most of the second act with his comedic hijinks.  His costume is full of contrasts – clashing prints and plaids in multiple colors. 
"The Winter's Tale" runs through June 9th at the Goodman Theatre, 170 N. Dearborn, Chicago.  Most reasonable parking option for the Goodman is the Government Center garage on Lake between LaSalle and Dearborn: online advance payment at www.interparkonline.com/goodmantheatre, $17.00.
Running time is 2 hours, 20 minutes, with an intermission.  Performances are: Wednesdays at 7:30 pm; Thursdays at 2:00 and 7:30 pm; Friday at 8:00 pm; Saturday at 2:00 and 8:00 pm; and Sunday at 2:00 pm.  There will be 7:30 pm performance on Sunday, May 26th and Tuesday, May 28th.  Tickets range from $20-$80.  FYI (312) 443-3800 or www.goodmantheatre.org.