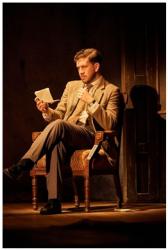 There are only two characters in "The Woman in Black", Arthur Kipps (Bradley Armacost) and The Actor (Adam Wesley Brown).  The set is an empty stage in a London theater. 
At a recent family celebration, Arthur Kipps explained, the younger members his family were amusing themselves telling ghost stories.  When they demanded one from him, he adamantly refused.  Although he never explained himself to his family, he told The Actor that he couldn't possibly participate in a such an activity because he'd experienced the real thing.  Instead, he decided to write an account of his own encounter.  Not used to speaking in public, Kipps hired The Actor to help with his delivery. 
As they collaborate on Kipps's performance – and according to The Actor, it must be a performance – his story unfolds.  As a young lawyer, he's sent to England's Northeast Coast to settle the affairs of a recently deceased woman.  The people in the village are friendly enough until they learn his destination.  He can't find anyone willing to work with him – or even to drive him to her house, which, he learns, is only accessible when the tide is out. 
I'm not going to even hint about the drama to follow.  Suffice it to say that the suspense builds and builds – ending in a suitably scary fashion! 
"The Woman in Black" runs through February 17th at the Royal George Theatre, 1641 N. Halsted Street, Chicago.  Valet parking is available.  Running time is 2 hours, with an intermission.  Performances are Wednesday through Saturday at 7:30 pm; Sunday at 2:30 pm.  Tickets range from $49-$69.  FYI (312) 988-9000, www.theroyalgeorgetheatre.com or www.ticketmaster.com.