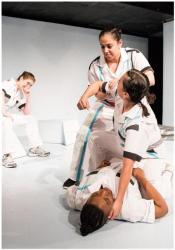 For one reason or another, I'd never made it to The Factory Theatre, likewise fo the  Babes with Blades productions.  Now that I've been, I'll definitely be going back.  The Factory is a small storefront theater in Rogers Park and amazingly enough, there's street parking!   
The stage is bare except for a glowing console, which at some point is separated into three pieces – a large console and two smaller pieces which look kind of like blocks, and serve a multitude of purposes.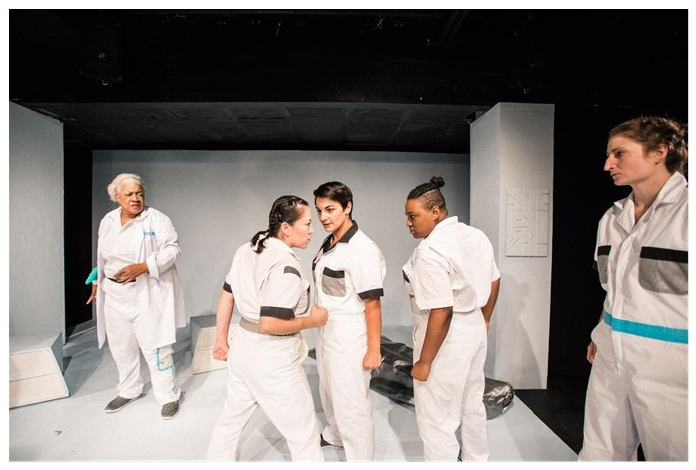 As the crew enters, the first thing you'll notice is their jumpsuits.  They're all white, and look alike.  As you look closer, you'll notice that they are all different.  The differences are miniscule – different colored stitching in different spots on each jumpsuit.
The captain, the only man on this mission, is dead, murdered by a member of the crew.  The ship is on a time-sensitive mission to upload a new program to a satellite.  First Officer Stark (Ashley Yates) must decide whether to continue with the mission or turn back.  Wollman (Jazmin Corona), the scientist who developed the software, wants them to continue, since her entire career depends on the success of the mission.  In spite of that, Stark decides to follow protocol and turn back. 
Fights break out frequently on board 4G, particularly between Baston (Catherine Dvorak) and Nataki (Lakecia Harris), crewmen and sometime friends.  Doctors Cava (Renee Lockett) and Toulle (Judi Schindler) are the voices of reason in the middle of all that volatility.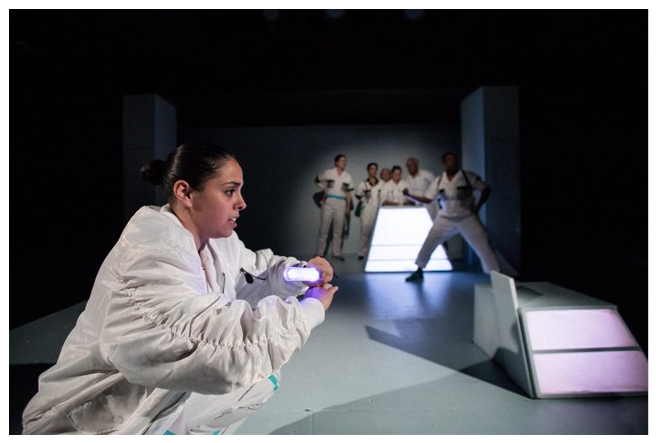 They accuse Ensign Pierce (Jillian Leff) of murdering the captain.  She confesses that she did it because she found out he was going to make sure they failed.  She said there was another ship with an all-male crew shadowing them.  The plan was to make the first all-female crew look incompetent.  When they couldn't do the job, the other ship, which had a name, not a designation, would save the day.  Their ultimate goal - keep women out of space. 
There's a lot more going on here than just a murder mystery in space.  It's more about women in power, in positions of responsibility and leadership.  Although the acting seems a little over-the-top at the beginning, it makes sense the longer they are in space!   Will they go on?  Will they succeed?  Stay tuned ...
On the final weekend (Sept 12th-14th) of the run, the Babes are accepting donations for Step UP, an organization which empowers girls living or going to school in under-resou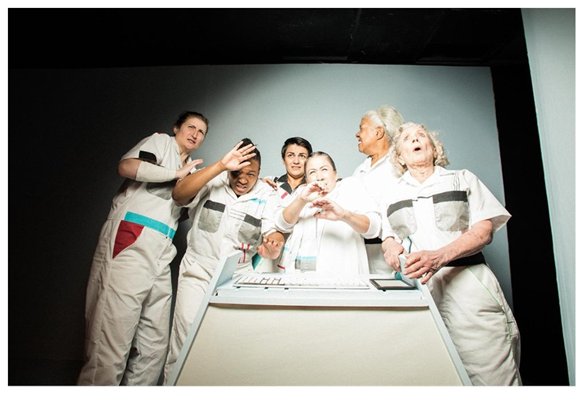 rced communities.  For more information on Step Up, please visit www.suwn.org.  
Babes with Blades production of "Women of 4G" will run through September 14th at The Factory Theatre, 1623 W. Howard Street, Chicago.  Metered street parking is available.  Running time is about 2 hours with an intermission.  Performances are Thursday through Saturday at 8:00 pm; Sundays at 3:00 pm.  Tickets are $28, with discounts available for students and seniors.  FYI (773) 904-0391 or www.babeswithblades.org.