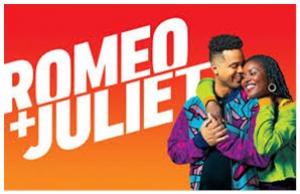 As the story opens, the younger Montagues are hanging out and shooting hoops on that basketball court.  As luck would have it, some of the younger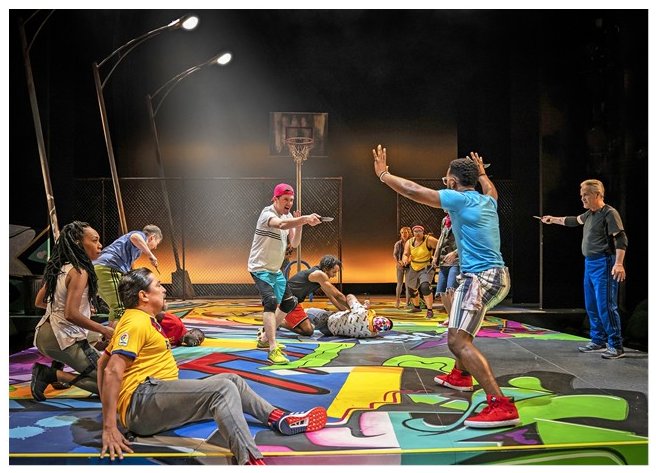 Capulets arrive and challenge their enemies for control of the court.  Inevitably the hatred between the clans leads to a fight, which continues until Chief of Police Hakeem (Amir Abdullah) and his squad arrive to break it up, warning the two patriarchs, Mr. Capulet (James Newcomb) and Mr. Montegue (Dale Rivera) of dire consequences for more fighting.
Back home, Mr. C. and Mrs. Capulet (Lia Mortensen) are entertaining Paris (Julian Parker), a potential suitor for his daughter's hand, when Mr. C (who, for some reason, reminded me of a Parrothead) decided to have a masquerade party.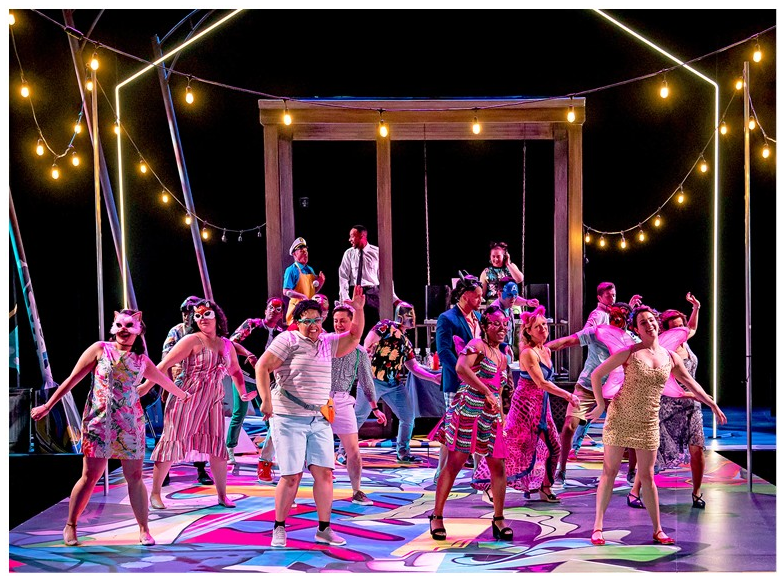 Hoping to meet some girls and have some fun, Benvolio (Cage Sebastian Pierre) and his cousin Romeo (Edgar Miguel Sanchez), both Montagues, sneak into the Capulet party.  When Romeo sees Juliet (Brittany Bellizeare) across the dance floor, it's love at first sight.  As they join in the dancing.  Of course, Juliet's cousin, Tybalt (Sam Pearson), discovering the Montague infiltration, is infuriated. 
After the party, Juliet is dreaming on the front porch when Romeo sneaks up.  Although the house doesn't actually have a balcony, they make it work.  Romeo and Juliet pledge their love, and plan to marry.  The following day they sneak away to the church where Friar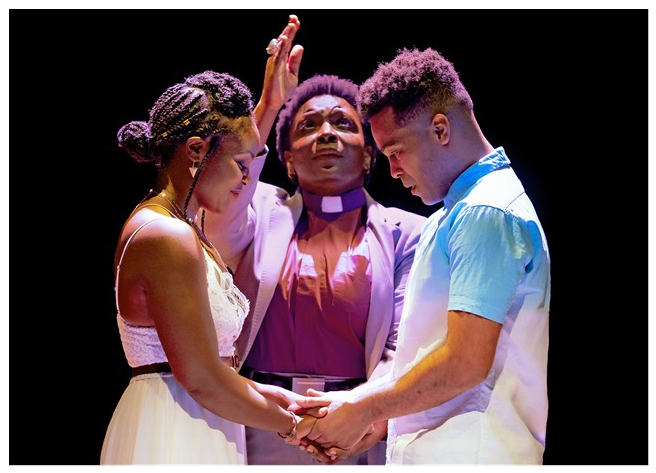 (Darlene Hope) marries them.  Aided by the Nurse (Betsy Aidem)), they spend their wedding night together.   
The morning after the wedding, Benvolio and Tybalt pull their knives and fight.  Almost accidentally, Tybalt kills Benvolio, then an enraged Romeo kills Tybalt.  Mrs. Capulet demands Romeo's life, but the Chief chooses to banish him instead, setting the tragic ending in motion. 
The saddest thing is that if left alone, Romeo and Juliet's crush probably would have run its course.  Adult opposition just caused them to dig in their heels, turning young love and teen angst into an eerie nightmare.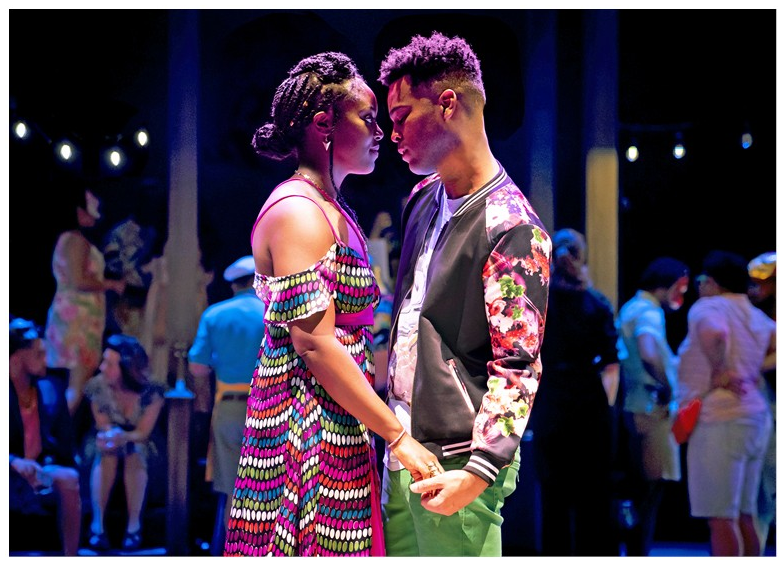 Kudos to everyone in the cast on a terrific production.  I didn't mention these characters earlier: Petra (Danielle Davis), Mercutio (Nate Burger), Balthasar (Byron Coolie), Apothecary/Capulet's Mother (Jaq Seifert), and Rosaline/Girl (Kearstyn Keller.  The hard-working ensemble included Bobby Bowman, Rasell Holt, Claire Lostutter, Maria Clara Ospina, Alex Perez, Laura Quiñones, Zac Richey and Madelynn Joy Steunkel.   
If I were to nitpick, I would complain about the sound.  I just couldn't hear several of the actors – especially the Friar.  I kind of miss the sword fights, too.  Knives just don't have the same cache!   
"Romeo and Juliet" runs through December 22nd in the Courtyard Theatre at Chicago Shakespeare Theatre on Navy Pier.  Parking is available at a 40% discount in the Navy Pier Garages with validation from CST.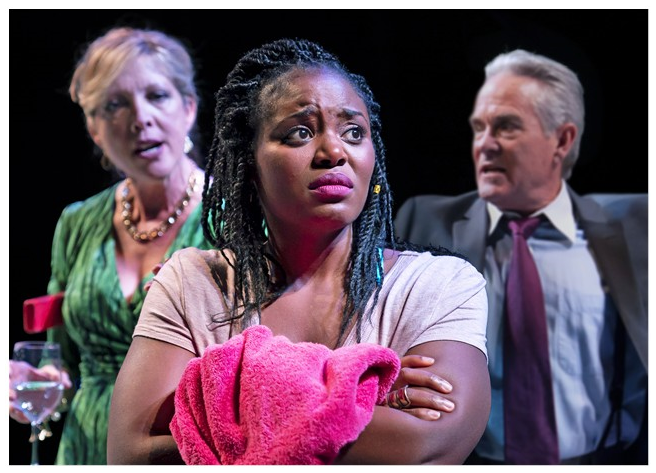 Running time is 2 hours, 30 minutes with an intermission. 
Performances are Wednesdays at 1:00 and 7:30 pm; Thursdays and Fridays at 7:30 pm, no performance on November 28th, Thanksgiving Day; Saturdays at 3:00 and 8:00 pm; and Sundays at 2:00 pm, additional performance December 1st at 6:30 pm.    
Open-captioned performance Thursday, December 12th at 1:00 & 7:30 pm; ASL Duo-interpreted performance Friday, December 13th at 7:30 pm; Audio-described performance Sunday, December 15th at 2:00 pm with optional touch tour at 12:00 pm. 
Tickets range from $49-$90.  FYI (312) 595-5600 or www.chicagoshakes.com.