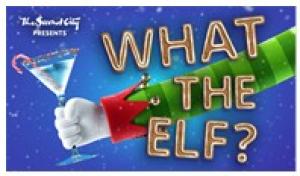 **** Highly Recommended **** Do you need some holiday cheer?  Holiday lights and garlands?  Check. Adult beverages and yummy snacks?  Check.  Six zany cast members in Santa hats and ugly sweaters?  Check.  Hilarious holiday-themed sketches and improv?  Check.  Enough laughs to make your ribs ache?  Check.  The Second City's holiday revue, What the Elf? has all that, and more!  In fact, everywhere I looked, people were laughing – not polite little titters, either – I'm talking guffaws!  4 BIG Spotlights   
The cast, Maureen Boughley, Jenelle Cheyn, Javid Iqbal, Bill Letz, Tim Metzger and Yazmin Ramos, are wonderful performers with amazing comedy chops.  Their timing and delivery was spot on.  Individually and collectively they kept us in stitches. 
By the way, if they ask the audience for something – like your favorite movie, TV show, song lyric, quote or even your grandmother's favorite but tired saying – yell it out.  You never know, your idea could be part of a skit. 
In just one skit, the entire cast joined together for a slightly altered Christmas Carol.  At key moments during the skit, someone would pick up a scrap of paper with one of the above.  It was hilarious.   
A couple of my favorite highlights
A recurring joke – after Bill Letz's rather suggestive dance involving a silver garland, Yazmin Ramos pops out and tells him that's not foreplay – repeated at least twice more with other holiday items
Letz and Jenelle Cheyn, the advice twins, in matching ugly sweaters and white blond wigs, offer gift advice to the audience – hilarious!!! 
Tim Metzger asked audience for suggestion about something to avoid – the answer, getting pregnant.  When he incorporated that into his part of a song, he added an insult to the Supreme Court. 
Maureen Boughley donned a Tiny Tim hat and a Cockney accent before announcing that she was an orphan and she was 'ungry.  She begged, then badgered the audience for food.  When no food was forthcoming, she conned a lady into giving her a jacket.  At the end she ran off yelling she was selling this stuff on eBay.
They did a totally choreographed 'dance' while sitting in office chairs with wheels, spinning by twos and fours, never letting go of each other, even 'throwing' one chair forward, then pulling it back.  Absolutely awesome!     
What the Elf? is directed by Jeff Griggs and Carissa Barreca, with musical direction by John Love and Ryan Miera.  Kathrin Sparger and Isabel Patt are stage managers. 
What the Elf? runs through January 1st in the UP Comedy Club, The Second City, 230 W. North Avenue, Chicago.  An excellent menu of fine drinks and bar-food goodies are available throughout the performance.  Running time is just about two hours, with an intermission. BUT for this show, the cast asks the audience if they'd like more comedy – of course they do – then after a 5-minute intermission, they return for a short third act.
Parking in the adjacent garage is readily available but pricey.  Performances are Thursdays through Saturdays at 8:00, Sundays at 7:00 pm.  Tickets start at $29.  FYI (312) 337-3992 or www.secondcity.com.