Date:
Thu, 10/10/2019 -

5:30pm

to

10:00pm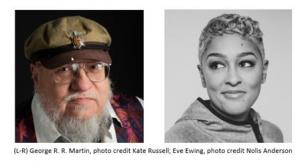 The education sociologist Dr. Eve L. Ewing, who has published nonfiction, fiction, plays, and poetry including the widely acclaimed Ghosts in the Schoolyard: Racism and School Closings on Chicago's South Side, will be awarded the 21st Century Award, which honors significant recent achievements in writing by an author with ties to Chicago.
The two authors will be feted at the Carl Sandburg Literary Awards Dinner on Thursday, 5:30 p.m. October 10, at The Isadore & Sadie Dorin Forum (725 W. Roosevelt Road) on the campus of the University of Illinois at Chicago.
"With the support provided by the Carl Sandburg Literary Awards Dinner, Chicago Public Library is given the ability to provide some of our most innovative free programming to Chicagoans in all areas of the city," said Library Commissioner Brian Bannon. "The funds provided by the attendees of the Carl Sandburg Literary Awards dinner leverage City support and provide a wide array of our finest programs, which have earned us recognition as one of the most forward-thinking, effective library systems in the world."
"We are celebrating two ground-breaking authors who are sparking literary revolutions in their respective genres." said Brenda Langstraat, recently named President of the Chicago Public Library Foundation. "We are proud to welcome Mr. Martin, a graduate of Northwestern University, back to Chicago to join our illustrious list of Sandburg Award honorees."
Revolution is a fitting theme for this year's Carl Sandburg Literary Awards. Chicago Public Library and the Chicago Public Library Foundation is poised to expand the impact of its partnership even further, while remaining steadfast in its work to provide resources to Chicagoans of all ages, and in every ward of the city.
About the Carl Sandburg Literary Award and Dinner
Celebrating its 20th anniversary in 2019, the Carl Sandburg Literary Award recognizes the work of the world's most heralded authors. Prestigious past winners include Isabel Allende, Margaret Atwood, Judy Blume, Robert Caro, Neil deGrasse Tyson, Don DeLillo, Roger Ebert, Dave Eggers, Henry Louis Gates , Jr., Nikki Giovanni, Doris Kearns Goodwin, Walter Isaacson, Erik Larson, Michael Lewis, David Mamet, David McCullough, Larry McMurtry, Toni Morrison, Joyce Carol Oates, Salman Rushdie, Stephen Sondheim, Mavis Staples, Scott Turow, John Updike, Kurt Vonnegut, Alice Walker, and Tom Wolfe.
Produced by Chicago Public Library and the Chicago Public Library Foundation, the Carl Sandburg Literary Awards Dinner is an annual fundraising event that generates crucial support for responsive and innovative learning initiatives accessible through the Library's 81 neighborhood branches. Legendary Chicago newscaster Bill Kurtis serves as host, and the evening's highlight is always the intimate onstage conversation with the Sandburg Award honoree led by best-selling author and National Public Radio host Scott Simon. An acclaimed author with ties to Chicago is also seated at each table, adding to the evening's uniqueness.
Nearly 1,000 guests attended the 2018 Sandburg Award Dinner, raising a record-breaking $2.5 million for the Chicago Public Library Foundation to support exceptional programs and services at the Library, such as CyberNavigators; One Book, One Chicago; Summer Learning Challenge; Teacher in the Library; and YOUmedia.
The 2019 Sandburg Award Dinner will be chaired by civic leader Jennifer Friedes. BMO Harris Bank is the Presenting Sponsor of the event.
Sponsorship packages for tables of eight guests are currently available beginning at $12,500 levels. Individual tickets are available for $1,250 and $2,500. For more information on the event or to purchase tickets, tables, or a sponsorship, contact Rachael Everson at reverson@cplfoundation.org.
About the Honorees
George R. R. Martin is an American novelist and short story writer in the fantasy, horror, and science fiction genres, screenwriter, and television producer. He is the #1 New York Times bestselling author of many novels, including those of the acclaimed series A Song of Ice and Fire—A Game of Thrones, A Clash of Kings, A Storm of Swords, A Feast for Crows, and A Dance with Dragons—as well as Tuf Voyaging, Fevre Dream, The Armageddon Rag, Dying of the Light, Windhaven (with Lisa Tuttle), and Dreamsongs Volumes I and II. A Song of Ice and Fire was adapted into the HBO series Game of Thrones (2011–2019). In 2005, Lev Grossman ofTime called Martin "the American Tolkien", and in 2011, he was included on the annual Time 100 list of the most influential people in the world.
As a writer-producer, he has worked on The Twilight Zone, Beauty and the Beast, and various feature films and pilots that were never made.
Martin holds both a B.S. and an M.S. in Journalism from Northwestern University. He is a member of Science Fiction & Fantasy Writers of America, and of Writers' Guild of America, West. George currently lives with his wife Parris in Santa Fe, New Mexico.
Dr. Eve L. Ewing is a sociologist of education and a writer from Chicago. She is the author ofGhosts in the Schoolyard: Racism and School Closings on Chicago's South Side. She is also author of Electric Arches, which received awards from the American Library Association and the Poetry Society of America and was named one of the year's best books by NPR and the Chicago Tribune. She is the co-author (with Nate Marshall) of the play No Blue Memories: The Life of Gwendolyn Brooks. She also writes the Ironheart series for Marvel Comics. Ewing is an assistant professor at the University of Chicago School of Social Service Administration. Her work has been published in The New Yorker, The Atlantic, The New York Times and many other outlets.
Since 1873, Chicago Public Library (CPL) has encouraged lifelong learning by welcoming all people and offering equal access to information, entertainment and knowledge through innovative services and programs, as well as cutting-edge technology. Through its 81 locations, the Library provides free access to a rich collection of materials, both physical and digital, and presents the highest quality author discussions, exhibits and programs for children, teens and adults. CPL received the Social Innovator Award from Chicago Innovation Awards; won a National Medal for Library Services from the Institute for Museum and Library Services; was named the first ever winner of the National Summer Learning Association's Founder's Award in recognition of its Summer Learning Challenge; and was ranked number one in the U.S., and third in the world by an international study of major urban libraries conducted by the Heinrich Heine University Dusseldorf in Germany. For more information, please call (312) 747-4050 or visit www.chipublib.org.
The Chicago Public Library Foundation was founded in 1986 in true public/private partnership with the City of Chicago to ensure the margin of excellence for Chicago's outstanding Library. Through the support of many civic-minded individuals, corporations, and foundations, the Library Foundation, now under the leadership of President Brenda Langstraat, provides on-going funding of innovative programs and collections that inspire curiosity, including the CyberNavigators, One Book, One Chicago, Summer Learning Challenge, Teacher in the Library, and YOUmedia. For more information, please call (312) 201-9830 or visit www.cplfoundation.org.