Date:
Sun, 01/19/2020 - 1:01am

to

Sat, 01/25/2020 - 11:59pm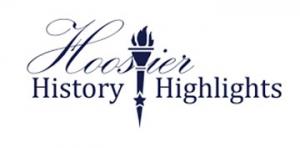 Indiana Quick Quiz
The Dr. Martin Luther King, Jr. Park in Indianapolis displays a sculpture which shows Dr. King reaching out to what other famous American?
Which Indiana county bears the name of the official state river?
Zerelda was an Indiana First Lady who was very active in the cause of Women's suffrage.  What was her last name?
Answers Below 
200 YEARS AGO
1820     Indiana Governor Jonathan Jennings signed a bill that led to the founding of Indiana University.  Baynard Rush Hall was hired as the first professor.  Andrew Wylie was named as first president.  This year, IU is celebrating its bicentennial with a series of events, including the dedication of the school's newest super-computer, Big Red 200.
1859     At a joint meeting of the Indiana General Assembly, Mary Thomas spoke in favor of a petition signed by more than a thousand men and women from Wayne County.  She urged lawmakers "to grant to women the same rights in property as men, and also the right of suffrage."  
Did You Know?
By the time Mary Thomas presented the women's rights petition to the Indiana Legislature, she had already graduated from medical college.  After practicing in Fort Wayne for two years, she and her husband moved to Richmond, Indiana, where she lived the rest of her life.  During the Civil War, she took supplies to Indiana soldiers and tended to those who were sick and injured.  After the war, she continued her work for women's suffrage and became president of the Indiana Woman Suffrage Association.  She also served one year as president of the American Woman Suffrage Association.  
1867     Indiana ratified the 14th Amendment to the United States Constitution, which provided citizenship to former slaves and granted all citizens equal protection under the law.  State Legislator Stephen Neal of Boone County is thought to have helped write the original draft of the document.  Pictured:  The bust of Stephen Neal at the Indiana Statehouse, created by Indiana artist Clara Barth Leonard.  
1924     James Louis "JJ" Johnson was born in Indianapolis.  With a huge musical talent, he began a professional career while still attending Crispus Attucks High School  He became a legendary trombonist who played with such stars as Count Basie, Miles Davis, and Dizzy Gillespie.  He was also a composer and arranger and a major influence in the development of jazz.  
1937     Eleven days of rain caused heavy flooding in the Ohio River Valley.   Over sixteen inches of rainfall had brought the Ohio River up to a crest of 54 feet. Nearly 90% of Jeffersonville was flooded and martial law was declared in Evansville.
1940     Otis Harlan died in Martinsville, having retired there after a long career as an actor.  After years of success on the Broadway stage, he moved to Hollywood where he appeared in over 130 films.  He played a variety of roles, including that of Captain Andy in "Show Boat" and Squire Hawkins in "The Hoosier Schoolmaster. His voice is immortalized in his portrayal of "Happy" in Walt Disney's "Snow White and the Seven Dwarfs."
HOOSIER QUOTE OF THE WEEK -    "War makes strange giant creatures out of us little routine men who inhabit the earth."  - - - Ernie Pyle
The Upcoming Census is Important to Indiana
Indiana lost a seat in the United States House of Representatives after Census 2000 - leaving us with nine representatives. This also had an impact on presidential elections since each state's number of electoral votes is equal to its number of representatives plus senators. As the population increasingly shifts to the southern and western parts of the nation, Indiana is in danger of losing another seat in the coming decades. This makes it all the more necessary to count every Hoosier in this year's census.
ANSWERS:  1.  Robert Kennedy  2.  Wabash County  3.  Wallace (She was the wife of the sixth Governor of Indiana, David Wallace)
We are taking orders for this exquisite pin which captures the beautiful colors of the stained glass above the rotunda of the Indiana Statehouse
Follow us:   Instagram @instatehousetouroffice; Facebook @Indiana Statehouse Tour Office and Education Center; Twitter @INSthouseEdCntr
Follow this link to subscribe to Hoosier History Highlights and to view archived editions
INDIANA STATEHOUSE TOUR OFFICE - Indiana Department of Administration
Guided tours of the Indiana Statehouse are offered Monday through Saturday.  For more information, check our website listed at the bottom of this page.
Note:  The Statehouse will be closed on Monday, January 20, in observance of the birthday of Dr. Martin Luther King, Jr.  
(317) 233-5293 | captours@idoa.in.gov  | http://www.in.gov/idoa/2371.htm