Date:
Sun, 06/20/2021 - 12:01am

to

Sat, 06/26/2021 - 11:59pm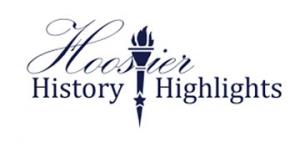 Indiana Quick Quiz
   What city in Knox County served as the Indiana Territorial Capital?
   What city in Harrison County was the Indiana State Capital from 1816 - 1825?
   Indiana has how many counties?
   How many stars are on the Indiana State Flag?
Answers Below 
1877     Robert Dale Owen died in New York State.  Born in Scotland, he came to Indiana with his family when his father established the New Harmony community in Posey County.  He served in the Indiana House of Representatives and was a member of the state constitutional convention in 1850.  He also represented Indiana in Congress.  He is known for his strong stand on free public schools and women's rights to vote and own property.   (Pictured:  A monument to Owen on the south lawn of the Indiana Statehouse.)  
Did You Know?
While in Congress, Robert Dale Owen introduced the bill that established the Smithsonian Institution.  He was appointed to the Institution's first Board of Regents in 1846.  As chairman of the building committee, he worked with his brother, geologist David Dale Owen.  Their plans played a large role in the choice of Romanesque Revival architecture for the new structure.  It was not without controversy at the time, but the "castle" which they proposed has become a unique and treasured part of the landscape in Washington.  
1882     William M. Scholl was born on a farm near La Porte.  While working in shoe repair, he developed an interest in podiatry.  After attending medical school, he began to manufacture arch supports.  His company expanded, and today Dr. Scholl's is one of the largest makers of foot care products.  
1904     Phil Harris was born in Linton, Indiana.  He became famous as an orchestra leader, singer, comedian, and actor in movies, radio, and television.  His voice became known to millions through his work in animated Disney movies like The Jungle Book, The Aristocats, and Robin Hood.
Hoosier Quote of the Week
"Look for the bare necessities, the simple bare necessities, forget about your worries and your strife."
- - - Phil Harris (as the voice of Baloo, in The Jungle Book)
100 YEARS AGO
1921     The Sellers Company of Elwood, Indiana, introduced a new "apartment sized" line of kitchen cabinets.  Designed to fit under windows and in small kitchens, the new models retained the useful features of the larger Sellers cabinets:  Work counter, storage area, shelf space, and flour bin and sifter.  Prices ranged from $34.75 to $75.00
1934     Over 20,000 people lined the streets of Muncie for a parade of the GAR (Grand Army of the Republic.)  There were 125 Civil War soldiers in the procession, which included Governor Paul V. McNutt and the band from the Soldiers' and Sailors' Children's Home in Knightstown.  All during the parade, three airplanes flew overhead, dropping small parachutes which were attached to American flags.  (Pictured:  A GAR medal.)
50 YEARS AGO
1971     President Richard M. Nixon visited Jennings County to help dedicate an Indiana Historical Marker at the birthplace near Butlerville of his mother, Hannah Milhous Nixon.  "My mother left Indiana at the age of 12," the President said, "but I can tell you Indiana never left her."
ABE MARTIN SEZ:
A good listener is usually thinkin' about somethin' else.  (Kin Hubbard, The Indianapolis News, June 11, 1924)
ANSWERS:  1.  Vincennes    2.  Corydon    3.  92    4.  19
  You are invited to take a "Virtual Tour" of the Indiana Statehouse.  Just click the link at the bottom of this column.
   Follow this link to subscribe to Hoosier History Highlights and to view archived editions
 INDIANA STATEHOUSE TOUR OFFICE - Indiana Department of Administration
Tours of the Indiana Statehouse are offered Monday through Friday by appointment only.  For more information, please contact us.
(317) 233-5293 | captours@idoa.in.gov  | http://www.in.gov/idoa/2371.htm
Take an "Armchair Tour" of the Indiana Statehouse!
Follow us:   Instagram @instatehousetouroffice; Facebook @Indiana Statehouse Tour Office and Education Center; Twitter @INSthouseEdCntr