Date:
Sun, 05/17/2020 - 12:01am

to

Sat, 05/23/2020 - 11:59pm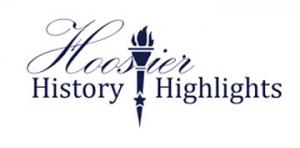 Indiana Quick Quiz
 Which Indiana city is known as the "Limestone Capital of the World"?
What is the longest river in Indiana?
Name the largest lake in the state.
Answers Below 
1863     The "Battle of Pogue's Run" took place in Indianapolis.  Not an actual battle, the name refers to an incident during the Civil War when Southern Loyalists (sometimes called "Copperheads") were forced to leave town by rail.  Fearing that Union soldiers were going to search the train, they threw their weapons out the train windows as it traveled along Pogue's Run, a creek which ran southwest through the city.  Newspapers reported that as many as 2000 pistols, rifles, and knives were discarded that day.  
1912     World Peace Day was observed in all Indiana Schools.  It was a project created by Charity Dye, an English teacher at Shortridge High School in Indianapolis.  She was the sponsor of the school newspaper, The Dawn, and was active in promoting world peace and women's suffrage.  She was also the author of historical non-fiction books, including Once Upon a Time in Indiana, which relates the early history of the Hoosier State.
1923     The Columbus Symphony Orchestra gave its premiere performance at the Crump Theater.  The program included "Coronation March" from Meybeer's "The Prophet," Hayden's "Military Symphony," and "Ruins of Athens" by Beethoven.  Chester Kitzinger was conductor of the 60-member group. The reviewer for the Columbus Republic was much impressed, describing the musicians as a "first-class symphony" which "ranks far above organizations which have been heard in similar and larger cities."   
1941     Governor Henry F. Schricker spoke at the cornerstone ceremony for the Lincoln Boyhood Memorial in Lincoln City, Indiana.  Also on the program were former Governor Ed Jackson and Richard Lieber, founder of the Indiana State Park System.  Over 1,200 tons of Indiana limestone were used for the outside of the structure, while 500 tons of St. Meinrad sandstone formed the interior.  
1944     Funeral services were held for George Ade, a well-known playwright, newspaper writer, and humorist.  He is best remembered for Fables in Slang, a best-seller, and his light opera The Sultan of Sulu, which had a long run on the New York stage.  A graduate of Purdue University, he took great pride in helping fund the stadium which bears his name.  The funeral was held at his estate in Brook, Indiana, in Newton County.
Did You Know?
     George Ade came from an era which has been called "The Golden Age of Indiana Literature."  Between the years of 1880 and 1920, the state produced an impressive number of authors who achieved national and international fame.  The list reveals a "Who's Who" of important writers, including  George Ade, Booth Tarkington, James Whitcomb Riley, Maurice Thompson, Edward Eggleston, Theodore Dreiser, Kin Hubbard, George Barr McCutcheon, Gene Stratton-Porter, Lew Wallace, and Meredith Nicholson.  
Hoosier Quotes ...  From George Ade
"Be it ever so humble, there's no place like home for wearing what you like."
"Nothing is improbable until it moves into the past tense."
"Anybody can win unless there happens to be a second entry."
"In scattering seeds of kindness, do it by hand and not by machine."
1988     Fred Rogers gave the commencement address to the 473 members of the Class of 1988 at the University of Indianapolis.  The star of "Mr. Rogers' Neighborhood" told the graduates, "It might take months or years for a wish to come true, but it's far more likely to happen when you care so much about it that you'll do all you can to make it happen."  He included a quote from Jiminy Cricket:  "When you wish upon a star, makes no difference who you are, anything your heart desires will come to you."
ANSWERS:  1.  Bedford   2.  Wabash River  3.  Lake Monroe
HOOSIER HISTORY HIGHLIGHTS
Brought to you by the Indiana Department of Administration and the Tour Office at the Indiana Statehouse
Follow us on Instagram: @instatehousetouroffice
Follow this link to subscribe to Hoosier History Highlights and to view archived editions
INDIANA STATEHOUSE TOUR OFFICE - Indiana Department of Administration
NOTE:  Due to the Coronavirus threat, tours of the Statehouse have been suspended until further notice.  You may still contact us by phone and e-mail. You are invited to take a "Virtual Tour" of the Statehouse by clicking the link at the bottom of this column. 
Take an "Armchair Tour" of the Indiana Statehouse!
(317) 233-5293 | captours@idoa.in.gov  | http://www.in.gov/idoa/2371.htm
Follow us:   Instagram @instatehousetouroffice; Facebook @Indiana Statehouse Tour Office and Education Center; Twitter @INSthouseEdCntr