Date:
Sun, 11/28/2021 - 12:01am

to

Sat, 12/04/2021 - 11:59pm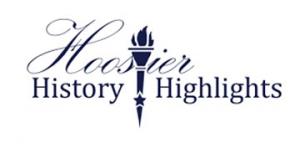 Indiana Quick Quiz
All of the following took place in the month of December.  Match the event to the city.
  In 1940, this city was featured in a big spread in Life Magazine.
  In 1956, Larry Bird was born in this southern Indiana city.
  In 1958, movie audiences attended the premiere of Some Came Running, most of which was filmed in this city.  
  In 1963, the Studebaker factory closed in this city.
A.   South Bend    B.   Franklin    C.   Madison    D.   French Lick
Answers Below 
1806     The Indiana Territorial Legislature chartered Vincennes University, the first institution of higher learning in Indiana.  Founded by William Henry Harrison, it is one of only three universities established by a United States President.  The others are the University of Virginia, founded by Thomas Jefferson, and the University of Buffalo, established, in part, by Millard Fillmore.  
1838     Governor David Wallace and a group of prominent citizens took the first steam train ride in Indiana.  They traveled along 15 miles of track owned by the Madison and Indianapolis Railroad.  They rode to Graham's Fork near the Muscatatuck River.  It was reported that at one point on the trip they reached a speed of 8 miles an hour.  
1885     The body of United States Vice President Thomas Hendricks lay in state in the Marion County Courthouse in Indianapolis.  The funeral procession had started at the Hendricks home at Tennessee and Ohio Streets and traveled across Washington Street, where every building was draped in black.  Hendricks, Vice President under Grover Cleveland, had also served as Governor of Indiana.  Pictured:  The statue of Hendricks on the south lawn of the Indiana Statehouse.
1923     Frank Reynolds was born in East Chicago.  He attended Bishop Noll Institute in Hammond and went on to graduate from Wabash College.  He was awarded a Purple Heart in World War II.  Beginning a broadcasting career at WWCA  Radio in Gary, he moved into television where he rose to the anchor position on ABC's "World News Tonight."
1942     Gas rationing went into effect across the nation.  President Franklin D. Roosevelt asked Americans to conserve fuel and rubber for use in World War II.  Drivers were issued stickers to place on windshields to indicate how much gasoline they were authorized to purchase.
Did You Know?       During World War II, the United States Office of Price Administration had the authority to ration the sale of gasoline.  Each car was assigned a sticker which identified the vehicle's fuel allotment.  The most common sticker was "A."  It was issued to the general public and authorized the holder to purchase four gallons of gas per week.  The "B" sticker was provided to business owners and allowed eight gallons each week.  A "C" sticker was given to physicians, nurses, dentists, clergy members, and construction workers.  In most cases, the "C" sticker permitted the purchase of eight gallons of gasoline per week.  
50 YEARS AGO
1971     The Indiana State Highway Commission reported that nearly 82 percent of the planned interstate system in the state was open to traffic.  Five interstates were completed, including the I-465 belt around Indianapolis, I-80, I-90, I-74, and I-69 from Castleton to Michigan.  I-65 was expected to be open to Taylorsville within the next six months. 
Hoosier Quote of the Week
"I write as the birds sing, because I must, and usually from the same source of inspiration."  Gene Stratton-Porter (1863 - 1924)
Gene Stratton-Porter was an author, nature photographer, and naturalist.  Her most famous novels are Freckles, and Girl of the Limberlost.  
ABE MARTIN SEZ:
     Truth is stranger than fiction, but not near as plentiful.  
        (Kin Hubbard, Abe Martin's Sayings, Abe Martin Publishing Company, Indianapolis, 1916)
ANSWERS:  1.  B       2.  D        3.  C       4.  A
 Follow this link to subscribe to Hoosier History Highlights and to view archived editions
Indiana Statehouse Tour Office  |  Indiana Department of Administration
Guided tours of the Indiana Statehouse are offered Monday through Saturday.  For more information, please contact the tour office.  
(317) 233-5293
touroffice@idoa.in.gov
Take an "Armchair Tour" of the Indiana Statehouse!
Follow us:   Instagram @instatehousetouroffice; Facebook @Indiana Statehouse Tour Office and Education Center; Twitter @INSthouseEdCntr