Date:
Sun, 10/20/2019 - 12:01am

to

Sat, 10/26/2019 - 11:59pm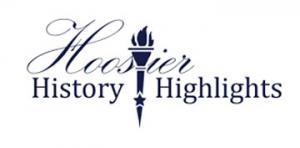 HOOSIER QUICK QUIZ
Ranked by population, the top three cities in Indiana are Indianapolis, Fort Wayne, and Evansville.  Which city is #4?
The Old National Road enters Indiana from the east through what city?
Which city serves as the seat of Putnam County?
Answers Below 
1826     Native Americans of the Miami Tribe signed the Mississinewa Treaty which granted Indiana a large area of land in the northeastern part of the state. The document permitted the construction of roads and canals through the area. It also allowed for Chief Jean Baptiste de Richardville to build a home, now an historic site in Fort Wayne.
1908     William Howard Taft, campaigning for President, made a whirlwind speaking tour of Indiana, starting in Brazil and going to Crawfordsville, Lafayette, Frankfort, Kokomo, Muncie, Anderson, and Marion.  In Lafayette, a line of Civil War veterans stood along the street and saluted as Taft passed by.  
Did You Know?
    When William Howard Taft made his tour of Indiana on October 24, 1908, he made speeches in seven cities.  In Anderson, he spoke kindly of  Hoosier President Benjamin Harrison.  "General Harrison made me always feel grateful," he said, "because he, more than any public man, gave me the assistance, the sympathy and the support to aspire to judicial office. . . he was a great lawyer and a great man."  As President, Harrison had named Taft as Solicitor General.  Later he appointed him to the U.S. Court of Appeals for the Sixth District.  Taft, who was Secretary of War under Theodore Roosevelt, won the Presidential election of 1908 and, in 1921, was appointed by President Harding to serve on the United States Supreme Court.  He is only person in history to have served as President, Cabinet Member, and Supreme Court Justice.  
1910     Blanche Stuart Scott became the first woman to pilot an airplane in public, appearing in the Curtiss Team Exhibition in Fort Wayne.  She had already gained fame as the first woman to drive across America, making the trip from New York to San Francisco in nine weeks.  She went on to become a stunt pilot, movie actress and screenwriter.  In her long adventurous life, she lived to see men walk on the moon. The United States Post Office issued a stamp in her honor in 1980.
1939     Eleanor Roosevelt was in Muncie to speak to the Optimist Club.  The First Lady said, "Even though our country wants to keep out of the war, the fact that there is a war will have an effect upon young people."  Regarding a rumor that she might run for Vice President, she replied, "I do not plan to run for any kind of office . . . besides, the Vice President has to preside over the Senate and that is not a nice job."
1976     Governor Otis Bowen helped dedicate a new addition to the Indiana State Library.  The building on West Ohio Street, first opened in 1934, was expanded by 87,000 square feet.  The Governor called the $4.7 million project "a versatile and outstanding new addition."
1986     Forrest Tucker died in Los Angeles.  Born in Plainfield, Indiana, he began a stage career at age 14 at the Chicago World's Fair.  He went on to a long career in movies and television in which he played a wide variety of characters.  In "The Music Man," he was Professor Harold Hill for over 2,000 performances.  Classic television fans will remember him as Sergeant Morgan O'Rourke in "F-Troop."
Census Fact:    The United States Constitution mandates that census data be used to apportion seats in the U.S. House of Representatives.  Legislative and school districts are also determined by using census data.  
HOOSIER QUOTE OF THE WEEK
"Hoosiers are congenitally inquisitive.  That means "nosy" in a nice sort of way."  - - - Herb Shriner
ANSWERS:  1.  South Bend  2.  Richmond  3.  Greencastle
Watch HOOSIER  HISTORY HIGHLIGHTS live from the Indiana Statehouse each Friday morning on social media:
Facebook @ Indiana Statehouse Tour Office and Education Center
Instagram @ INStatehouseTourOffice
Twitter @ INSthouseEdCntr
INDIANA STATEHOUSE TOUR OFFICE - Indiana Department of Administration
Guided tours of the Indiana Statehouse are offered Monday through Saturday.  For more information, check our website listed at the bottom of this page.
(317) 233-5293 | captours@idoa.in.gov