Date:
Thu, 03/04/2021 -

7:00pm

to

8:00pm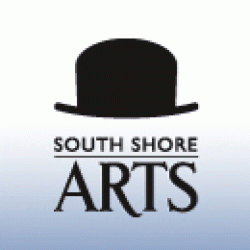 March 4, 2021, 7–8pm on Zoom Webinar and YouTube Live:
VIRTUAL EXHIBITION & CONVERSATION WITH SUMMER SCHARRINGHAUSEN
For the past two years, Summer Scharringhausen has created a collection of paintings that serve as the visual journal of one mother, depicting a variety of moments and emotions through the media of permanent ink and watercolor. Scharringhausen is a Northwest Indiana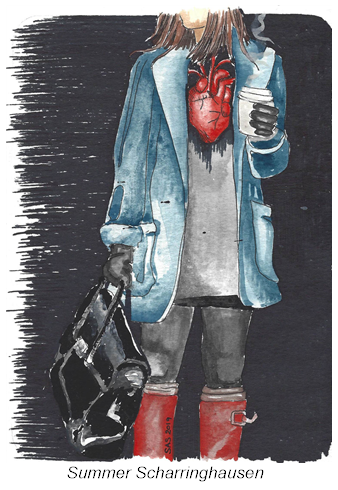 artist and the Director of Education at South Shore Arts. She will share her recent body of work about success and failure, love and depression, support and judgment, joy and exhaustion via a virtual exhibition of her artwork and open a dialogue about other stories and experiences through art.
The South Shore Arts Art in Focus program, founded in 1996 by retired Hammond educator Rita M. Ray, meets twice monthly as part of an on-going series of free arts presentations that provide insights into the work of artists and the multitude of artistic forms that they express.
The month of March 2021 will bring opportunities for adult learners of all ages who are interested in the arts and their impact on the world to join in conversations with three artists. Summer Scharringhausen will be sharing and discussing her series of paintings on art and motherhood on March 4 at 7pm. Piotr Szyhalski will present his COVID_19: Labor Camp Report on March 11 at 7pm. And finally, Ryan Bennett will demonstrate his work on the pottery wheel and discuss the intersections of art and nature on March 18 at 7pm.
These presentations are being hosted in a new virtual format that allows South Shore Arts to bring artists directly to the audience in the comfort of their own homes, gaining access to artistic experiences that might otherwise be out of reach. This year, each session is taking place virtually, with live interaction between the presenter and audience. Each session is hosted by South Shore Arts Deputy Director Micah Bornstein. Thursday evening sessions at 7pm are live events with the opportunity to engage directly with the presenting artist. Each presentation is then rebroadcast on the South Shore Arts website the following Monday. Links to participate are posted on the website.
Art in Focus is open to the public and, thanks to generous support from Community Healthcare System, it is always free.
South Shore Arts is a designated 501(c)3 nonprofit organization located at the Center for Visual and Performing Arts, 1040 Ridge Road, Munster, Indiana. South Shore Arts programs are provided with support from the Indiana Arts Commission, a state agency, and the National Endowment for the Arts.
For more information about the program, including presentation dates, times, topics, and links for participation, visit www.SouthShoreArtsOnline.org/art-in-focus.