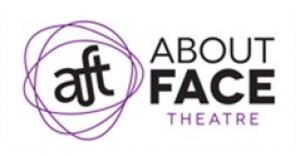 "I'm thrilled to welcome Mikael to the leadership team at About Face," stated Megan Carney, AFT's Artistic Director. "As a theatre company dedicated to advancing dialogue about gender and sexuality, our work takes many forms. When I joined About Face as the Artistic Director, we committed to fostering more diverse queer voices, to building a sustainable financial foundation, and to bringing education to the center of the organization. Our education programs are layered and experimental. They are constantly changing to reflect community needs and use a variety of tools from devising to leadership development. I'm looking forward to all the ways we'll be growing with this new staff structure and with Mikael's vision. This is a joyful moment and an investment in the future."
Burke stated, "I'm honored and grateful to begin this new chapter with AFT. I recently learned that our name, About Face, represents "a turning of the tide." What an apt description of the current movement in our industry and in our country to dismantle white supremacist systems. The outrage I share with so many over the continued oppression of Black people-- most pressingly the murder of Breonna Taylor at the hands of Brett Hankison, Jonathan Mattingly, and Myles Cosgrove,
who have yet to be charged or arrested--makes one thing clear: as artists, we have an undeniable responsibility to do our part in turning the tide to bring about necessary change. This is the part of About Face's legacy that inspires me the most. As a queer Black artist and educator, I am dedicated to building spaces for learning and creating that decenter whiteness and embrace the full spectrum of experiences and identities. As I take up the mantle of fostering young queer artists and new queer voices with AFT, this is the lens and personal mission I bring to the work. I look forward to AFT's future and our work to turn the tide."
 
About Face Theatre (AFT) is a multigenerational theatre company that creates exceptional and innovative productions and programs that advance national dialogue on sexual and gender identity. AFT produces bold and nuanced stories about LGBTQ+ lives to build community and equity. About Face Theatre (AFT) was founded in Chicago in 1995 to protest and rectify the lack of nuanced plays with LGBTQ+ protagonists produced in mainstream theatre. AFT's year-round programming includes an Equity mainstage season and education programs. The mainstage season features dynamic artistic teams and frequently includes world premieres. Education at AFT includes onsite theatre training, leadership development, and original touring programs that bring AFT stories and facilitated dialogues across the region. Work generated at AFT has garnered many awards including the Pulitzer Prize for Drama, the Tony Award for Best Play, multiple Joseph Jefferson Awards and other recognitions of artistic excellence and service to LGBTQ+ youth and their allies. Currently under the artistic leadership of Megan Carney, AFT's national cohort of Artistic Associates, citywide youth ensemble, and Youth Task Force participate in multiple ways to identify the priorities and projects that shape each season.
 
Mikael Burke (he/him) is a Chicago-based director and educator, and an AFT Artistic Associate. A Princess Grace Award-winner in Theatre and Jeff Award-nominated director, Mikael's most recently worked with Victory Gardens Theatre, Northlight Theatre, Jackalope Theatre Company, Windy City Playhouse, About Face Theatre, First Floor Theater, American Theatre Company, Chicago Dramatists, and The Story Theatre in Chicago, and regionally with Indiana Repertory Theatre, Asolo Repertory Theatre, Geva Theatre Center, and Phoenix Theatre. He serves as Head of the Directing Concentration of the Summer High School Training Program of the Theatre School at DePaul University, where he also serves as an adjunct faculty member. He is also an adjunct faculty member of the Chicago College of the Performing Arts at Roosevelt University. Previously, Mikael served as Associate Artistic Director of NoExit Performance in Indianapolis, IN, and was the Creative Director for Young Actors Theatre, also in Indianapolis. Recent directing credits include THE AGITATORS by Mat Smart; SUGAR IN OUR WOUNDS by Donja R. Love; AT THE WAKE OF A DEAD DRAG QUEEN by Terry Guest. The Theatre School at DePaul University (MFA) | mklburke.com
 
Megan Carney (she/her) is the Artistic Director of About Face Theater and a founding director of About Face Youth Theatre. Her work at the intersection of theatre and education has focused on LGBTQ+ life, racial justice, housing instability, women veterans, and more through projects and productions that activate true stories and research to advance community dialogue. Her work has premiered in Chicago, NY, and through touring productions around the country. Recent Chicago directing credits include THE GULF, 20/20, TIME IS ON OUR SIDE (About Face Theatre); WINTER, GRIZZLY MAMA, WOMEN AT WAR, Danielle Pinnock's BODY/COURAGE and Lisa Dillman's AMERICAN WEE PIE and THE WALLS (Rivendell Theatre Ensemble). She served as the Director of the Gender and Sexuality Center, one of the Centers for Cultural Understanding and Social Change, at the University of Illinois at Chicago where she developed and supported programming on systemic change and diverse LGBTQIA+ identities and histories. Carney has a MFA in Theatre Arts from Virginia Tech with a focus on Directing and Public Dialogue, teaches in various contexts, and has volunteered on the LGBTQ Giving Council of the Chicago Foundation for Women and with the Chicago Restroom Access Project of Pride Action Tank. Her work has been featured in multiple publications and recognized with theatre industry awards, the GLSEN Pathfinder Award, an APA Presidential Citation, induction in Chicago's LGBT Hall of Fame, and a Rockefeller Foundation MAP Grant among others.