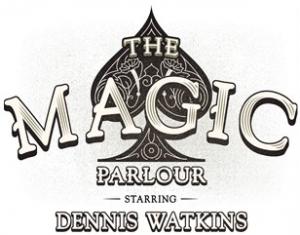 Celebrated Chicago magician Dennis Watkins today announced he will add special holiday weekend performance times to his long-running The Magic Parlour production at the historic Palmer House Hotel (17 E Monroe St.). Incorporating festive themes from special gifts to old fashioned holiday nostalgia, the performance offers the unique experience from Thanksgiving through the end of the year.
From the addition of floating candy canes to feats of mentalism featuring Watkins' copy of Charles Dickens' A Christmas Carol, the holiday-themed performances are designed to dazzle and inspire the holiday spirit in audience members of all ages.
"When I was 12 or 13 I can recall a Christmas morning where my three brothers unwrapped everything from video games to model trucks, but awaiting me was just what I'd hoped for: a pile of new magic tricks from my granddad," reflects Watkins. "On a recent trip home to my dad's house, I uncovered one of those gifts and it struck me that it will be a perfect fit for The Magic Parlour all these years later."
Tickets for the regular performance schedule are now on sale through April 2020 and include:
Fridays 7:30 p.m. and 9:30 p.m.
Saturdays 4:30 p.m., 7:30 p.m., and 9:30 p.m.
Plus the special holiday additions to the schedule, including:
Friday 11/29 at 4:30 p.m.
Sun 12/22 at 2:00 p.m. and 4:30 p.m.
Mon 12/23 at 4:30 p.m. and 7:30 p.m.
Thur 12/26 at 4:30 p.m. and 7:30 p.m.
A third-generation magician who specializes in classic magic and mind reading, Watkins offers world-class, one-of-a-kind magical entertainment in his long-running one-man show. Guests looking for an even more intimate experience are invited to attend The Encore Room, following the final showtime each evening. The special additional performance for up to ten guests offer an up close and personal magic experience and Q&A with Watkins.
Tickets to The Magic Parlour and its full holiday schedule are now available at themagicparlourchicago.com or by calling the box office at (773) 769-3832. Tickets for all performances are $89 each and include wine, beer and soft drinks.
ABOUT THE MAGIC PARLOUR
The Magic Parlour is an intimate evening of classic magic and mind-reading featuring the work of third-generation magician Dennis Watkins. Guests to this intimate, magic-packed evening gather at Potter's in the Palmer House lobby before Watkins personally escorts them to the performance space. Once inside, the audience participates in much of the performance as Watkins wows the room with classic sleight of hand, unbelievable mind-reading and magical wisdom passed down from his grandfather.
Since opening at The Palmer House on New Year's Eve of 2011, The Magic Parlour has enjoyed phenomenal success and unimagined growth.  With only 44 seats available per show, The Magic Parlour has entertained over 45,000 guests in its eight-year run.  Additionally, it has hosted more than 1,200 ticketed audiences and dozens of private groups, facilitated three truly magical wedding proposals, and has been featured in two books (Chicago Magic: A History of Stagecraft and Spectacle and 100 Things to do in Chicago Before You Die).