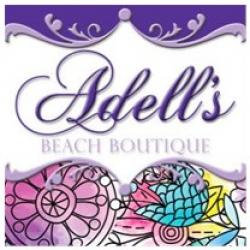 Despite the many roadblocks small businesses have faced due to COVID-19 restrictions and shopper anxiety, Adell's Beach Boutique continues to develop innovative ways to draw customers. Located at 567 S. Lake Street in Gary, Miller Beach neighborhood, Adell's Beach Boutique features high-end clothing and accessories for men and women at affordable prices.
"It has been a challenge to draw traffic when streets and railroads are closed, and then there's COVID-19" said boutique owner Dr. Gwen Adell. "I love delivering fashion finds to my customers, so I'm doing whatever it takes to drive traffic both in person and online."
In September, Adell's PR team developed the "Pop-up and Shop" concept that takes place each month. While broadcasting on Facebook live, Adell discusses new arrivals, sales items and chats with customers about their fashion tastes. Prices on most merchandise are slashed by 50% both in-store and online.
"My customers always look forward to big sales, especially at the change of season," said Adell. "The holidays are upon us so we really going to have some amazing deals."
In addition to men and women's apparel, the boutique also carries home decor items, eye wear, accessories and cosmetics. While the location is quaint and nestled on a corridor just down from Lake Michigan, Adell admits that extra effort is needed to draw traffic to a section of town that is not centrally located.
"I applaud fellow business owners who have set up shop on Lake St. and keeping retail alive in Gary," added Adell. "I will continue to do my part, and thank everyone for their support."
The next Pop-up and Shop takes place Saturday, December 12th from 11:00 a.m. - 1:00 p.m. Customers can also arrange private shopping parties by calling 219-938-5059.
Store hours are Tuesday through Saturday from 11:00 a.m. - 5:00 p.m. For more information, follow Adell's Beach Boutique on Facebook or visit http://www.AdellsBeachBoutique.com.
isit http://www.AdellsBeachBoutique.com.