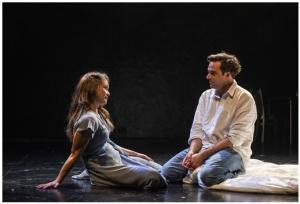 During the first intermission, my friend Sarah told me she was ready to leave.  She thought it was a terrible play.  Later she admitted that the second and third acts were better, but she thought the whole things was too long and too confusing.  In fact, she was still trying to get the characters straight in the car on the way home. 
Since most of Bellow's book is cerebral, taking the reader on a tour of the mind of his protagonist, Director/Adaptor David Auburn decided to open the play with Augie March (played with boyish panache by Patrick Mulvey) climbing into a lifeboat which is already occupied by Basteshaw (John Judd).  When Augie attempts to light a flare to summon help, Basteshaw conks him on the head with an oar. 
Is Augie dead – or just unconscious?  The rest of the play is a trip through Augie's memories.   Act I is all about his Chicago childhood.  His Mother (Chaon Cross) is slowly going blind.  His older brother, Simon (Luigi Sottile), who is very smart, is expected to be a brilliant success at whatever he does.  Augie seems to have no goals, so his family has no expectations for him.  His younger brother, Georgie (Travis Turner), has some unspecified learning disability which causes him to curl up under the table for most of the act.  The family is ruled (read browbeaten into submission) by Grandma (Marilyn Dodds Frank), who turns out to be a boarder not a relative at all.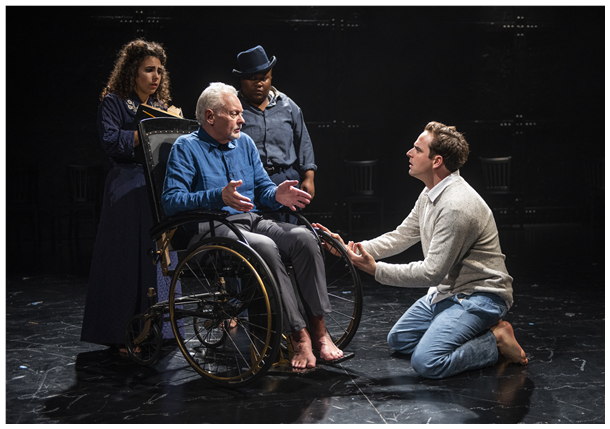 Augie needs money to help his mother, so he takes a job running errands for a man in a wheelchair who might just be a mobster.  He's sent to Detroit to help a trainer named Dingbat (BrittneyLove Smith), with a loser boxer, but when the fight is raided, Dingbat leaves him behind.  In Detroit he is taken in by a wealthy couple.  At a high society party he meets Thea (Chaon Cross) and her sister who was engaged.  Although Augie fell in love with her sister, Thea decides she wants him. 
Augie approached a hobo for lessons on how to hop a train, and soon after arrived back in Chicago where he found that his brother Simon had put their mother in a home for the blind, their brother, Georgie in another institution, and sold everything they had.  When Augie's friend, who was a student at the University of Chicago, showed him how to make money by stealing books from bookstores, then selling them to students, he went into business for himself.  At Simon's behest, Augie got engaged to the sister of Simon's Jewish fiancée, but when he got into trouble her father threw him out. 
Soon after, Thea showed up again who had a cockamamie idea that she could train an eagle to catch iguanas.  They acquired an eagle and took it to Mexico.  The eagle turned out to be afraid of iguanas.  When Augie offered to help Stella (Abby Pierce) get out of town to escape her abusive boyfriend, Thea went ballistic so he left her behind.  Soon after, he joined the Merchant Marine.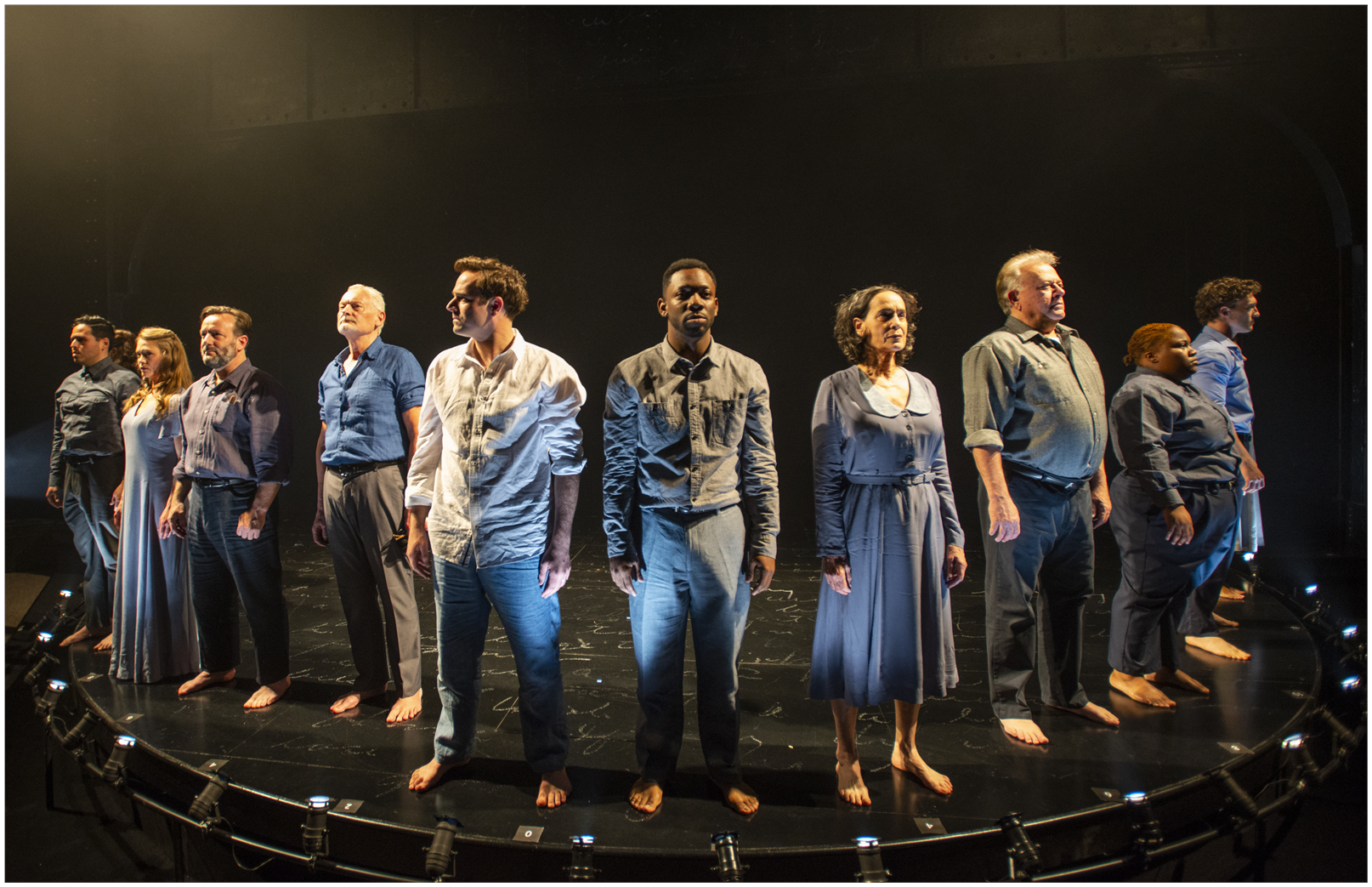 Since all of this is supposed to be Augie's memories, it's staged on an industrial looking black stage.  The ensemble all wore shades of blue, black and gray, and for some reason, they're all barefoot.   Kudos to all, the acting was superb.  Additional ensemble members: Sebastian Arboleda, Kai Ealy, Neil Friedman, Aurora Real de Asua and Stef Tovar. 
"The Adventures of Augie March" has been extended through June 23rd at the Court Theatre, 5535 S. Ellis, Chicago.  Parking is free in the garage next door to the Court – you have to take a ticket to enter but you won't need it to exit, the gate stays up for 30 minutes after the performance. 
Running time is a little over 3 hours with 2 intermissions.                                           Performances are Wednesday through Friday at 7:30 pm; Saturday and Sunday at 2:00 and 7:30 pm. 
Open Captioned Performance: Sunday, June 2nd at 2:00 pm                                          Audio Described Performance/Touch Tour: Saturday, June 1st at 2:00 pm.
Tickets range from $38-$86.  FYI (773) 753-4472 or www.CourtTheatre.org.