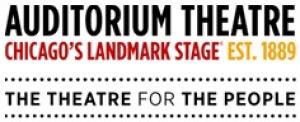 Watch this four-episode FREE virtual series, Architecture @ the Auditorium - Exploring with the Experts! Executive produced by Auditorium Theatre CEO Rich Regan, and moderated by Chicago architect and Auditorium Theatre Board Member, Matt McNicholas, each episode of this series explores a different element of the theatre's historic architecture. 
Dive in and watch all four episodes below for an in-depth look at the immense amount of history and incredible design behind one of the greatest theatres in the world!
EPISODE 1
Light in Design with Tim Samuelson
A city treasure in his own right, Tim Samuelson has been involved in local preservation efforts for nearly his entire life, and played a significant role as part of the city's Commission on Chicago Landmarks in the 1980s. In this first episode, Tim discusses the use of light and design and how the Auditorium pioneered a new way of using electric lighting. 
EPISODE 2
Iconic Arches with Anne Voshel
Anne Voshel is a construction expert and founder of AVA Consultants overseeing the design and construction for cultural and institutional clients. In this episode, Anne provides an in-depth look at one of the most striking elements of the Auditorium's architecture as you enter the theatre – our iconic arches.
EPISODE 3
Stained Glass with Rolf Achilles
One of the world's foremost experts in stained glass, Rolf Achilles is an art and architecture historian and preservationist who has published widely on stained glass windows, decorative arts, and architecture. Rolf shares the history and craftsmanship behind the stained glass windows of the theatre.
EPISODE 4
Ornament with Matt McNicholas
Matt McNicholas has created designs and ornamental details for buildings in 15 countries and on four continents. In this final episode, Matt talks about the incredible design and history of the intricate ornamentation featured extensively throughout the Auditorium Theatre.
ARCHITECTURE @ THE AUDITORIUM SERIES SPONSOR