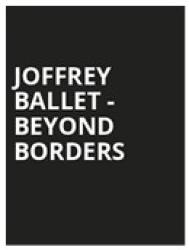 **** Highly Recommended **** Beyond Borders, a mixed-repertory program from the Joffrey Ballet, is an extraordinary demonstration of all that makes the Joffrey such a leader in contemporary ballet.  The evening's repertoire featured an exhilarating new contemporary masterpiece by Chanel DaSilva as well as the return of favorites by Liam Scarlett and Joffrey co-founder, Gerald Arpino.  The Joffrey's incredibly talented dancers execute the most complicated choreography with flawless technique and timing – and they make it look easy!   4 BIG Spotlights
When I was a child, I was positive I'd be a prima ballerina one day.  The fact that I never had a ballet lesson was irrelevant.  Alas, I grew up, and pursued another dream, becoming a writer.  I still love ballet, and feel very privileged to be able to write about the Joffrey Ballet. 
When I'm jotting down ideas for a review, I often add words I might want to use.  In the case of the Joffrey, one of my favorite words is exquisite, but since I'd also added exhilarating and expressive, I thought I'd add a list all the 'ex' words which apply to this performance.  That list includes exquisite, exhilarating, expressive, extraordinary, exciting, excellent, exuberant, explosive, extravagant.  Watch for them throughout this review.    
Liam Scarlett's Vespertine is both dark and moody.  Danced to Baroque music for harpsichord, organ and theorbo by Bjarte Eike, John Dowland, Archangelo Corelllli and Francesco Geminiani, the piece is reminiscent of an exquisitely stylized minuet danced in a regency ballroom.  Although there are several huge, extravagant chandeliers overhead, only a few are illuminated at any given time, making it difficult to see the nuanced movement of the dancers. 
Wearing long, burgundy-colored, gown-ish costumes, ballerinas Victoria Jaiani and Amanda Assucena, are partnered with Alberto Velazquez and Edson Barbosa, in knee breeches and chest-revealing frock coats in the same color.  The ensemble, in light-colored unitards, Anais Bueno, Olivia Duryea, Gayeon Jung, Yumi Kanazawa, Derek Drilon, Fernando Duarte, Graham Maverick and Xavier Nuñez, move about the stage in ever-changing groupings
Without a doubt, Chanel DaSilva's colõrem, danced to original music by Cristina Spinei, is the centerpiece of the evening.  It begins with eight dancers, all in deep gray unitards, standing in rigid formation.  In unison, they lift one arm, then another.  It is only when they move to the side that another eight dancers, wearing bright orange unitards, are revealed, then hidden again – total synchronization! 
The dancers almost seemed to be swarming against the stark white background, giving colõrem a distinctly dystopian feel.  Amanda Assucena and Xavier Núñez were deployed among the other dancers, separately and together.      
Dancers in Gray: Amanda Assucena, Edson Barbosa, Anais Bueno, Lucia Connolly, Olivia Duryea, Stefan Goncalvez, Hyuma Kiyosawa, Alberto Velazquez.  Dancers in Orange: Xavier Núñez, Coco Alvarez-Mena, José Pablo Castro Cuevas, Valeria Chaykina, Dara Holmes, Yumi Kanazawa, Zachary Manske, Aaron Renteria
Continuing to recognize Gerald Arpino's Centennial, the evening closed with Arpino's classic, Suite Saint-Saëns, re-staged by Joffrey rehearsal director, Suzanne Lopez.  Suite Saint-Saëns, choreographed to music by Camille Saint-Saëns, premiered in 1978 at City Center, New York, is light, bright and exuberantly playful.  The dancers were wearing light pastel-colored tights, with loose tunics and/or tutus.  Someone was entering and/or exiting the stage constantly, exhibiting explosive speed and energy as they almost shot across the stage. 
In the opening, Caprise Valse, Gayeon Jung danced an exquisite solo.  Featured pairs were Jeraldine Mendoza and Edson Barbosa, Valeria Chaykina and Hyuma Kiyosawa, and Yumi Kanazawa and Alberto Velazquez, flanked by the ensemble. 
In the second movement, Serenade, Edson Barbosa partnered Jeraldine Mendoza and Anais Bueno in a romantic pas de trois The ensemble provided backup.   The third movement, Minuet, featured Yumi Kanazawa, Alberto Velazquez, Zachary Manske, José Pablo Castro Cuevas, Victoria Jaiani and Dylan Gutierrez.  The final movement, Pas Redouble, includes the featured dancers and the ensemble. 
The Suite Saint-Saëns ensemble included Anais Bueno, Lucia Connolly, Anabelle de la Nuez, Victoria Jaiani, Brooke Linford, Natali Taht, Evan Boersma, José Pablo Castro Cuevas, Dylan Gutierrez, Zachary Manske, Valentino Moneglia Zamora, Davide Oldano, Aaron Renteria
Note: The cast changes from day to day.  I saw the opening night cast.  Go to https://joffrey.org/performances-and-tickets/2022-2023-season/beyond-borders/casting-for-beyond-borders/ to check out the cast on your date.   
Note: Masks are encouraged but not required while inside the building. 
Beyond Borders is performed through October 23rd at the Lyric Opera House, 20 North Wacker Drive, Chicago.  Closest parking option is the Poetry Garage, 201 W. Madison.  $13 evening and weekend parking available on performance dates.    Running time is 2 hours, 10 minutes, with two intermissions. 
Remaining performances are Thursday, October 20th at 7:30 pm; Friday, October. 21st at 7:30 pm; Saturday, October 22nd at 2:00 and 7:30 pm; and Sunday, October 23rd at 2:00 pm.  Single tickets start at $36.  FYI (312) 386-8905 or www.joffrey.org.