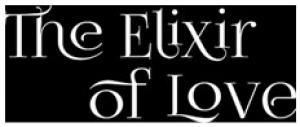 ****HIGHLY RECOMMENDED****   In marked contrast to their brooding production of "Macbeth" which is running simultaneously until October 9 (see separate listing), Lyric Opera's second offering of the season is bright, cheery and a heck of a lot of fun -- Donizetti's extremely popular "The Elixir of Love." Featuring a stellar cast of some of the finest bel canto singers currently available and under the baton of conductor Enrique Mazzola, audiences are being thrilled by this heartwarming gem of a romantic comedy which is enjoying a very limited run until October 8 only.   4 BIG SPOTLIGHTS
Loyal Lyric subscribers are rejoicing at the versatility of Mazzola, who is the company's new Music Director. How he seamlessly moves from Verdi's score which supports a very dark "Macbeth" to the jubilant and unabashedly joyous glee of Donizetti's "The Elixir of Love" is a truly remarkable accomplishment to witness. Working closely with director Daniel Slater, who is making his Lyric debut, Mazzola handily proves why many consider him to be the champ of bel canto opera.
This "Elixir of Love" is set in the 1950s so it has an extremely modern sensibility to it. Here the capricious Adina (soprano Ailyn Perez) is not a wealthy landowner but the proprietor of the very posh Hotel Adina. Nemorino (tenor Charles Castronovo), who secretly and agonizingly pines for Adina, is in her employ as a waiter. The rival of Nemorino who is vying for Adina's affection is naval captain Belcore (baritone Joshua Hopkins). Into their small Italian village comes the quack doctor Dulcamara (bass-baritone Kyle Ketelsen) who promises Nemorino a magic potion which
will cause Adina to fall hopelessly in love with him. Rounding out the exceptionally strong cast is soprano Denis Velez as Giannetta, Adina's honorable confidant.
Forget any previous productions of "The Elixir of Love" that you may have seen. This one is remarkably and refreshingly different. Designer Robert Innes Hopkins has created a set which evokes the finest hotel terrace on the Italian Riviera. No rustic set pieces draped in grape vines or a heavy wooden cart which transports Dulcamara's traveling caravan. Instead Hopkins has Vespas buzzing about the stage and a very surprising and whimsical mode of transportation for Dulcamara's arrival. No frilly peasant
blouses or long skirts in harvest tones either. Hopkins has Adina and Giannetta adorned in exquisitely tailored outfits which recall the lines of a classic Valentino collection and the naval officers in blindingly crisp white uniforms. Everything is bathed in the golden, sun-drenched intensity of Simon Mills' original lighting design, wonderfully revived by Sarah Riffle. All of these key elements combine to provide a production which is surprisingly sleek and has a feeling of being ultra-chic.
Of course, all of this beauty is meaningless unless it is paired with a top notch cast – which it most definitely is. Perez is fantastic as Adina, initially cool to either man's advances and clearly enjoying playing with both Belcore and Nemorino's emotions. Tiring of toying with them too much she ultimately realizes her true intent and faces her own feelings honestly. Hopkins is a hoot as Belcore, a man clearly self-absorbed who is over-confident and driven by his own vanity. Ketelsen is also hysterically funny as Dulcamara and by the second act shows a much more human side to this fraudster than is commonly encountered. But it is Castronovo who is the real revelation here. His Nemorino is no bumbling buffoon or sloppy drunk, which is so often the case. Instead, Castronovo brings a simply heartbreaking sense of vulnerability to this character. By the
time that he reaches his famous aria, "Una furtiva lagrima" late in Act Two, the audience collectively was holding their breath until he reached the soaring climactic finish. Clearly a Nemorino that you can't help but adore, as you wipe your own tear from your eye. Only Donizetti will whisk you out of a smile-induced euphoria and plant you in a dramatic moment such as this. Temporarily, you'll be asking yourself : this is a comedy, right? Under Slater's flawless direction, which includes countless subtle and intelligent nuances with a humorous flourish, the answer is a resounding yes.
This magical "Elixir" is the tonic which we all are craving in our lives right about now. Enjoy responsibly.
"The Elixir of Love" continues through October 8, 2021 with the following performances:
October 2 at 7:30 PM
October 5 at 7:00 PM
October 8 at 7:00 PM
Running time is approximately 2 hours and 30 minutes with one 25 minute intermission
Note: Guests must show proof of vaccination before entering the theater.  Guests are required to wear masks while inside the building.