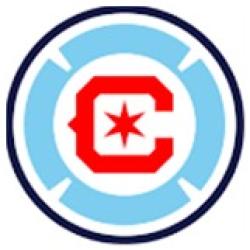 Chicago Fire FC fell 4-1 to the Houston Dynamo in the quarterfinals of the 2023 Lamar Hunt U.S. Open Cup at SeatGeek Stadium in Bridgeview, Ill. on Tuesday Night.
Chicago had the first dangerous chance of the game in the ninth minute when Arnaud Souquet found Xherdan Shaqiri on the right side. Shaqiri served a ball to the far post for Brian Gutiérrez, who couldn't reach it in time, but the rebound bounced to Miguel Navarro inside the box. The Venezuelan defender took a shot that forced Andrew Tarbell to make a save.
Houston opened the scoring with a penalty kick in the 12th minute when Amine Bassi sent a powerful shot high and to the right of Spencer Richey. Houston scored again in the 33rd minute when Chase Gasper sent a long ball behind the defense for Aliyu Ibrahim, who ran onto it and carried it toward goal, where he placed it just inside the left post.
Souquet scored his first Chicago Fire goal of the year in the 40th minute after the team earned their first corner kick of the game. Shaqiri sent a precise cross into the right side of the box where the Frenchman redirected it with his head to the inside of the left post.
After finding its opening goal, the Fire started to gain momentum in the final third and had two strong appeals for penalty kicks in the second half. The first chance occurred when midfielder Gastón Giménez's shot appeared to hit a Houston defender on the arm inside the 18-yard box. Shortly afterward, the Fire had an even stronger appeal for a penalty when Gutiérrez was clipped inside the box by goalkeeper Andrew Tarbell in the 52nd minute, but both appeals were waved off by the center referee.
With the Fire pushing its way back into the match, Houston would score twice against the run of play in the 59th and 74th minutes, respectively, to seal the victory and advance to the semifinals.
NEXT MATCH: Chicago returns to the lakefront to host the Columbus Crew in MLS play at 7:30 p.m. on Saturday, June 10 at Soldier Field. The match will serve as the Club's annual Pride Night and will feature special events, a Pride flag giveaway, and activities planned to celebrate the LGBTQ+ community. The match will be broadcast on Apple TV+, and transmitted locally in English on 890 WLS-AM and in Spanish on TUDN 1200 AM.
Social: Twitter - @chicagofire, @vamosfire (Hashtags: #CF97 #VamosFire) | Instagram - @chicagofire | Facebook
Notes:
Defender Arnaud Souquet scored his first career goal for the Club.
Midfielder Xherdan Shaqiri recorded his second assist in Open Cup play and his fifth across all competitions with the Fire.
Lamar Hunt U.S. Open Cup rosters are limited to 18 players, unlike 20-player Major League Soccer rosters.
The Fire lined up against Houston with the same XI that faced Austin FC in the Round of 32 on May 24 at TQL Stadium.
Forward Kei Kamara started for the third time in the 2023 Lamar Hunt U.S. Open Cup, playing in his 17th U.S. Open Cup game (10 starts).
Xherdan Shaqiri and Brian Gutiérrez once again teamed up from the outset to back up Kamara and guide the attack.
Maren Haile-Selassie and Federico Navarro earned their fourth 2023 U.S. Open Cup starts, while Gastón Giménez, Mauricio Pineda, Arnaud Souquet and Miguel Navarro all earned their third start of this year's tournament.
Captain Rafael Czichos started in the backline for the second-straight Open Cup match.
Goalkeeper Spencer Richey backstopped the group from the outset for the fourth-straight 2023 Open Cup match.
Goalkeeper Chris Brady (head), defenders Jonathan Dean (left upper leg) and Carlos Terán (right knee), and midfielder Chris Mueller (hip) are unavailable for selection tonight.
Box Score:
Chicago Fire FC 1:4 Houston Dynamo
Goals:
HOU - Bassi (Penalty) 12'
HOU - Ibrihim (Carrasquilla) 31'
CHI - Souquet (Shaqiri) 40'
HOU - Ibrahim 59'
HOU - Quiñónes (Herrera) 75' 
Discipline:
CHI - Pineda (Yellow Card) 21'
CHI - F. Navarro (Yellow Card) 62'
CHI - Giménez (Yellow Card) 63'
HOU - Gasper (Yellow Card) 89'
CHI - Burks (Yellow Card) 90' 
Chicago Fire FC: GK Richey, D Souquet (Burks, 46'), D Pineda, D Czichos (capt.), D M. Navarro, M Giménez (Koutsias, 74'), M F. Navarro (Torres, 67'), M Haile-Selassie, M Shaqiri, M Gutiérrez, F Kamara
Subs not used: GK Gal, D Aceves, M Herbers, F Przybyłko
Houston Dynamo: GK Tarbell, D dos Santos Silva, D Escobar, D Gasper, D Sviatchenko (Bartlow, 61'), M Herrera (Franco, 83'), M Bassi (M De Lima Junior, 73'), M Cicedo, M Carrasquilla (Baird, 61'), F Ibrahim (Úlfarsson, 72'), F Quiñónes
Subs not used: GK Clark, D Steres
Stats Summary: CHI / HOU
Shots: 13 / 11
Shots on Goal: 5 / 6
Saves: 2 / 4
Passing Accuracy: 86.1% / 77%
Corners: 8 / 2
Fouls: 15 / 11
Offsides: 2 / 6
Possession: 65.9% / 34.1%
Attendance: 7,512
Referee: Marcos Deoliveira
Assistant Referees: Matthew Seem, Artyom Arustamyan
Fourth Official: Alexander Beehler
Chicago Fire FC Head Coach Frank Klopas
On the emotions following the loss...
"Yeah, tough. Emotions are tough when you have an opportunity like we did to take the next step. And so, right now, it's just difficult, obviously, at the moment. But you know, those are my thoughts right now."
On the team's response to adversity...
"Yeah. The thing is, look, I don't want to– you guys saw all the calls, right? I mean, you saw. So, if you're asking me about the referee, I can tell you I felt the first PK he gave against us was not in the box; the contact was outside, so that's one, OK? But the PK, because I saw it, it's 100 percent. I mean, Guti [Brian Gutiérrez] touches the ball before he gets taken down. 
Anyway, it is a big moment in the match, because at 2-1 or 2-2, you know, momentum definitely changes. But we didn't. For me, take that out of the equation – the referees, the two calls – it's the way we started the game, our mentality in a big game like this. So, I felt that we were very sluggish, we were not sharp, so we got no one to blame but ourselves.
Those calls do change momentums in games, you know, because we pushed– that's a PK, 2-2, it changes a lot of things, maybe changes also the way I think and I try to push the game because then at some point, you know, you're at home, even at 3-1, I'm taking a lot of risks with the players that I that I bring in. It's more attack minded guys to see if something happens.
But look, it's a tough one, because this was a big goal for us and we put everything into it and we wanted it, the guys really wanted it. But it was not the right approach that we went into the game: before you wake up, you're down 2-0, so you're already in a bad spot. We get the next goal, but then it's about the next play. We don't get the PK, they score the third goal and then it's almost, for some of the guys, it's finished. And the mentality I want is for the guys to fight all the way to the end. You know, you see character in difficult moments, not when things are going well. And that's why I was a little disappointed, besides the loss, obviously."
On his message to the team after the match...
"Yeah, it's just the way we came out in the game. Sometimes you get, you know, I mean, going into the match, based on training, I felt we had an excellent training yesterday. It was really dynamic; the guys were very energized, so they gave me a lot of confidence. But then sometimes, you know, I've been around the game too long – sometimes when the guys look sluggish, they come out sharper. But you know, it was a big moment. I don't know.
Based from, like I said, from trainings, I felt that the guys were ready, focused, we had a really good game plan going in. And I just felt that we were, you know, we were not sharp. The way we played the first half was, you know, not the team that we've shown the previous matches, not at all. And then, forget about the calls and then we just, you know, we lost a little bit of our shape, of our discipline, we opened up. And then, you always got to maintain your discipline, the things that we talked about.
So yeah, it's tough. I mean, it's things like that, you know, that really stick into my mind right now. I guess I gotta see the game again and go, but I think initially, it's just always, I want a team on the pitch that's going to compete and leave everything on the field. And I felt maybe tonight, you know, we were not that sharp."
Chicago Fire FC Goalkeeper Spencer Richey
On how he felt and the locker room reaction after the match…
"Yeah, it's brutal man. I think this is a club that takes a lot of pride in this tournament. I know that keeps being repeated by people but it is truly something that us, as players, we felt, just in side conversations, saying to one another, damn, we really want to win this thing. It's heartbreaking, to lose, not be able to keep going. But, that's life and that's football sometimes. So, this one will hurt for a little bit, but we'll have to get up off the mat and get ready for Saturday."
On how the team will comeback in their next home game and bring back fans happy to come to the stadium…
"Yeah it's the nature of the schedule lately, is you can look at it as a positive or negative that the games are coming fast. So when you have a game like that, that doesn't go your way. For me personally, and I'm sure a lot of other guys feel this way that you want to get up back out on the field again, and you want an opportunity to redeem yourself. Unfortunately, in a cup run it's a knockout format, and we won't get that second chance. But, hopefully this weekend guys will see that as an opportunity to bounce back and get things going our way again." 
On his thoughts about the referee and how the referee's decisions impacted the game…
"Yeah, I thought the penalty call on Souqet early on. It was close inside or outside of the box. It's kind of hard to tell from my point of view there and then again, the one no call on Guti. Again, I maybe have the worst view in the whole stadium for that call, but it sure looked like from where I was that he gets a touch by him. And the goalie cleans them out pretty good. But, it's obviously a pivotal point in the game that no call on Guti. If you get a call there and score it goes to I believe 2-2 at that time. But, with that said, we have to have a better response even with the no call. We can't let referees dictate games for us like that. It won't be the last bad call or missed call, whatever you want to call it. That's, that's the reality of sports. We got to be better. Just getting on with it in the future." 
On his experience of the fan's support throughout the game…
"Yeah, it was awesome. And we really appreciate the fans. I know this is a tournament that they care a lot about as well. So we're gutted both for ourselves but also for them to not continue this cup run. But, the support has been great all season. And we appreciate them both home and away. There was a good crew that traveled down to Cincinnati over the weekend and Nashville. And so home and away support has been great and we can't thank them all enough."