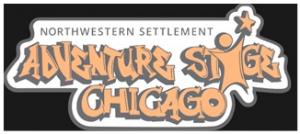 Adventure Stage Chicago (ASC), a program of the Northwestern Settlement, presents the Chicago premiere of Idris Goodwin's Ghost from April 25 to May 3, 2020 (press opening April 25) at the Vittum Theater, 1012 N. Noble Street. This show is adapted from Jason Reynolds' award-winning novel Ghost, a National Book Award Finalist nominated as one of America's best-loved novels by PBS's The Great American Read. Adventure Stage Chicago's adaptation is directed by Daryl Brooks, who helmed ASC's world premiere Fast Food Chain last season.
Tickets for the Chicago premiere of Ghost at Adventure Stage Chicago are on sale now for $12 to $17. To purchase tickets or for more information, visit adventurestage.org or call 773-342-4141.
Starting in 2017 with its Season of Literacy, ASC has aligned its mission to the Northwestern Settlement's objective of disrupting generational poverty, telling stories of heroic youth to educate and inspire its community. Ghost continues ASC's 16th season, which explores the theme of Shelter.
Ghost tells the story of middle schooler Castle "Ghost" Cranshaw, who knows what it means to run like your life depends on it. When he makes an elite middle school track team, Ghost finds something to run for instead of away from. The past isn't the only thing that haunts Ghost; but staying on the team means staying out of trouble. With encouragement from Coach and the support of his teammates, Ghost is able to face his past and get his future on track.
Public performance schedule
Saturday, April 25 at 4 p.m. (press opening)
Sunday, April 26 at 3 p.m.
Saturday, May 2 at 4 p.m.
Sunday, May 3 at 3 p.m.
Artist bios
Daryl Brooks (director) returns to Adventure Stage Chicago to tell the story of Ghost after directing ASC's Fast Food Chain and Akeelah and the Bee in previous seasons. Brooks has been a visible part of the Chicago theatre scene since 1999, having performed and directed all over the city. Recent projects include: Memphis (Porchlight Music Theatre; Jeff Nominated); writing and directing Women of Soul (Black Ensemble Theater; Jeff Recommended); The Black Pearl: The Story of Josephine Baker (Black Ensemble Theater; Jeff Nominated). Other directing credits include Men of Soul and Curtis Mayfield; he received the African American Arts Alliance award for Best Director for both productions. Brooks is the Producing Managing Director of the Black Ensemble Theater.
About Northwestern Settlement and Adventure Stage Chicago
Northwestern Settlement nurtures, educates and inspires children and families across Chicago. The Settlement's success results from a commitment to treating every person who enters its doors with dignity and respect, while supporting them with transformational programming designed to disrupt generational poverty. The Settlement has led the way in innovative programming by offering residential science and environmental education for inner-city youth, launching successful charter schools, and adding a theater so children and teens have a forum for expressing their life experiences. For more information, visit www.northwesternsettlement.org.
The Settlement's Adventure Stage Chicago (ASC) is one of the only theaters in Chicago to develop and present works specifically for the pre-teen and teenage audience. Adventure
Stage Chicago creates and tells heroic stories about young people in order to engage the community and inspire everyone to be a hero in their own lives. ASC also offers: Neighborhood Bridges, the in-classroom arts residency program; Trailblazers, a youth mentoring arts program; summer drama camps; and drama instruction in the Settlement's Rowe Elementary School. Adventure Stage Chicago is a member of the League of Chicago Theatres, Theatre Communications Group (TCG), and TYA/USA. For more information, visit www.adventurestage.org.