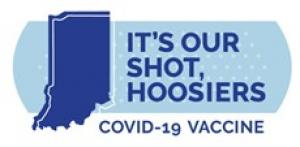 Even if you're not eligible yet, you can sign up your loved ones who are. Find a vaccination clinic and register online, or call 211 to make your appointment. 
The most current vaccine info will be posted at ourshot.in.gov, but here are a few good things to know:

Who is Eligible
This list will be updated periodically as Indiana receives more vaccine supplies. Check out the most updated list at ourshot.in.gov.
As of 1/11/21, those eligible to receive the vaccine in Indiana are:
 First responders
 Long-term care facility residents
 Healthcare workers
 People age 80 and older
Frequently Asked Questions
Q: How much will it cost to get vaccinated?
A: It's free. Providers may bill your insurance, but you can not be billed for receiving the vaccine even if you do not have insurance.
Q: Can I sign up my eligible family member?
A: Yes! If you know someone who is eligible for the vaccine and doesn't have internet access or can't use a phone, you can sign them up for an appointment. The recipient will need to bring a photo ID or other proof of eligibility to their appointment.
Q: Why do I need an appointment? Can't I just walk in?
A: The vaccine takes 2 hours to thaw and must be administered within 6 hours of being removed from cold storage. Given this very specific window, appointments are a necessity. 
Q: How many days do I have to wait between getting the first and second shots?
A: You must wait at least 21 days before receiving the second Pfizer shot or at least 28 days before receiving the second Moderna shot. If you miss your appointment for your second shot at 21 days (for Pfizer vaccine) or 28 days (for Moderna vaccine), it's OK. Those marks are the earliest you can get the second shots. Please make an appointment as soon as possible after that time. It's important to make sure you get your second shot so you are fully protected and that both shots come from the same producer.
Q: Is the vaccine safe?
A: Yes. The vaccine has been thoroughly tested and meets all safety standards. However, if you have a history of allergic reactions to injections read the CDC's guidance on vaccines and allergic reactions or talk with your doctor before making a vaccination appointment. People who are pregnant should also consult their doctor before receiving the COVID-19 vaccine.
Have more questions? Find all the answers by calling 211 or by visiting ourshot.in.gov.
Thanks to the Lake County Public Library for sharing the above information.