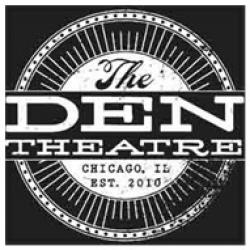 The Den Theatre is pleased to present the Chicago debut of the Off-Broadway hit Jacqueline Novak: Get on Your Knees, an unexpectedly philosophical and high-brow show about blow jobs that's part feminist outcry, part coming-of-age tale of triumph. Novak's one-woman show will play November 4 – 7, 2021 on The Den's Heath Mainstage, 1331 N. Milwaukee Ave. in Chicago's Wicker Park neighborhood. Tickets are currently available at thedentheatre.com or by calling (773) 697-3830. Regular, mezzanine and VIP table seating available.
The Den requires proof of vaccination for all guests, staff and performers and adheres to all CDC, state and local safety guidelines. Additionally, masking is required for all guests during performances. For the most current information on The Den's COVID guidelines, visit thedentheatre.com/covid19-policy.
Recognized by The New York Times on its "Best Theater of 2019" and "Best Comedy of 2019" lists, Jacqueline Novak: Get on Your Knees was extended five times in New York City and earned Jacqueline a Drama Desk nomination for Outstanding Solo Performance. In the most recent NYC extension, the show ran for six sold out weeks.
"Critic's Pick! Brilliant on the absurdity of having and being a thinking, feeling, desiring body. Shrewd, explicit, though not exactly raunchy, this is the funniest show about Cartesian dualism you will see all year!" – The New York Times
"Ladies and Gentlemen, I have seen the Muhammed Ali of comedy." – John Mulaney
A "nearly Talmudic dissection of a subject. Really funny and just really like nothing else." – Ira Glass
"I felt my teenage self seen and heard. I hope a lot of young women, older women, young men, older men, and also non-binary peeps of all ages see this show because it is funny and healing." – Ilana Glazer
Performance Schedule:
Thursday, November 4 at 7 pm
Friday, November 5 at 7 pm & 9:30 pm
Saturday, November 6 at 7 pm & 9:30 pm
Sunday, November 7 at 4 pm
No table service is available during the performances. However, lobby bars will be serving beer, cocktails and other beverages.
About The Den Theatre
Artistic Director Ryan Martin opened The Den in 2010 in the Wicker Park neighborhood with a single theatre space. Now celebrating its tenth year, The Den is a multi-level live entertainment venue that boasts five intimate and unique theaters ranging from 50 – 300 seats. The first floor houses The Den's Haven Lounge – a full-service coffee shop and bar where neighbors, audiences and like-minded culture hounds gather to drink, eat, talk, read, watch, think, listen and live. Currently, The Den is home to five resident theatre companies including Broken Nose Theatre, ComedySportz Chicago, First Floor Theater, Haven and The New Coordinates (formerly The New Colony). Hundreds of other companies and artists from Chicago and beyond have called The Den home – from national names to local stars, The Den consistently plays host to a lineup of exciting and diverse talent. As a building created for interdisciplinary arts, The Den has accommodated a wide variety of programming, including plays, musicals, film screenings, live music, dance, improv and stand-up comedy, seminars and speaking engagements. For additional information, visit www.thedentheatre.com.