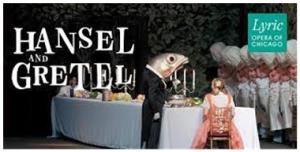 ***RECOMMENDED***  Engelbert Humperdinck's "Hansel and Gretel" has returned to the stage at Lyric Opera of Chicago. Originally presented here 20 years ago, and then again in 2012, this delightful version of the Brothers Grimm fairy tale is back by popular demand. However, what those two previous productions lacked was the presence of Sir Andrew Davis in the orchestra pit. Davis, who had never conducted this opera before, brilliantly brings this dark yet whimsical work magically to life. 3 AND 1/2 SPOTLIGHTS
On opening night, Anthony Freud, Lyric Opera's President, General Director and CEO, took to the stage prior to curtain to make a speech and welcome Sir Andrew Davis back to the fold. In his comments he stated that Davis, who was Lyric's Music Director from 2000 through the 2020/2021 season but has a 35-year history with the company, has conducted hundreds of performances of 63 different productions over the course of that time. To illustrate Davis' unique versatility, ranging from comedic to bel canto to the more seriously dramatic, Humperdinck is now the 22nd composer that Davis has conquered at Lyric. With endless gratitude and an outpouring of appreciative applause from the audience, Freud announced that Sir Andrew Davis has now been named Music Director Emeritus of Lyric Opera of Chicago.
With such an upbeat introduction, this enchanting "Hansel and Gretel" begins. Mezzo-soprano Samantha Hankey, in her Lyric debut, makes a marvelous Hansel. Soprano Heidi Stober, who has a 15-year history of singing the role, is a lovely Gretel. These two make a wonderful pair, whether sparring as bored and frustrated children left at home alone for far too long in Act I or cowering together while lost deep within the forest in Act II. Both Hankey and Stober have, under the vision of original director Richard Jones -- which is skillfully handled by director Eric Einhorn in this revival -- created very realistic yet specific physical characterizations of these two siblings. They beautifully capture the frenetic energy as well as the shy awkwardness of these pre-adolescents.
Soprano Alexandra LoBianco is the Mother who shifts from frustration at the lack of chores that have been completed by Hansel and Gretel while she was away from home during the day to pure terror and concern once she realizes that she has sent her children out into the woods to gather strawberries for dinner and placed them in great danger. Alfred Walker, in his Lyric debut, sings the role of Father. At first jovial (and slightly tipsy) in Act I, Father becomes the voice of reason that sets everything right by the conclusion of Act III. Walker, who possesses a rich and golden bass-baritone, is magnificent and captivating to listen to. Let's hope that he makes another appearance in perhaps a larger role in a Lyric production in the very near future.
Of course, most productions of "Hansel and Gretel" will be judged by how strong the role of the Witch is portrayed. Mezzo-soprano Jill Grove is in complete control of this one. Hulking around her kitchen -- albeit aided by a hefty prosthetic bodysuit -- Grove, who has sung this role often within the past decade, is clearly having a blast while creating a colossal mess. Tossing pots and pans about and with flour and spices swirling in the air, all in an attempt to put some meat on Hansel's bones as she uses her broomstick as a spit to roast him like a stuffed pig.
This is, after all, a very dark tale. The driving force throughout is hunger, but also fear of the uncertainty once lost within the forest. Much credit is due to designer John MacFarlane, whose sets and costumes add some much needed light-hearted humor. Jennifer Tipton's lighting design offers bright crispness, particularly in the kitchen setting of Act I.
Finally, a special note regarding Uniting Voices Chicago, which was formerly known as Chicago Children's Choir. Many of the members of this youth choral organization appear in the final act as the gingerbread children that the Witch had previously baked. As they are miraculously re-animated at the opera's conclusion, their precious voices and enthusiastic spirits are joyous to behold. Truly angels -- every one.
___________________________________________________________
"Hansel and Gretel" continues through February 5, 2023
The remaining performances are as follows:
Sunday, January 29 at 2:00 PM                                                                                                   
Wednesday, February 1 at 2:00 PM                                                                                     
Friday, February 3 at 7:00 PM                                                                                              
Sunday, February 5 at 2:00 PM
Running time is approximately 2 hours and 20 minutes with one intermission