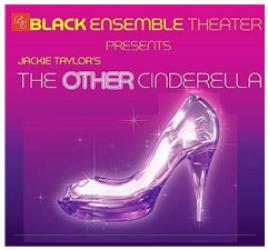 Cinderella, played by Jayla Williams Craig, a gorgeous young actress, has plenty of spunk.  Even though she grew up in the projects, had no education to speak of, and was bullied by her step-family, she had dreams.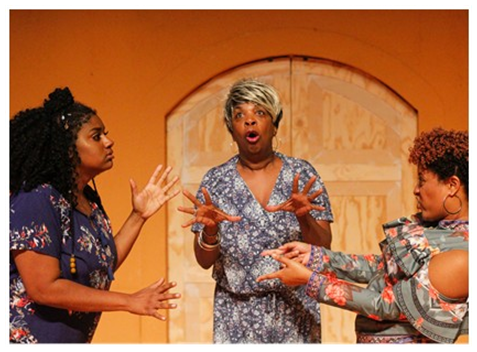 Stepmama (Rhonda Preston), who worked hard at her Post Office job, usually came home tired and crabby.  She doted on her daughters (Cinderella's stepsisters), Margarite (Justis Drakes) and Geneva (Jasmine Bomer).  She expected Cinderella to do all the work around the house.  The Stepsisters, on the other hand, bullied her constantly. 
The brothers, Groundhog (Vincent Jordan), Peanut Butter (Michael Adkins) and Pee Wee (Blake Reasoner) were thrilled when Page (Stewart Romeo) won the lottery and became a page.  When Page strolled into the palace, the King's Attendant (Lemond Hayes) tried to instruct Page in how to do his duties, but he had his own style!  The Queen's Lady in Waiting (Micah Materre) has her own duties, but she certainly has eyes for the Attendant.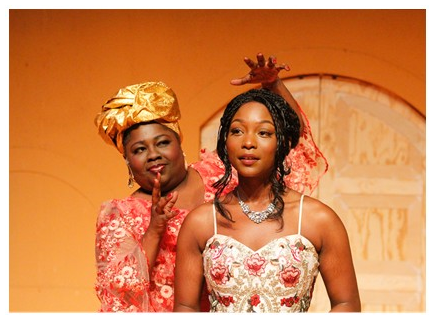 Meanwhile, the King (Dwight Neal) decided that the Prince (Blake Hawthorne) needed to get married.  Over the objections of the Queen (Chantee Joy), he decided to hold a ball and invite all the single girls in the kingdom.  Surely the Prince could find someone then. 
When the invitation came to Stepmama's house, Margarite and Geneva, who fought all the time, were each positive she would be chosen.  They all rushed out to get new gowns.  When Cinderella asked if she could go, they just laughed. 
After Stepmama and the girls left for the ball, Cinderella was sitting on her stool in the corner when her Jamaican Fairy Godmamma (Robin DaSilva) appeared and zapped her into a sparkly dress and jewel-covered heels (no glass slipper in this show).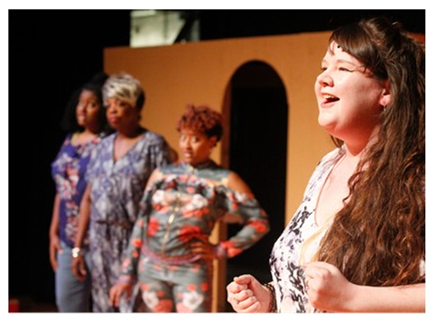 Meanwhile, at the ball Dorothy (Colleen Perry) from Kansas asked if she could be a part of Other.  After she passed the King's three tests, the Queen announced one more test, she had to sing the blues.  Dorothy agrees, then belts out "The White Girl Blues". 
The Black Ensemble musicians are Robert Reddrick (Musical Director/Drums), Adam Sherrod (Keyboards), Mark Miller (Bass) and Gary Baker (Guitar).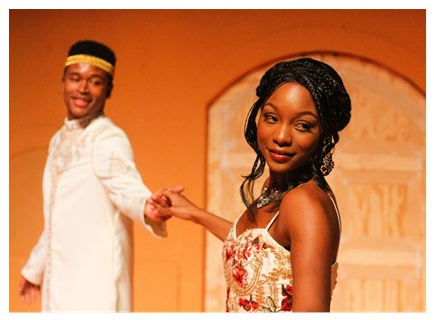 "The Other Cinderella" runs through January 19th at the Black Ensemble Theater Cultural Center, 4450 N. Clark Street, Chicago.  Valet parking is available in BET's adjacent garage ($10). 
Running time is 2 hours, 20 minutes, with an intermission.  Performances are Thursdays at 7:30 pm (beginning December 5th); Fridays at 8:00 pm; Saturdays at 3:00 and 8:00 pm; Sundays at 3:00 pm.  Tickets range from $55-$65.  FYI (773) 769-4451 or www.blackensemble.org.