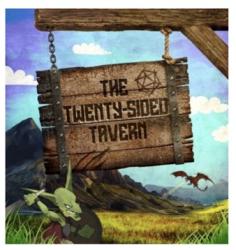 **** Highly Recommended **** I didn't know quite what to expect when I went to see The Twenty-Sided Tavern at Broadway Playhouse.  I'd read about the show being an interactive adventure, but I just couldn't visualize how a game like D & D could work on stage.  Well, I'm happy to tell you that The Twenty-Sided Tavern was one of the best evenings of entertainment I've had in a long time!  It was spontaneous, funny, family friendly and just plain fun.  4 BIG Spotlights
The fun started even before the show – people watching in the lobby!  I couldn't believe how many people came in costumes, I presume from their favorite games.  No one was in a hurry to get seated, many enjoying adult beverages while chatting with friends.  People were in a hurry to snap a photo of the QR code displayed all over the lobby – more about that later.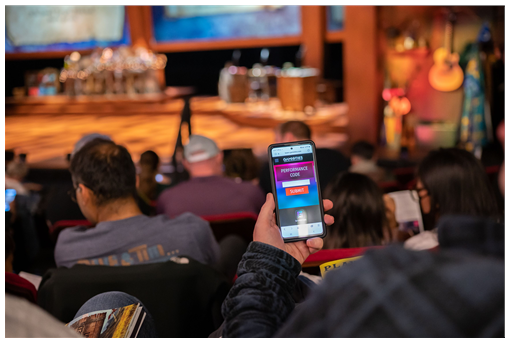 As people are getting seated, members of the cast are roaming throughout the theater, introducing themselves, asking people's names, answering questions and reminding people about that QR code, which leads to software developed for the interactive portion of the show.  That audience vote is the most unique feature of this show.  In fact, almost everything that happened on stage was decided by an audience vote.  It guarantees that every show will be different – different character roles, different challenges, different results and so on.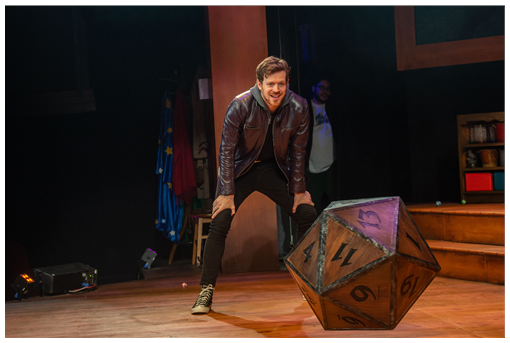 The game was created and written by David Andrew Greener Laws (DAGL in the game), the Gamemaster and Sarah Davis Reynolds (Sarah in the game), the Tavern Keeper. 
As the Gamemaster, DAGL did most of the talking, laying out the rules, leading the players on their adventure, directing their challenges, asking for audience suggestions, asking for audience votes, and even adopting the persona of certain characters (often with ridiculous props).  Tavern Keeper Sarah made suggestions for challenges and rewarded the successful challengers with rewards – and shots!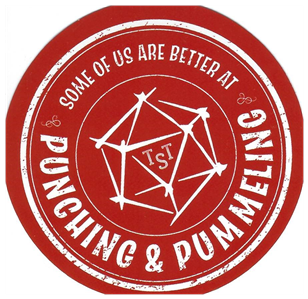 By the way, there were badges in the program.  Depending on color, everyone in the audience was assigned to the Red, Blue or Green team. 
I can't say enough good things about the cast at my performance: Carlina Parker, Red Team; Jack Corcoran, Blue Team; and Madelyn Murphy, Green Team.  They are smart, clever, tough and amazingly good at improv.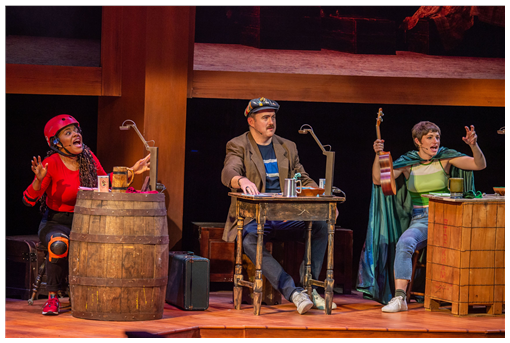 Carlina Parker, Jack Corcoran, Madelyn Murphy
The Red Team, the Fighters, voted that Carlina Parker would be an aggressive Roller Derby jammer, so she wore knee pads and a helmet for the rest of the game.   When she won a challenge, she won a couple of silly party hats which she wore on top of her helmet.  In one challenge she balanced a glass of water on top of her head for several minutes.       
The Blue Team, the Mages, voted that Team Leader Jack Corcoran would be an unlicensed therapist.  He donned a long blue sweater and spectacles.  His use of stock therapy phrases to combat the icy, greasy squirrel was hilarious.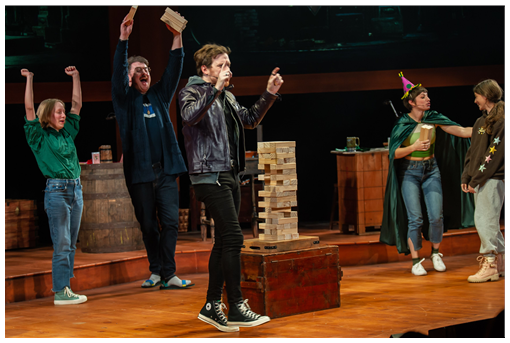 The Green Team, the Rogues, voted that Team Leader Madelyn (Maddy) Murphy should be a kitty cat.  By adding a long green raincoat, a fuzzy leopard hat and long gloves with pointy fingers, she became a cat.  She purred and prowled her way throughout the show, throwing out hilarious cat-ly puns right and left.  She did multiple push-ups in one challenge, licked DAGL's cheek – of course, he licked hers right back – in another. 
Actually, the cast changes regularly.  Appearing on Team Turkey (October 27th through December 5th) are: Gamemaster, DAGL; Tavern Keeper, Sarah Reynolds; Fighter, Carlina Parker; Mage, Jack Corcoran; Mage, Mateo Ervin; with Swings Alex Abney and Madelyn Murphy.  Appearing on Team Tinsel (December 8th through January 15th) are: Gamemaster, DAGL; Tavern Keeper, Sarah Reynolds; Fighter, R. Alex Murray; Mage, Travis Klemm: Rogue, Eryn Barnes; with Swings Mateo Ervin and Madelyn Murphy.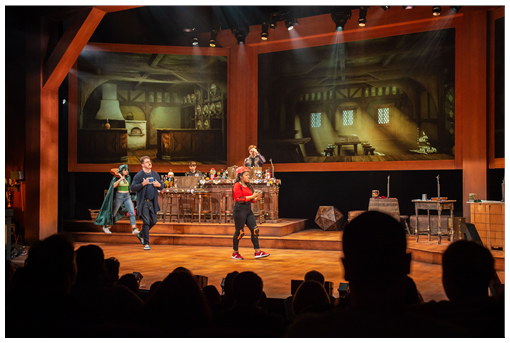 For more information, visit www.thetwentysidedtavern.com
Note: Guests are encouraged to wear masks while inside the theater,
The Twenty-Sided Tavern runs through January 15th at Broadway in Chicago's Broadway Playhouse at Water Tower Place, 175 E. Chestnut St., Chicago.  Parking is available at a reduced rate with validation, available at the box office or from an usher.    Running time is 2 hours with an intermission.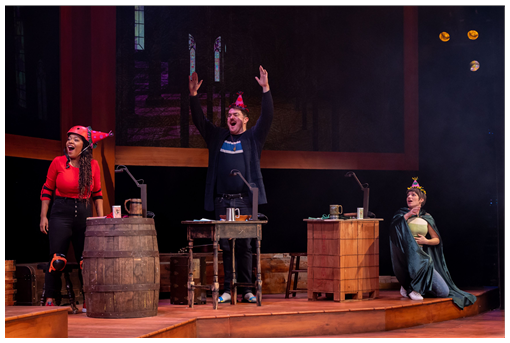 Performances are: Thursday and Friday at 7:30 pm; Saturdays at 2:00 & 8:00 pm (no 8:00 pm performance December 24th); Sundays at 2:00 and 7:30 pm.  In addition, there will be a matinee performance at 2:00 pm on Friday, November 25th, as well as Wednesday performances at 2:00 pm and 7:30 pm on December 21st & 28th.  There will be no performances on Thanksgiving Day, November 24th, Christmas Day, December 25th and New Year's Day, January 1st. 
Tickets range from $40-$65.  www.thetwentysidedtavern.com  FYI  (800) 775-2000, all Ticketmaster retail locations and www.BroadwayInChicago.com.