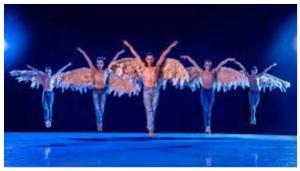 **** Highly Recommended **** The Joffrey Ballet returns to live performances in their new home at the Lyric Opera House with Home: A Celebration, a demonstration of all that makes the Joffrey such a leader in contemporary ballet.  The evening's repertoire included one classic ballet and three vibrant original works, developed during the shut-down.  The Joffrey's incredibly talented dancers execute the most complicated choreography with flawless technique and timing – and they make it look easy!   4 BIG Spotlights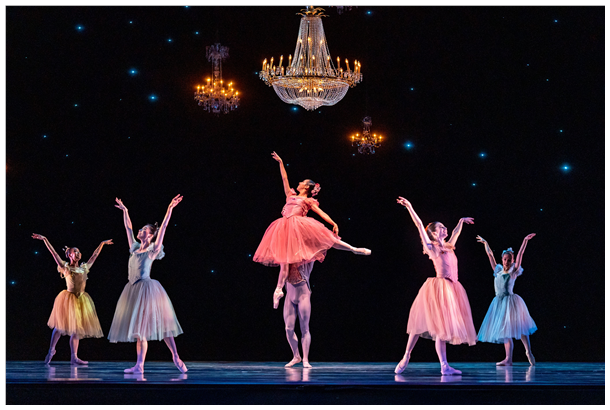 In a bit of serendipity, the evening opened with Joffrey co-founder, Gerald Arpino's classic, Birthday Variations, which premiered at the Lyric in 1986.   On stage, a large chandelier glows against a deep blue-black background, seemingly dotted with lights.  Under the chandelier, the Ensemble – Alberto Velazquez, Lucia Connolly, Yumi Kanazawa, Amanda Assucena, Gayeon Jung and Valeria Chaykina – danced to lilting music by Guiseppe Verdi.  In the Prologue and Opening, the movements of the ensemble were graceful yet precise.  The pas de deux performed by Velazquez and Assucena was exquisite.  In solo, each artiste was absolutely breathtaking.
Swing Low, choreographed by Chanel DaSilva and set to avant-garde music by Zoë Keating, opens as feathers gently float to the floor.  One man, Fernando Duarte, is lying on the floor.  His agony, expressed in dance, was sensual and dramatic.  After a time, he's joined by four angels (Edson Barbosa, Stefan Goncalvez, Evan Boersma and Hyuma Kiyosawa wearing wings) who surround him with love, and encouragement. 
I watched the digital premiere of Swing Low and thought it was awesome, but it had no depth, no color.  The stage version absolutely blew me away! 
A note for my northwest Indiana readers.  When I ran into Kelly Boersma, principal of Munster's Frank H. Hammond Elementary School, at intermission, she was beaming with pride.  Her son, Evan Boersma, a member of the Joffrey Company, appeared in Swing Low and Bolero.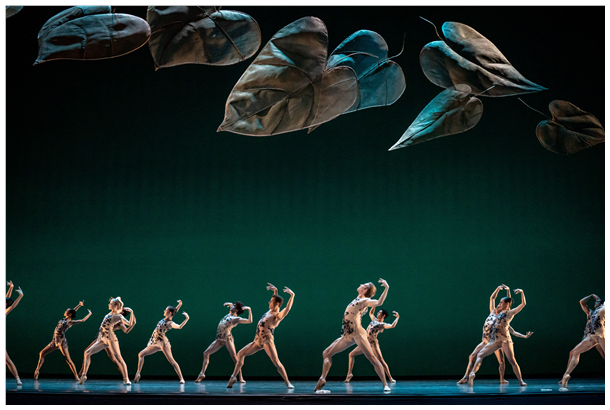 Under the Trees' Voices, choreographed by Joffrey Rehearsal Director Nicholas Blanc to music written by Ezio Bosso, is about community in the age of social distancing.  As the first movement begins, the ensemble, scattered and separated by huge leaves, are all dancing alone.  As the leaves move into different positions at different heights, the company begins to dance with more unity. 
Once again, I watched the premiere of Under the Trees' Voices online, but only a tiny portion of the whole was visible.  The stage version is overwhelming and bewildering and wonderful. 
Featured dancers are Gayeon Jung, Jeraldine Mendoza, Amanda Assucena, Temur Suluashvili, Dylan Gutierrez and Alberto Velazquez.  Christine Rocas was the soloist in the Third Movement.
Ensemble:  Valeria Chaykina, Anna Gerberich, Brooke Linford, Derrick Agnoletti, Edson Barbosa, Stefan Goncalvez, Xavier Núñez and Aaron Renteria.
Bolero is a brand new ballet choreographed by Yoshihisa Arai to Maurice Ravel's famously repetitive music.  Anais Bueno, clad in an oversized white shirt, had the audience absolutely spellbound.  Her body was in constant motion, reacting to the sensual drum beats in the music.  She was a bright spot in a dark, moving line of bodies. 
When I watched the digital premiere of Bolero, I really liked it, thinking the choreography really embraced the music.  The only problem online – no depth.  This Bolero was absolutely perfect in every way! 
Ensemble: Edson Barbosa, Lucia Connolly, Evan Boersma, Olivia Duryea, José Pablo, Castro Cuevas, Dara Holmes, Jonathan Dole, Brooke Linford, Derek Drilon, Christine Rocas, Blake Kessler, Julia Rust, Hyuma Kiyosawa and Xavier Núñez.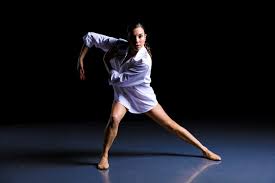 Note: Guests must show proof of vaccination before entering the theater.  Guests are required to wear masks while inside the building. 
Home: A Celebration is performed through October 24th at the Lyric Opera House, 20 North Wacker Drive, Chicago.  Closest parking option is the Poetry Garage, 201 W. Madison.  $12 evening and weekend parking available on performance dates.    Running time is 2 hours, 10 minutes, with two intermissions. 
Remaining performances are Thursday, October 21st at 7:30 pm; Friday, October. 22nd at 7:30 pm; Saturday, October 23rd at 2:00 and 7:30 pm; and Sunday, October 24th at 2:00 pm.  Single tickets start at $35.  FYI (312) 386-8905 or www.joffrey.org.