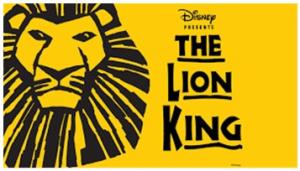 **** Highly Recommended **** The audience was clearly ready and waiting for The Lion King on opening night, judging by the cheers that greeted the first notes sung by Rafiki the Mandrill (Gugwana Diamini).  There were expressions of sheer awe on children's faces as animals – everything from giraffes to elephants – walked up the aisles.  The Lion King is nothing short of spectacular!  I was fascinated by the costumes, entranced by the story.  Everything about "The Lion King" is larger than life!  I give it 4 Spotlights. 
At Pride Rock, Rafiki presents a new cub born to King Mufasa (Gerald Ramsey) and Queen Sarabi (Diamond Essence White) to the gathered animals.  The king's brother, Scar (Peter Hargrave), who planned on inheriting the throne until the birth, skipped the ceremony. 
When Mufasa tells Simba (Jaylen Lyndon Hunter or Jordan Pendleton) he must never go past the boundaries of their land, like all small boys, he immediately wants to go there.  Uncle Scar adds to the allure by telling him that that forbidden place is an elephant graveyard.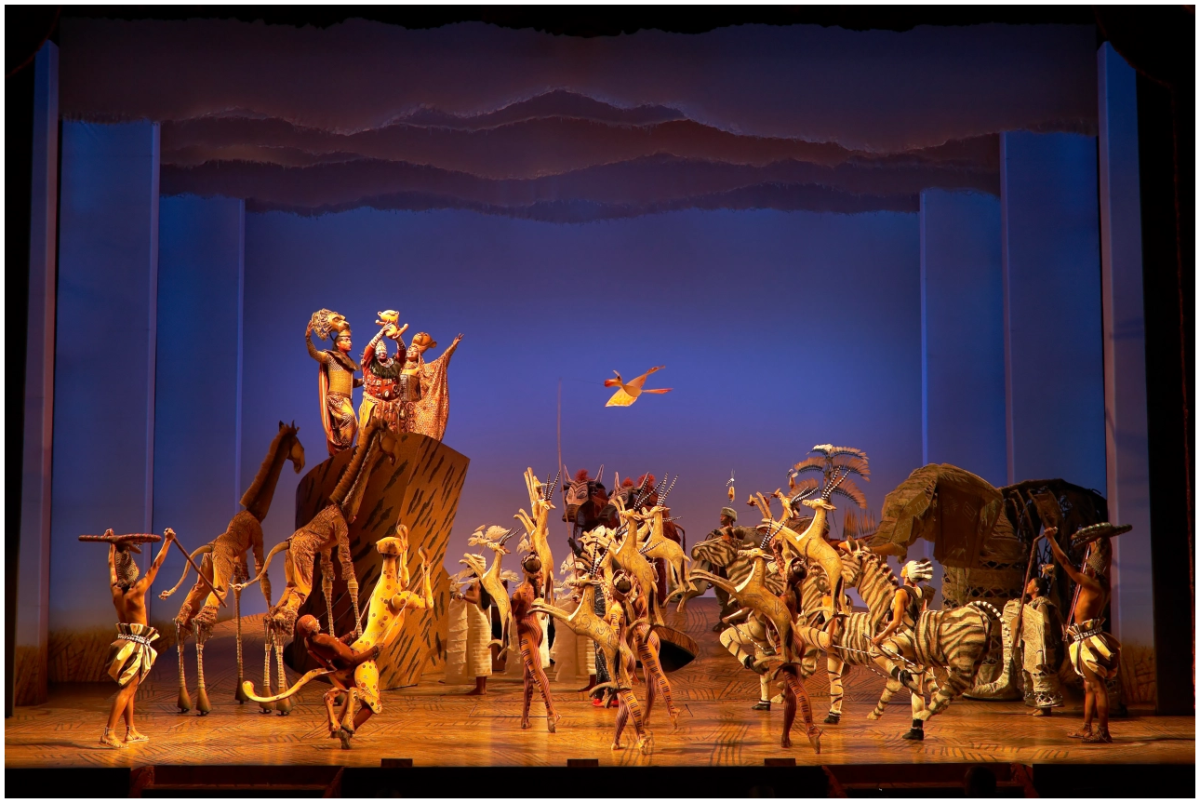 Simba and his friend, Nala (Scarlett London Diviney or Farrah Wilson) tell the lionesses a big fib about where they're going so they get permission to go if Zazu (Nick LaMedica), his father's advisor, goes with them, but they manage to lose him and start exploring the elephant graveyard.  Suddenly three scary hyenas, Shenzi (Martina Sykes), Banzai (Forest VanDyke) and Ed (Robbie Swift), surround them with every intention of eating them.  Just as it looks really desperate for Simba and Nala, Mufasa rescues them.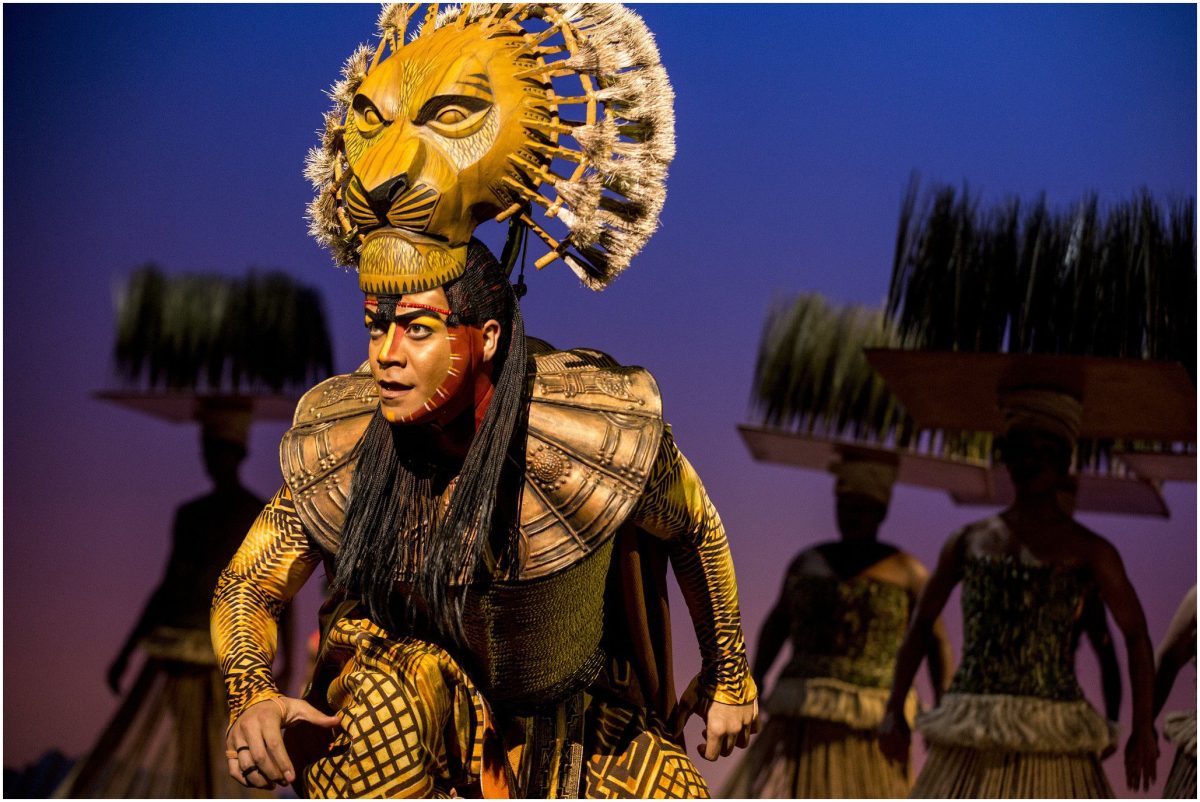 Meanwhile, Scar plots with the hyenas to kill Mufasa.  Scar puts Simba in the path of a stampede and tells him to stay there.  After Mufasa rescues his son, he's surrounded by hyenas who drive him up the rock where Scar kills him.  Feeling guilty and taking the blame for his father's death, Simba listens when Scar tells him to run away.  After he leaves, Scar instructs the hyenas to kill him. 
Simba is rescued from the circling buzzards by Timon (Nick Cordileone) a meerkat and Pumbaa (John E. Brady) a warthog, who introduce him to their carefree and bug-eating life singing Hakuna Matata.  He stays with Timon and Pumbaa until he's grown up.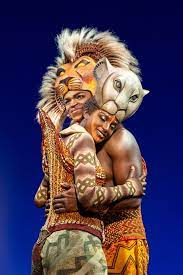 Looking for something he can't quite explain, Simba (Darian Sanders), Timon and Pumbaa make their way to a place where Simba encounters a lioness who turns out to be Nala (Khalifa White). 
Because it's a Disney production, everything about the "The Lion King" is perfect.  The costumes and masks are absolutely amazing.  After a few minutes, you almost forget that the animals are puppets and that most of them have people inside, manipulating their movements.  The choreography is equally amazing.  Whether dancing or not, the actors moved their bodies just like their animals move.  Even the grass is alive! 
Get there early – if you're late you'll miss the Circle of Light – and animal entrance procession – and won't be seated a good 10 minutes into the show
Note: Masks are encouraged but not required. 
Disney's "The Lion King" runs through January 14th at Cadillac Palace Theatre, 151 W. Randolph, Chicago.  Recommended for ages 6 and up.  Running time is 2 hours, 30 minutes with an intermission. 
Performances are: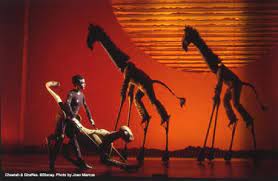 Wednesdays at 2:00 & 7:30 pm
Thursdays & Fridays at 7:30 pm
Saturdays at 2:00 & 7:30 pm
Sundays at 1:00 & 6:30 pm
Additional performances:
Monday, December 26th at 7:30 pm
Tuesdays, December 20th & 27th, January 10th, at 7:30 pm
Fridays, November 25th & December 23rd at 2:00 pm, December 30th at 1:00 pm
Sundays, November 20th, December 4th, 11th, 18th, January 8th at 6:30 pm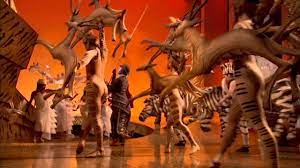 No performances:
November 24th, Thanksgiving Day
December 24th, no 7:30 performance
December 25th, Christmas Day
January 1st, New Year's Day
January 7th, no 2:00 matinee
Tickets start at $33.  FYI (800) 775-2000, www.ticketmaster.com or www.broadwayinchicago.com.