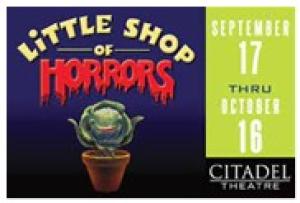 This reviewer couldn't get there for opening night but maybe the one-week head start made this production near flawless. The opening set design by Eric Luchen set the tone, drawing applause as the curtain went up.
I was immediately drawn in by the sweet 60's du-wop style music of Chiffon, Crystal and Ronnette.  Soon after, Seymour, played by San Shankman, reeled me in with his rendition of "Grow With Me".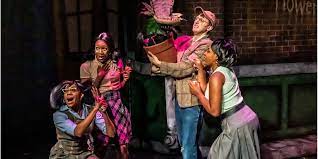 Then came one magical performance after the other. Mr. Mushnik, played by Alan Ball was funny and warm. I loved the evil of Orin Scrinello, DDS played by Phillip C. Matthews. I was empathetic for the naivety of Audrey played by Dani Pike.
A big shout out goes to the puppet plant, Audrey II. Matt McGee's designs were ingenious. The baby Audrey II, with its animation was precious. Then came the evolution and growth into the fearsome 'feed me' craved horror plant.   
The light and sound design of Sam Stephen and Jonsey Jones brought Audrey II to bigger than life.  Equally impressive was the music direction of Isabella Isherwood. The singing and band track were synched perfectly.  And…none of this would have been seamlessly woven together without the direction of Matthew Silar.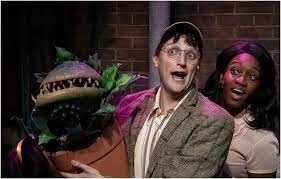 The proof of the strength of this production lies in the spontaneous standing ovation of the full house audience.
The power behind this production, and foresight to select "Little Shop of Horrors" goes to the Artistic Director, Scott Phelps and Managing Director, Ellen Phelps.  
There is another week of performances at the intimate Lake Forest Citadel Theater. Don't miss it.  It c loses Oct. 16th.