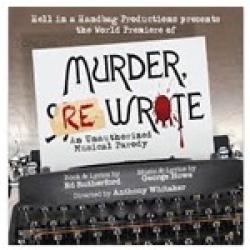 **** Highly Recommended   Hell in a Handbag is one of my absolute favorite Chicago theater companies.  Their unauthorized parodies of old black and white films and TV shows from the fifties, packed with double entendres, puns, running sight gags and bad wigs, never fail to make me laugh!  Understanding that, fans of Angela Lansbury's TV series Murder She Wrote will love Hell in a Handbag's newest parody, Murder ReWrote.  I'm happy to say that Handbag has scored again.  Be prepared for murder, mayhem and a lot of laughs.  Murder ReWrote is hilarious – and it's a musical.  4 BIG Spotlights  
My husband and I always enjoyed watching Angela Lansbury solve a murder every week.  We did wonder about a few things – like when/if Cabot Cove would run out of living people; why anyone invited Jessica Fletcher to visit for weeks at a time; and was she really a murder magnet.
In Murder ReWrote, Britain Gebhardt brilliantly plays well-known mystery writer, Bessica Felcher, who always seems to get embroiled in an actual murder wherever she goes – at least according to her whiny nephew, Grady (Grant Drager). 
After a well-known lobster magnate passed away, Grady was hired to audit the estate's accounts for his widow, June Crayfish (David Cerda), a glamorous former movie star.  After he'd been there six weeks, Ms. Crayfish allowed him to invite his aunt Bessica for a visit.  AS he was driving her to the Crayfish estate, he implored her not to get involved with another murder in a clever song with 3 blackbirds and the Grim Reaper singing backup. 
At the estate, they're greeted by Carol-Ann (Ed Jones), the smarmy estate housekeeper who sends for Helga (Mark Bartishell), a really hostile maid who unwilling shows Bessica to her room. 
A little later that evening, June Crayfish, wearing a sparkling silver evening gown and a fur coat, swept into the room to applause, just as she would have when the cameras were rolling.  She invited Bessica to join her for a cocktail.  As they were getting settled, her adopted daughter, Christina (Tyler Anthony Smith), joined them. 
For some reason, Christina actively hated her "mommy dearest", doing everything she can to annoy her – and everyone else in the room.  The only person Christina tolerates is Carol-Ann (Ed Jones) but she does love the dog – maybe. 
When June discovers they're out of something (I think it's vodka, but whatever), she decides to drive to the village to buy some more.  When she returns, she says something to Christina who is sitting in a chair – or is she? 
When we return, Christina is still in the chair but there's something different about her.  She's quite dead.  When June tries to move her body, it flops around – just like a dummy! 
So who killed Christina?  Was it "mommy dearest", or was it Carol-Ann, or Helga?  After the police arrive, Detective Marigold introduces herself to everyone by pulling her hair out of its neat bun and doing the sexy hair shake!   With her skills, persistence and hair and the use of some cool technology, the mystery of who killed Christina is solved! 
George Howe's songs are clever and funny, adding a nice touch to the parody.  I loved one in particular – Bessica describing herself as a "post-menopausal momma" who will get the job done!   By the way, almost all the songs had backup singers, usually Matt Patrick and Cathy Reyes McNamara, in a variety of silly costumes.   
Murder ReWrote is a home-grown Chicago show.  It was written by Ed Rutherford, who also wrote Nightmares & Nightcaps and co-wrote the musical Mary Rose.  Music and Lyrics were written by George Howe, who won Jeff Awards for his musicals, Queen Lucia and Northanger Abbey.  Murder ReWrote is directed by Anthon Whitaker, Co-Artistic Director of the New American Folk Theatre.  Andrew Milliken is the Music Director. 
The Hell in a Handbag production of Murder ReWrote runs through September 18th at The Den Theatre's Upstairs Mainstage, 1331 N. Milwaukee Ave., Chicago.  I recommend using a parking app since parking is almost impossible to find in this neighborhood.
Running time is approximately 1 hour, 40 minutes, with an intermission.  Performances are Thursdays, Fridays & Saturdays at 8:00 pm; Sundays at 3:00 pm.  Tickets are $36 in advance, $39 at the door; with a special Thursday price - $26.  VIP/reserved seating with drink ticket is available for $56.  FYI bit.ly/MurderReWrote and handbagproductions.org.