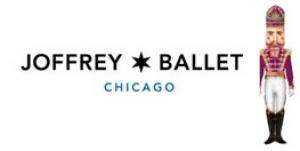 Please note: as you read through my review, please understand that the dancers I saw performing might not be the same at your performance.  In fact, six different casts will alternate in the leading roles throughout the run.  For example, I saw Miguel Angel Blanco play The Great Impresario of the Fair.  That part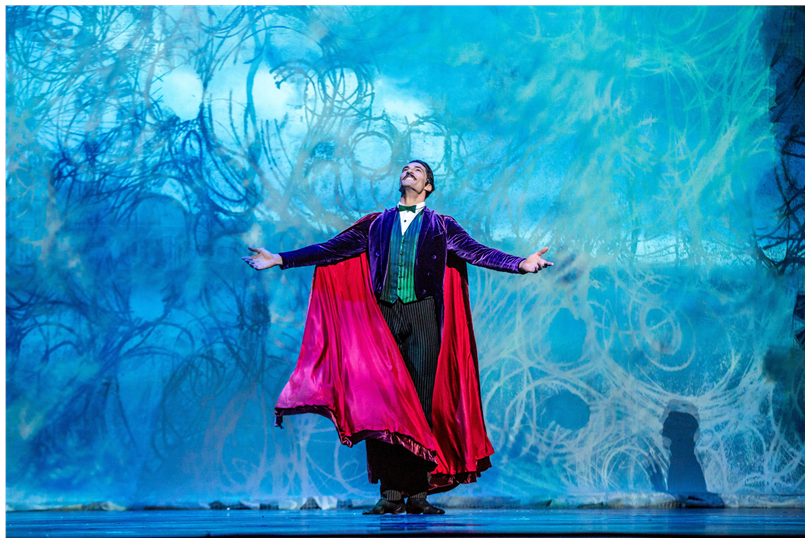 might also be played by Fabrice Calmels or Dylan Gutierrez. 
Northwest Indiana audiences please note: I've mentioned that Kelly Boersma, principal of Frank H. Hammond School in Munster, is proud that her son, Evan, is a member of the Joffrey company.  In the matinee I saw, he danced as a Toy Soldier and as a Fair Visitor (he's the only male dancer wearing a Kelly green vest).  That night he was a Worker at the Fair, a Toy Soldier and Mother Nutcracker.   
As the lights dim, The Nutcracker logo is replaced by projections of real Chicago newspaper headlines/stories proclaiming the Columbian Exposition – the Chicago World's Fair. One of those headlines just happens to mention that building the Fair is creating jobs for immigrants.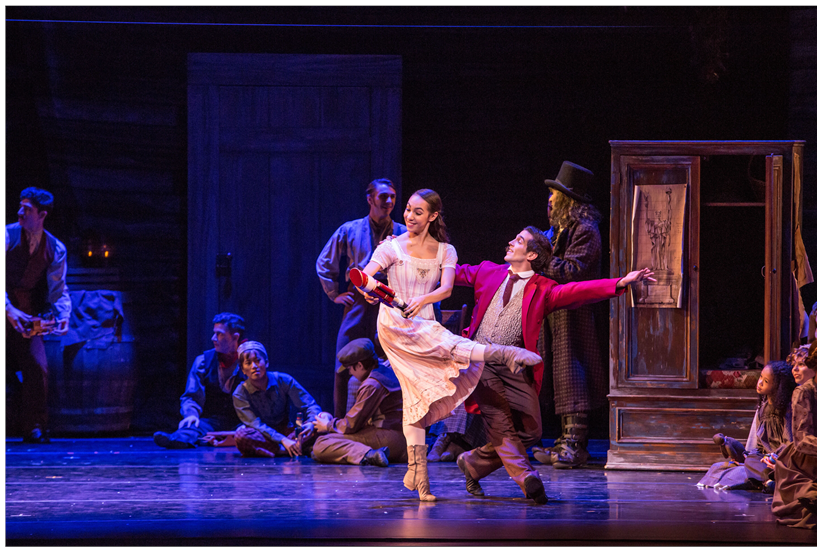 The Great Impresario of the Fair (Miguel Angel Blanco), flourishing his cape, assisted by Peter (Alberto Velazquez), his apprentice, shows VIPs around the site, also pointing out important features on a model. Outside the site, people go about their business, passing the fences around the construction.
Some teenaged boys (Fernando Duarte and Xavier Nuñez) have managed to sneak onto the grounds. After crawling out through the fence, they jostle each other around as Peter passes by pulling a wagonload of packages.  Franz (Oliver Reeve Libke or Patrick Williams) steals a tall, red box.  His older sister, Marie (Amanda Assucena), tries to grab it, but he tosses it to one of the boys and they play keep-away.  Hiding the package under his jacket, Franz takes it home.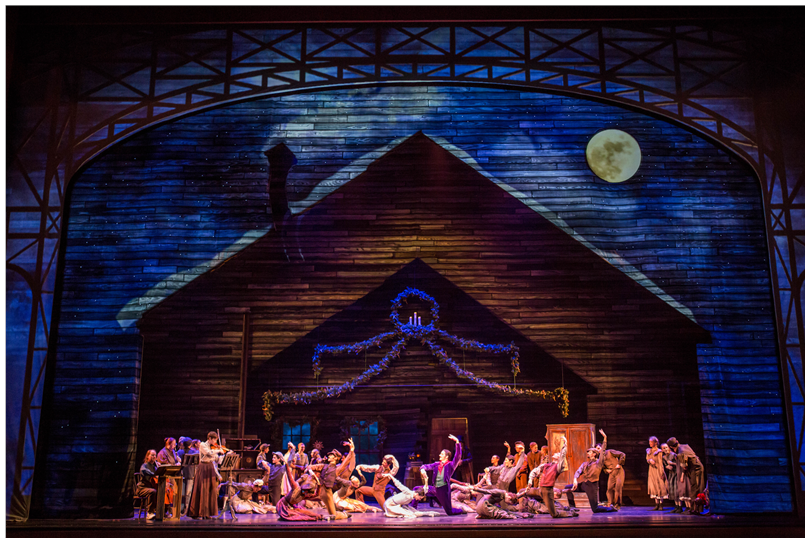 At home, their Mother (Victoria Jaiani) has been working on a sculpture for the Fair.  When the children come home, Franz hides the package in a cupboard while Marie helps Mother get ready for the holiday potluck she's hosting.   
Other Fair Workers and their families begin to arrive, bringing decorations and food for a Christmas celebration.  The Workers are: Anais Bueno, Valeria Chaykina, Nicole Ciapponi, Dara Holmes, Brooke Linford, Chloé Sherman, Olivia Tang-Mifsud, Joanna Wozniak, Derrick Agnoletti, Edson Barbosa, Derek Drilon, Stefan Goncalvez, Hansol Jeong, Graham Maverick, Aaron Renteria and Valentino Moneglia Zamora. 
The Great Impresario projects a silhouette of the Fair, entertaining the workers with a glimpse of what they're building. With Peter's help, he rewards the workers with bonus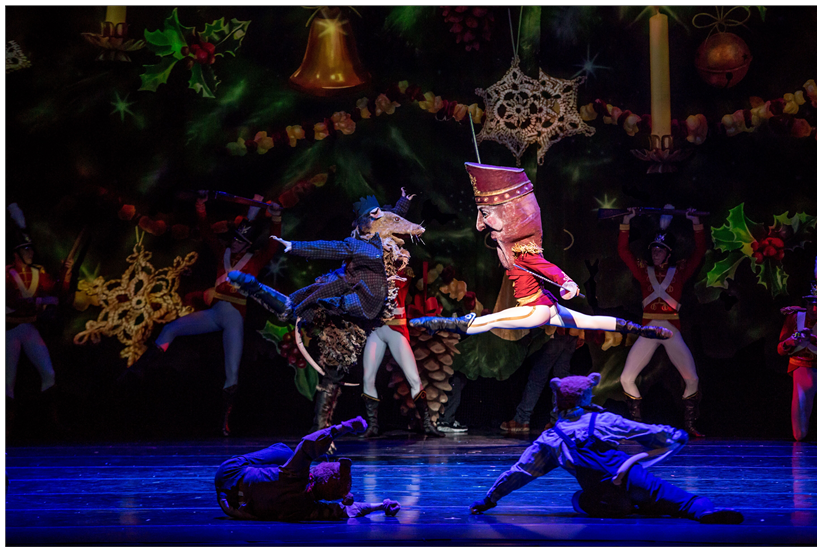 envelopes, then he gives each child except Marie a gift. When he gives Marie a very familiar red box, Franz runs to check the cupboard, which is empty. Marie is thrilled with her nutcracker until Franz knocks it to the floor, breaking it. When the Great Impresario fixes it, Marie hugs him.
After Mother tucks her into bed – with her nutcracker – Marie has a really vivid dream in which the Fair's Rat Catcher (Fabrice Calmels) is transformed into the Rat King.  She is surrounded by giant Rats (Derrick Agnoletti, Jonathan Dole, Derek Drilon, Fernando Duarte, Hansol Jeong and Xavier Nuñez battling toy soldiers (Edson Barbosa, Evan Boersma, Grieg Matthews, Graham Maverick, Aaron Renteria and Valentino Moneglia Zamora).  A life-sized Nutcracker (Alonso Tepetzi) is fighting the evil Rat King.  The Nutcracker miraculously transforms into a real Prince.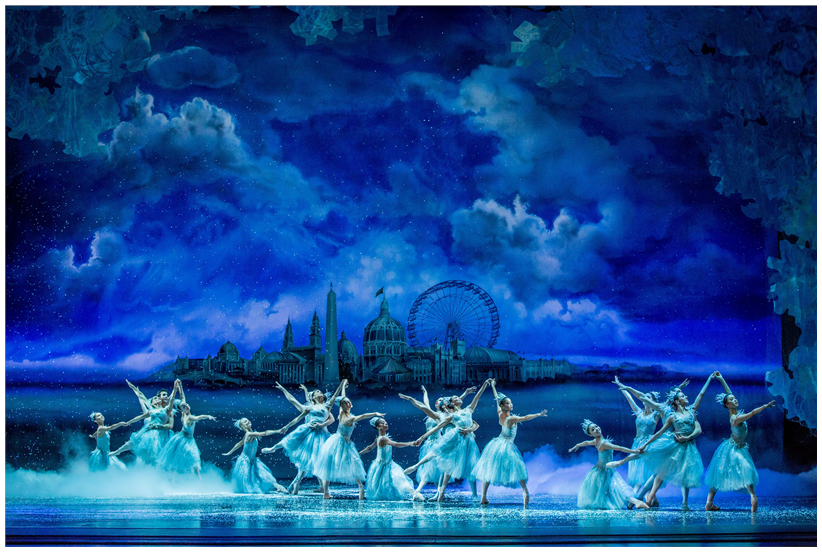 Suddenly, the Great Impresario appears, whisking Marie and the Prince into a giant sleigh and they sail away. On the ice, the Snow Soloists, Anais Bueno, Nicole Ciapponi, Cara Marie Gary and Brook Linford are joined by the Ice Cavaliers, Derrick Agnoletti, Edson Barbosa, Graham Maverick and Aaron Renteria.  Wearing gorgeous ice blue costumes, they are joined by the Snowflakes: Valeria Chaykina, Lucia Connolly, Olivia Duryea, Dara Holmes, Yuka Iwai, Gayeon Jung, Yumi Kanazawa, Julia Rust, Chloé Sherman, Miu Tanaka, Olivia Tang-Mifsud and Joanna Wozniak.  The soloists, the Cavaliers and the Snowflakes are all involved in one of the most exquisite dances of the whole show, The Snow Dance.
As their ship makes land, the Queen of the Fair (Victoria Jaiani) welcomes them with an incredibly graceful solo. The Great Impresario leads Marie and the Prince through the exhibits of the Fair, but not before Marie and the Prince have a chance to dance together.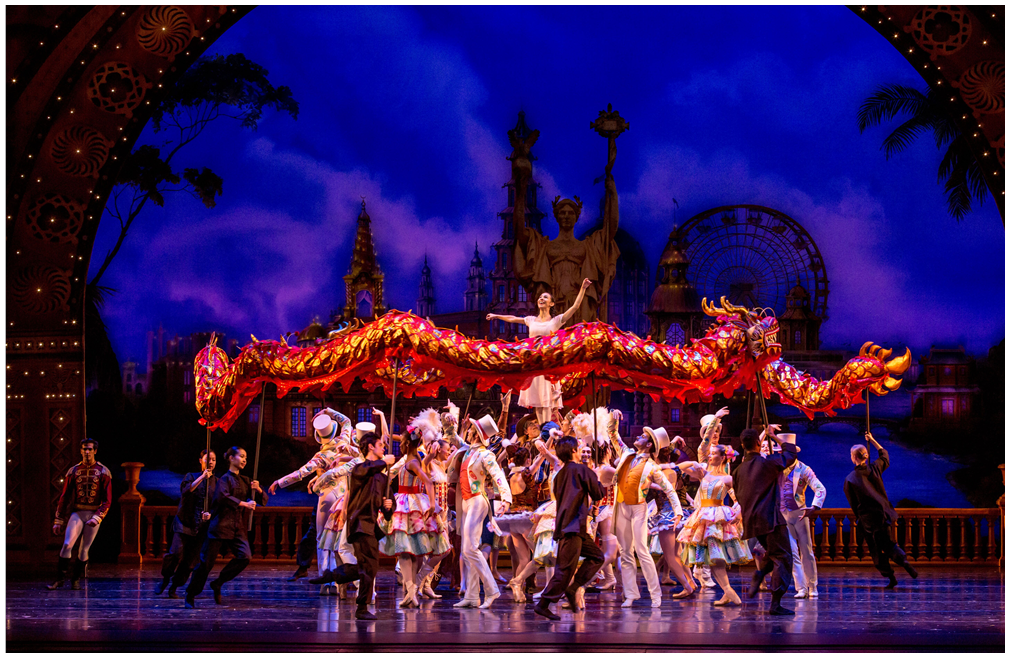 Frequently, they are joined by the other Fair visitors, the women (Valeria Chaykina, Olivia Duryea, Yuka Iwai, Yumi Kanazawa, Brooke Linford, Julia Rust, Chloé Sherman and Olivia Tang Mifsud) in graceful dresses with pastel ruffles, the men (Derrick Agnoletti, Yoshihisa Arai, Evan Boersma, Stephan Goncalvez, Graham Maverick, Xavier Nuñez, Aaron Renteria and Valentino Moneglia Zamora) in white top hats and tuxedos with bright colored vests. 
The Great Impresario escorts Marie and the Prince to several various pavilions:
In the Spanish Pavilion, Spanish Dancers Gayeon Jung, Jeraldine Mendoza, Edson Barbosa and Greig Matthews stomp with a flamenco flair.
In the Arabian Pavilion, the Arabian Dancers, Christine Rocas and Fabrice Calmels take sensual to a whole new level.
A Chinese Dancer (Hansol Jeong) and two Chinese Dragons celebrate Chinese New Year.
Buffalo Bill's Wild West Show is a featured act on the Fair's sideshow. Buffalo Bill (Dylan Gutierrez) demonstrates his roping and leaping skills while his Wild West Girls (Lucia Connolly, Dara Holmes and Joanna Wozniak) dance backup.
There are Venetian Masked Dancers, Anais Bueno, Nicole Ciapponi and Cara Marie Gary.
Mother Nutcracker (Fernando Duarte) sits on the roof while the Walnuts dance below.
Finally, The Queen of the Fair and her partner (Blanco) return for a final dazzling pas de deux.
Waves and Dragons: Simeon Atanasov, Kylie Corrigan, Julia Dawson, Yuchan Kim, Aoba Kubota, Vivian li and Diego Hoyos del Rey. 
In most cases, I've credited the adult dancers above. I do think that everyone, including the child dancers should be recognized, so here they are.  Note: these performers do not appear in every production. 
This year, the guests at Mother's potluck holiday party will include a disabled performer
who will join in a circular folk dance.  Emma Lookatch and Larke Johnson, students in the Joffrey Academy's Adaptive Dance Program, will alternate in the role. 
Worker Girls: Inaya Lian AbdulMalik, Kayla Beasanski, Ava Elliot, Chloe Gavrilos, Larke Johnson, Sophia Longid, Emma Lookatch, Isabella N. Merritt, Leilani Mojica, Jasmine Mullick, Liv Nandra, Skylar Raphael, Morgan Sirek and Mao Tanoue
Teen Worker Girls: Kamila Galecki, Isabella Josephine Libke and Minori Suzuki   
Ragamuffins/Mouse: Isabella Bales, Peyton Boddy, Norah Bognar, Maxwell Bradley, Alexandria Cotton, Rocco Iannantuoni, Isabella Julia Leary, Spencer Martinez, Finn Miller, Bennett Parker, Isabele Joie Schuerman and Jocelyn Suastegui
Soldier/Nutcracker: Alana Burns, Genevieve Demaret, Aubrey Dufelmeier, Talula Estes, Bella Marinaro, Iabelle Ochoa, Jillian Pfaff, Aurelia Ava Sebastian, Maya Shah, Isabella Skaliotis, Cyriana Solei Lara and Kailiana Stanczak
Cavalry: Grace Bowser, Olivia Fergermann, Kamara Hackle, Chloe Izabella Hernandez, Leela Kammula, Avery Peters, MaryGraceFaustina Pujals, and Ayyah Rodriguez Zwieschowksi
Dragon: Grace Bowser, Olivia Fergemann, Kamara Hackle, Chloe Izabella Hernandez, Leela Kammula, Avery Peters, MaryGrace/Faustina Pujals and Ayyah Rodriguez
Junior Snowflakes: Eleni Baltsas, Jenna Barber, Chloe Hazizi, Elizabeth Hellweg, Anya Konow-Muti, Talia Lee, Liliana Petit and Micha Tarkowski   
Little Snowflakes: Emma Archer, Annelise Balster, Cordelia Braun, Stella Francesca Caliendo, Kavita Chaya Brown, Jaelyn Chen, Ava Anna Dunaway, Brielle M.B. Jones, Katherine Kasparov, Madeline Maine, Kayla Rose Malo, Samantha Martinez, Leilani Mojica, Maiyah Ann Morris, Evelyn Alley O'Connell, Caroline Price, Rowan Riley, Yuria Tsuchiya Roebke, Jessica Smutniak, Mackenzie Speer, Ashley Yang, Natalie Yank, Sofia Elise Zambrano and Genevieve Zoldan
Walnuts: Kayla Beasanski, Abigail Eagan, Ava Elliot, Aubrey Kathyleen Entner, Chloe Gavrilos, Sophia Longid, Elle Elizabeth Marsico, Jasmine Mullick, Liv Nandra, Morgan Sirek, Jocelyn Suastegui and Mao Tanoue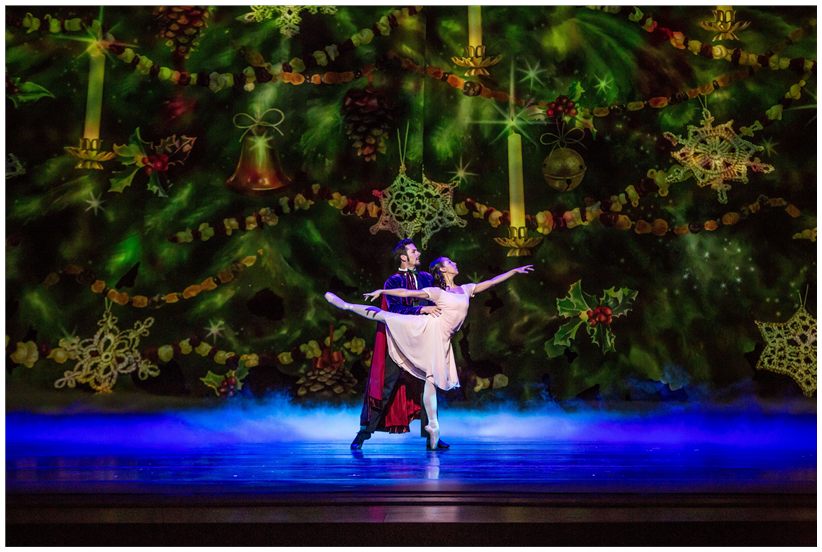 Please Note: I just learned that Fabrice Calmels (the Impresario in many performances) will be leaving the Joffrey after the final performance of "The Nutcracker" on December 29th.  
The Joffrey Ballet's production of "The Nutcracker" runs through December 29th at the Auditorium Theatre of Roosevelt University, 50 East Ida B. Wells Drive, Chicago. The best parking option I've found is Loop Auto Parks, 524 S. Wabash Avenue, $16 with a $4 discount coupon found at www.auditoriumtheatre.org/plan-your-visit/parking-and-directions/.
Running time is just about 2 hours with a 20-minute intermission.  Remaining performances are: Thursday, December 12th at 7:00 pm; Friday, December 13th at 7:00 pm; Saturday, December 14th at 2:00 and 7:00 pm; Sunday, December 15th at 2:00 and 7:00 pm; Wednesday, Dec. 18 at 7:00pm; Thursday, Dec. 19 at 7:00pm; Friday, Dec. 20 at 2:00pm and 7:00pm; Saturday, Dec. 21 at 2:00pm and 7:00pm; Sunday, Dec. 22, 2019 at 2:00pm and 7:00pm; Monday, Dec. 23 at 2:00pm and 7:00pm; Thursday, Dec. 26 at 2:00pm; Friday, Dec. 27 at 2:00pm and 7:00pm; Saturday, Dec. 28 at 2:00pm and 7:00pm; and Sunday, Dec. 29 at 2:00pm.
Tickets start at $35. FYI (312) 386-8905 or www.joffrey.org.